How the Convention Speeches Played on Twitter
Traffic on the social-media service is massively higher for the Democratic convention this week than for last week's Republican gathering.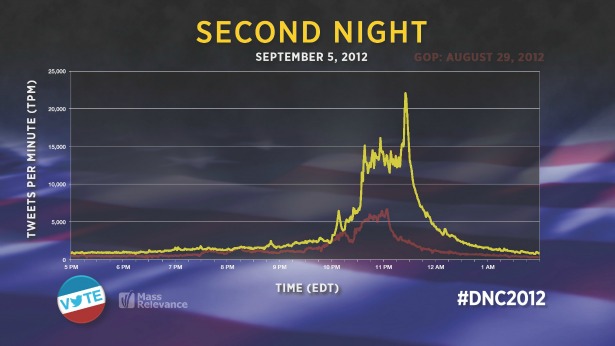 The line in yellow on the chart above shows the number of tweets per minute about the Democratic convention during Wednesday night's session featuring Bill Clinton. In red, tweets per minute on the equivalent night of the Republican convention last week, featuring vice presidential nominee Paul Ryan. Clinton's Twitter traffic peaked at over 22,000 when he finished speaking and President Obama joined him at the podium. Ryan's speech, by contrast, barely topped 5,000 at its highest point.
It's important not to read too much into this as a measure of overall enthusiasm. Twitter users may well be younger and more liberal than the general population, and they have been found to be disproportionately African-American. On the other hand, these statistics are value-neutral; they measure what's being talked about, but not whether people are reacting positively or negatively.
A Twitter staffer notes some of the biggest lines from Clinton's speech, as judged by tweeters:
22,087 TPM - Peak post speech for Clinton

10:58PM - 16,115 TPM - Obama's job record

11:23PM - 15,266 TPM - Vote for Obama

10:38PM - 15,111 TPM - All in this together

10:47PM - 14,538 TPM - Hillary/blood sport

11:10PM - 14,393 TPM - Take some brass
But the tweet-volume record belongs to Michelle Obama on the first night of the Democratic convention. Her stirring, personal speech about her husband hit a high of 28,003 tweets per minute. Here's the chart from Tuesday, with the DNC in yellow and the RNC (which featured Ann Romney and Chris Christie on its opening night) in red:
As President Obama prepares to speak Thursday night, the question is not only whether he can outshine Mitt Romney, whose RNC speech peaked at 14,289 tweets per minute -- but whether he can beat out the Twitter superstars from his own party.