Hispanics Students Make Modest College Gains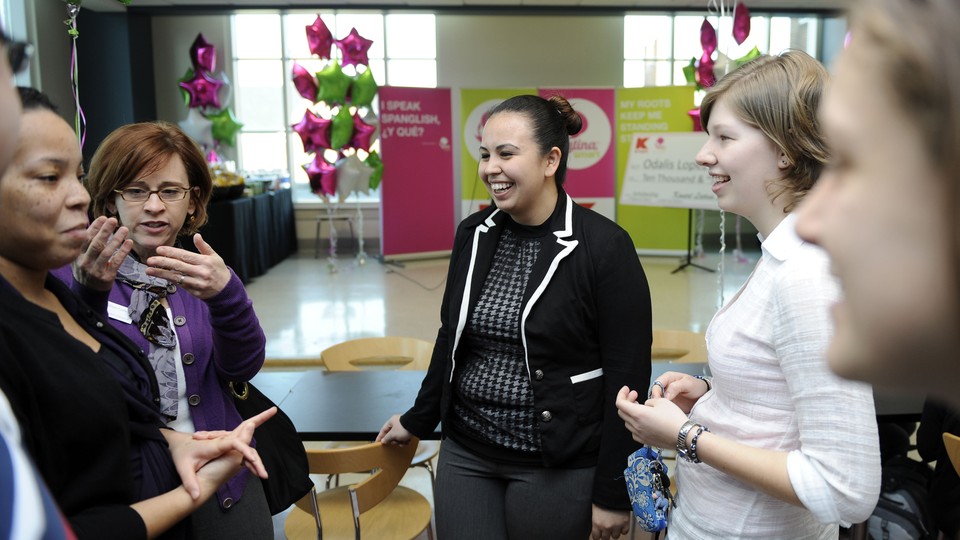 Hispanics, the largest minority group now enrolled in college, have made modest gains in graduation rates among people of color, with 47.2 percent securing a degree in 2010, a study shows. That's up from 43.7 percent in 2004.
In fact, Hispanic graduation rates improved at a slightly higher rate than the 3.3 percentage-point improvement for the overall national student graduation mark. In the six years studied by Education Trust, a Washington-based think tank, the national rate for those securing a diploma was 63.7 percent. (A separate report analyzed gains for black graduates.)
Overall, nearly two-thirds of the four-year private and public colleges examined in the study saw an uptick in Hispanic college attainment. However, the trend among private nonprofits generally was worse than for public institutions.
(RELATED: Interactive Chart of Institutions in the Hispanic Gainer Sample)
Last year also marked a demographic shift as Hispanics became the largest minority group in four-year U.S. colleges among traditional-aged students 18-24, surpassing blacks.
(RELATED STORY: Latinos Top Minority College Enrollment, Pew Hispanic Center Finds)
Some schools specifically strive to boost Hispanic enrollment, in part, to qualify for federal grants as a "Hispanic-Serving Institution," the Las Vegas Sun reports. To qualify, an institution's Hispanic student population must be least 25 percent.
Some noteworthy efforts that have improved outcomes for Hispanics:
The graduation rates for Hispanics at Virginia Commonwealth University increased by 22.8 percentage points, to 48.7 percent. One successful program is Primeros Pasos, or First Steps, a bilingual workshop for parents and their college-bound children to demystify college testing and to learn about financial aid and student services.
Georgia State University, which U.S. News & World Report recently ranked as one of the nation's most diverse, has nearly closed the achievement gap between white and minority students. For Latinos alone, the graduation rate soared from 37.4 percent to 59.4 percent since 2006, and Hispanics now comprise nearly 10 percent of the student enrollment. GSU has implemented Hispanic outreach programs such as the Latino College Leadership Summit and the Latino Leader Pipeline, which gives 100 promising Latino students a $10,000 scholarship, academic support, and internship assistance.
At Stony Brook University, administrators commend the state-funded Educational Opportunity Program, aimed at first-generation students and those from low-income households, for helping to raise the graduation rate to 58.1 percent, up from 41.8 percent. Also helping is a "boot camp" which provides personal counseling and academic advising three times per semester, and mandatory study-skills workshops for students falling behind. In addition, its Department of Technology and Culture uses the STEM Smart program to encourage blacks and Latinos to enter and stay in science, technology, math, and engineering programs.
Top private universities with increased graduation rates, between 2004-2010:
Texas Wesleyan University: up 40.9 percentage points, to 45.2 percent.
Seattle University: up 31.7 percentage points, to 78.6 percent.
Dowling College (New York): up 24.5 percentage points, to 43.9 percent.
Occidental College (California): up 24.3 percentage points, to 88.5 percent.
Chapman University (California): up 22.5 percentage points, to 78.6 percent.
Top public universities with increased graduation rates, between 2004-2010:
Eastern Connecticut State University: up 37.8 percentage points, to 57.8 percent.
Georgia State University: up 37.4 percentage points, to 59.4 percent.
East Stroudsburg University of Pennsylvania: up 30.3 percentage points, to 56.1 percent.
University of Utah: up 29 percentage points, to 59.6 percent.
Clemson University (South Carolina): up 28.4 percentage points, to 69 percent.