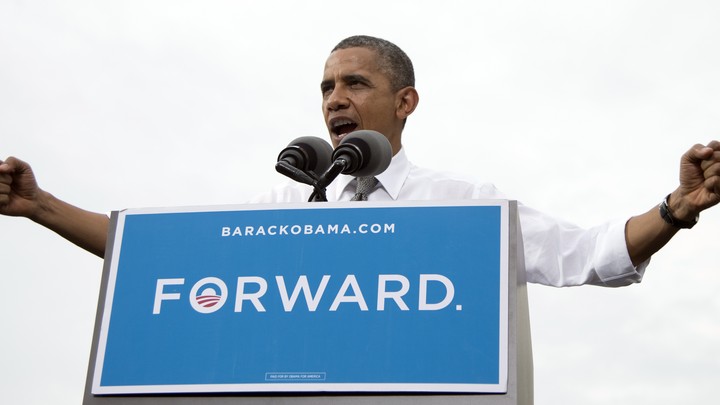 The most striking statistic from Tuesday's NBC/Wall Street Journal poll was that a growing number of Americans believe the country is on the right track. This, despite the monthly jobs reports showing minimal economic growth, with little signs of strength in the future.
Now, 39 percent believe the country is on the right track, with 55 percent still believing it's on the wrong track.  That doesn't sound good, but the "right track" number jumped six points since last month, before the Democratic National Convention.  The growing sense of optimism jumps out from the poll "" 42 percent now believe the economy will get better, a whopping 15 point jump from July and six point jump from the pre-convention poll.
It's this surprising sense of economic optimism that's driving Obama's poll numbers upwards as much as Romney's own recent series of stumbles. Obama has now closed the gap he held over which candidate would do a better job on the economy (voters narrowly prefer Romney 51 to 47 percent). 
It's no coincidence that one of Obama's campaign's latest spots focuses on his economic achievements from the doldrums of 2008, all while cautioning that there's more work left.  It's the type of television ad that Greenberg/Carville advised against back in the summer, when the right track/wrong track figures had hit near rock bottom. But clearly, Team Obama is detecting enough optimism among voters that they can make their economic case without ticking off disaffected voters struggling through tough times.
What accounts for the increased economic self-confidence?  There's a good chance Bill Clinton's effective convention speech, underscoring the depths of the recession and touting the president's policies in stabilizing the economy, played a seminal role.  Even the rough August jobs report wasn't enough to dent Obama's rise. In addition, Romney's campaign focused on a lot of economic side issues over the last month "" welfare, Medicare, redistribution "" that pushed them away from the central indictment of Obama's economic record.
As underscored by Fleetwood Mac, Bill Clinton's 1992 campaign theme was "don't stop thinking about tomorrow" "" an optimistic message for a challenger running against an incumbent with a vulnerable economic record. Obama, despite being that incumbent running in a weak economy, has cleverly adopted it as his own. And voters appear to be buying it.
We want to hear what you think about this article. Submit a letter to the editor or write to letters@theatlantic.com.