GOP Senate Campaign Committee Softens Stance on Todd Akin
But the NRSC makes no funding commitment to the Missouri candidate, infamous for his "legitimate rape" comments.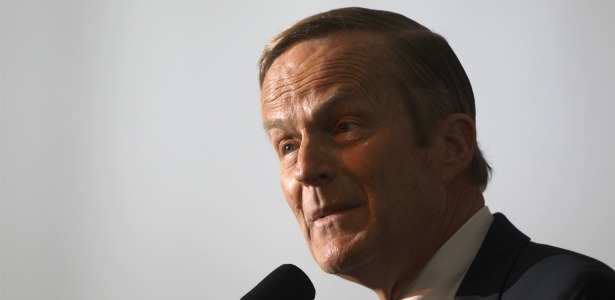 Associated Press
The National Republican Senatorial Committee, which essentially dropped Rep. Todd Akin, R-Mo., as a national party-approved candidate last month after his comments about "legitimate rape," sharply shifted its position on Wednesday, a day after the deadline for him to withdraw from the ballot had passed.
In a statement, Executive Director Rob Jesmer said that the committee hopes "Todd Akin wins in November, and we will continue to monitor this race closely in the days ahead.
"There is no question that for Missourians who believe we need to stop the reckless Washington spending, rein in the role of government in people's lives, and finally focus on growing jobs in this country, that Todd Akin is a far more preferable candidate than liberal Senator Claire McCaskill," Jesmer stated.
More significantly, Jesmer and NRSC spokesman Brian Walsh declined to reiterate statements by NRSC Chairman John Cornyn, R-Texas, as recently as last week, that the committee is "done" in Missouri and will not buy advertising in the state.
Missing from Jesmer's statement was any promise to come to the cash-strapped Akin's financial aid, however.
Meanwhile, the Missouri Democratic Party filed complaints with the House Ethics Committee and Federal Election Commission charging that Akin broke House rules and campaign finance laws by altering his position on an earmark ban in exchange for fundraising from a conservative political action committee.
Akin on Friday revealed that, in a break with his past position, he will support a complete ban on earmarks supported by the Senate Conservatives Fund, a super PAC founded by Sen. Jim DeMint, R-S.C. The announcement came days before DeMint endorsed Akin's candidacy for the Senate, and the fund is expected to follow within days, giving Akin an important fundraising boost with its network of grassroots conservatives.
Akin has not previously backed a ban, and regularly won earmarks for his district until the House imposed a ban. Akin, who has previously called for restricting some earmarks, argues that his position has not shifted. He says that between his staff and SCF, he realized that his position was consistent with the group's.
Missouri Democratic Party Chairman Mike Sanders announced the filings in a call with reporters on Wednesday. The complaints are partly on National Journal's reporting on Akin's shift on earmarks.
Sanders said the party is asking the Ethics Committee and FEC to investigate whether Akin violated rules against bribery and accepting gifts, and laws banning accepting gifts in exchange for an official act.
"It has the flavor of bribery," Sanders said. "It has the flavor of pay for play."
He acknowledged however that the party's FEC complaint is unusual in that it states that Akin and SCF are "about to violate the Federal Election Campaign Act," which asserts Akin and the group plan an illegal act rather than having already committed one.
An Akin spokesman had no immediate comment on the accusations, saying the campaign needed first to review them.
FEC complaints are a frequent tactic used by congressional campaigns to draw attention to alleged scandals involving opponents.
McCaskill is a vocal opponent of earmarking.