Forgive Me for Finding This Charming
"Iceberg getting nearer, some on Titanic say."
A headline on the home page of the WaPo just now, about some of the recent travails of the Romney campaign: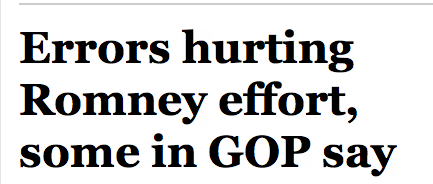 My point at the moment has nothing to do with political trends or campaign management. What I treasure is this example of the ongoing struggles of the journalism biz to convey what reporters think is actually happening, while trying so hard not to seem opinionated or conclusory. "Romney Campaign Faces Distractions" is the headline you find if you click on the story. Tomorrow morning I'll see what headline the paper version has.
"Iceberg getting nearer, some on Titanic say." Again, I'm not talking about the Romney campaign, which unlike the Titanic could still bounce back. What I love is this little revelation about our craft, that of journalism, and the contortions we go through to abide by what we think are the rules. My thanks to whoever came up with this.