Foreign Policy Moves to Center Stage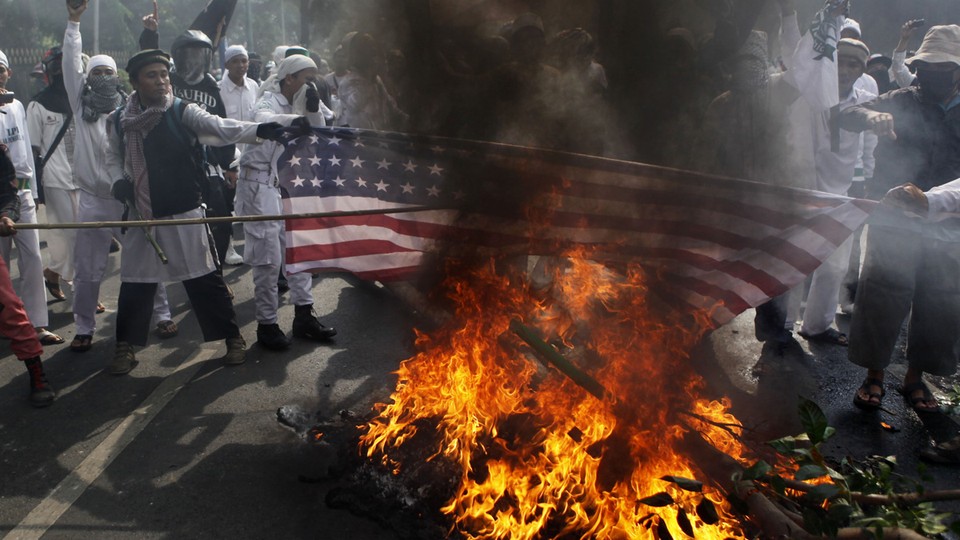 Foreign policy is the poor stepchild of this election. All but ignored in the primary debates, it was an afterthought at the Republican National Convention, where the nominee elided the fact that troops were still dying in the nation's longest war. It received mere lip service at the Democratic National Convention ("Osama bin Laden is dead"). Then Mitt Romney launched an impulsive political attack before learning the facts about the murder of America's ambassador to Libya. Now, as both candidates head to New York City to give dueling addresses this week, it seems that neither will break any new ground on geopolitical or national-security issues.
Those who spend their lives studying foreign policy are disgusted by what has passed for discourse in 2012, even if they understand the political dynamics. "Both candidates seem to be competing to say as little as possible as strongly as possible," says Anthony Cordesman, a veteran hand who helped shape U.S. foreign policy for both parties over the past four decades. "There is probably more vacuous posturing over foreign policy in this election than in any previous election in the last 20 years." Clifford D. May, the president of the Foundation for Defense of Democracies, describes the race this way: "The Obama campaign hasn't wanted to speak about it because they've got a lead on it, and they don't think they need to do anything other than to remind people that bin Laden is dead." For their part, May continues, Romney officials have conceded the issue and "don't see themselves putting in the work or the money to take back that lead."
But foreign-relations experts also understand an abiding truth: Campaigns go where they think the votes are, and they don't seem to be in foreign policy in 2012. Romney even acknowledged this in the leaked video of a fund­raiser in Boca Raton, Fla., that got him into so much trouble this week. "One of the things that's frustrating to me," he said, is that "in a typical day like this, when I do three or four events like this, the number of foreign-policy questions I get is between zero and one."
Of course, Romney didn't mention that his ventures into foreign policy have hurt him. That was evident in the Pew Research Center survey taken Sept. 12-16 — after his comments on the Muslim riots this month. On foreign policy, 53 percent said that Obama would do the better job, compared with 38 percent for Romney. On the Middle East, the edge was 50 percent to 39 percent for Obama.
That doesn't mean that Obama isn't vulnerable in a crisis. (Romney can be heard on the Boca Raton video hoping wistfully for a crisis he could use against the president.) But despite the quadrennial talk of an "October surprise," these sorts of game-changing calamities don't come around very often, so they can't be relied upon to move the needle. The last was the October 1962 Cuban missile crisis that reshaped that year's congressional races. But there hasn't been anything comparable in a presidential election since World War II. In fact, you probably have to go back to the 1864 election to find one. That year, President Lincoln seemed in danger of defeat at the hands of a war-weary electorate when Atlanta fell to Union Gen. William T. Sherman on Sept. 1. The resulting morale boost carried Lincoln to victory.
Still, "foreign policy has a way of intruding on the American political scene when you least expect it," warns former Rep. Lee Hamilton, the longtime chairman of the House Foreign Affairs Committee who now heads the Center on Congress at Indiana University. The violence in Libya, he says, "was a reminder that things happen in the world. They don't stop because we are conducting a presidential campaign in this country."
It frustrates conservatives like May that Romney has not made a better case against Obama's foreign policy. "He has not been talking about it enough, and he has not been talking about it in a way that is sufficiently compelling," May contends, pointing to Romney's speech next week to the Clinton Global Initiative. If Romney does not use his speech to make a strategic case, he says, "it will be a big missed opportunity." But in a year when both candidates have passed on almost all opportunities to elevate the foreign-policy debate, he shouldn't hold his breath.
{{ BIZOBJ (video: 3914) }}