FLOTUS Like a Butterfly, Sting Like a Bee
First Lady Michelle Obama delicately eviscerated the Romney family in a thunderously well-received convention speech.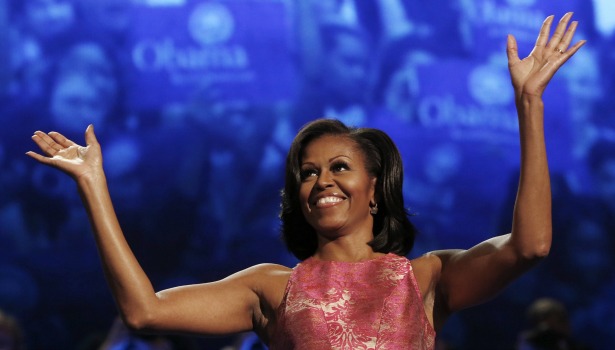 Reuters
CHARLOTTE -- Combining the star wattage of a wildly popular first lady, the skills of a now-seasoned political pro, and the carefully curated stories of real people, Michelle Obama on Tuesday knocked it out of the park during her Democratic National Convention speech.
Those who are fans of the first lady will doubtless spend the next few days dissecting her patterned silk Tracy Reese frock, or her very high pink heels, or how she made them feel.
But the first lady is no Barbie doll.
What she is is a Harvard Law School-educated attorney playing dress up in America's most old-fashioned White House position. She took the stage on the exceedingly well-programmed opening night of a political convention designed to reelect her husband -- and used the opportunity to deliver a series of devastating contrasts with the Romney family and policy agenda, cloaked in the bromides of wifely love.
Her description of her youth seemed a calculated effort to paint a contrast with the young Romney family Ann Romney sketched out last week.
You see, even though back then Barack was a Senator and a presidential candidate ... to me, he was still the guy who'd picked me up for our dates in a car that was so rusted out, I could actually see the pavement going by through a hole in the passenger side door ... he was the guy whose proudest possession was a coffee table he'd found in a dumpster, and whose only pair of decent shoes was half a size too small.

But when Barack started telling me about his family -- that's when I knew I had found a kindred spirit, someone whose values and upbringing were so much like mine.
Her discussion of her father working vigorously to put her through college despite his multiple sclerosis seemed a subtle but clear reminder that Ann Romney took up horseback riding as therapy for hers:
My father was a pump operator at the city water plant, and he was diagnosed with multiple sclerosis when my brother and I were young.

And even as a kid, I knew there were plenty of days when he was in pain ... I knew there were plenty of mornings when it was a struggle for him to simply get out of bed.

But every morning, I watched my father wake up with a smile, grab his walker, prop himself up against the bathroom sink, and slowly shave and button his uniform.
Her comments about the values her parents taught her were greeted by the audience as a direct jab to the Romney-Ryan distortions of the Obama Administration's welfare and entitlement policies, which have been described by some as "factual shortcuts."
We learned about honesty and integrity -- that the truth matters ... that you don't take shortcuts or play by your own set of rules ... and success doesn't count unless you earn it fair and square.
And her repeated refrain "that's who we are" seemed a distinct effort to undermine the argument that Mitt Romney can be trusted with the presidency, because of what his shifting positions reveal about his character:
Those are the values Barack and I -- and so many of you -- are trying to pass on to our own children.

That's who we are.

And standing before you four years ago, I knew that I didn't want any of that to change if Barack became president.

Well, today, after so many struggles and triumphs and moments that have tested my husband in ways I never could have imagined, I have seen firsthand that being president doesn't change who you are -- it reveals who you are.
Tonight, Michelle Obama reminded that she hasn't just been growing vegetables in the White House garden -- she's been sharpening her political skills, too.
Headline courtesy of @gettingsome.