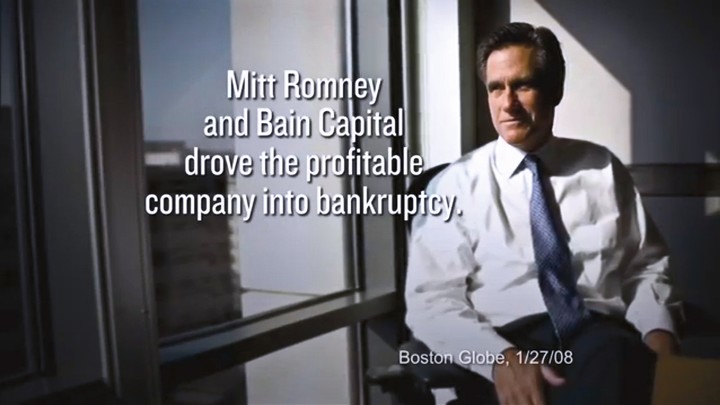 Thirty-six hours. That's all the time Priorities USA Action, the lone outside super PAC backing President Obama, needed to fashion a TV advertisement out of Mitt Romney's instantly infamous condemnation of nearly half the country as government-dependent "victims." The spot, unveiled on Wednesday morning and running in six battleground states, offers the Republican presidential nominee's secretly recorded remarks as proof that he's hostile to the middle class.
The group has been hammering at Romney's purported indifference to that share of the electorate since May. So, the secretly recorded video made public this week isn't new ground so much as a perfect chance for Priorities USA to repackage an old message, like a play that changes scenery for the second act.
If many voters perceive Romney as out of touch, it's due in no small part to the successful script that this group has written. That political environment, fostered and fueled by Priorities USA, gives its latest ad and argument extra resonance.
Mocked much of this campaign as an underfunded cousin to a wave of flush conservative counterparts like American Crossroads, Priorities USA has had an outsized impact on the presidential race. If the Obama campaign has waged a war of attrition against Romney, Priorities USA has been responsible for an array of tactical strikes key to defining him in negative ways — largely before the GOP nominee and his army of super PACs bothered to draw a positive picture of him.
The pro-Obama group's success is a reminder that, in the Citizens United era of big-money outside groups, a large bank account doesn't guarantee the greatest political impact. Strategy, and the content and creativity of the ads, still matter.
Priorities USA has a "laser-guided" approach to pummeling the Republican challenger, says cofounder Bill Burton, a former White House spokesman. "Every single ad we've run is about how Mitt Romney would harm the middle class," he says. "Whether it's showing his record, his business experience, or his policy prescriptions."
The group's ability to define Romney is most evident in Ohio, a particularly critical swing state this year. Priorities USA, which by mid-September had spent more than $6 million on advertising in the Buckeye State, began an ad barrage in May that assailed Romney's career at Bain Capital. The theme was consistent: Bain closed down businesses that supported middle-class jobs and reaped a profit from the misery. "He'll give you the same thing he gave us — nothing," said one man, who had worked at a steel company shut down by Bain, in a Priorities USA ad.
The message was aimed squarely at blue-collar voters, a pivotal constituency. And it seems to have taken hold: An NBC/Wall Street Journal/Marist poll in early September found the president leading by 7 percentage points in Ohio, one of a plethora of such surveys that show Obama over-performing in the state relative to his national standing. For perspective, he won the state by only 5 points in 2008.
The battleground state is "trending" toward Obama, according to Jon Husted, Ohio's Republican secretary of state, because voters have bought his depiction of Romney, thanks in part to ads from his campaign and from Priorities USA, particularly the ones run early in the race. "There was definitely this early effort to define him," Husted said. "They used Bain and taxes to really "¦ define Mitt Romney as elitist and out of touch."
The group's own data tell the tale of the tape: A July memo from Priorities USA contended that in media markets where its ads ran, 40 percent of voters said that Romney's business background made them less likely to support him. In demographically similar markets where its ads didn't run, that number dropped to 34 percent.
The impact of Priorities USA shouldn't be overstated. Its ads have been successful in states such as Ohio, but the $6 million it spent there is still dwarfed by the nearly $38 million that Obama's campaign has invested and the $17 million that Team Romney has unleashed. Overall, according to a tally by NBC News, Priorities USA has spent about half of what the combined American Crossroads and Crossroads GPS sister organizations have poured into the race. The group also suffered embarrassment this summer when an ad it produced erroneously tied Bain to a woman's death from cancer; the spot was widely condemned and ultimately withdrawn before it aired on television.
The principal dilemma for Priorities USA, however, is whether it can stay effective in the race's final weeks. Groups such as American Crossroads are expected to have far more money for TV ads at a time when the airwaves will be cluttered with political messages. Spots that voters noticed a few months ago may be outmatched by the blunt force of ads that have the benefit of being run far more frequently.
Still, it's possible those ads could come too late; Priorities USA's initial barrage came when perceptions of Romney were much squishier. Those views have hardened in the four months since. Changing them will be difficult.
But if Romney stages a comeback, he'll largely be able to credit the financial advantages of his campaign and the outside organizations allied with him. And Priorities USA will again look like the 98-pound weakling that was unable to help an incumbent win reelection. As anyone in the ad game can tell you, images can be fleeting.
We want to hear what you think about this article. Submit a letter to the editor or write to letters@theatlantic.com.