Charlotte Swag: 'Once You Vote Black You Never Go Back' and More
The best of the official and unofficial campaign gear on display for the Democratic convention
What do you get when you combine the festival atmosphere of a political convention with Barack Obama, the man who has pushed the boundaries of campaign swag farther -- from high fashion to scented soy candles -- than any candidate before? Here's a quick sampling of some of the gear I saw on display around the Democratic National Convention and the surrounding area in the days before the convention opened.
****
This button doesn't appear to be official merchandise, but a street vendor was hawking it at CarolinaFest, an outdoor Labor Day celebration in downtown Charlotte (which is confusingly called "Uptown") on Monday. The sentiment is a little controversial -- when I tweeted it Monday, some conservative tweeps were up in arms -- and would eliminate many of the top contenders for the Democrats' 2016 nomination: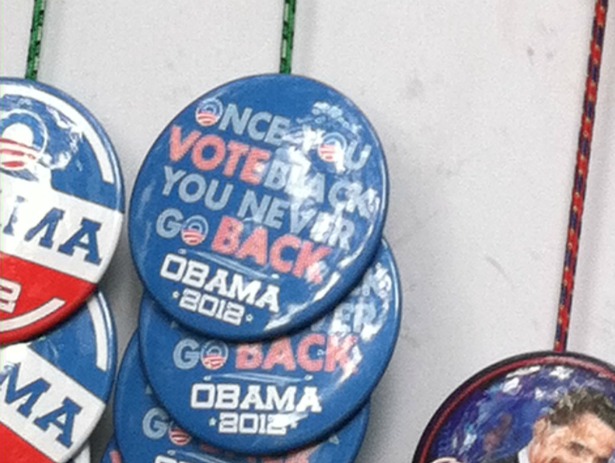 All photographs: David A. Graham
This can't be the first time someone's punned on the famous Run-DMC logo, but this tote bag (also from CarolinaFest) is still well done: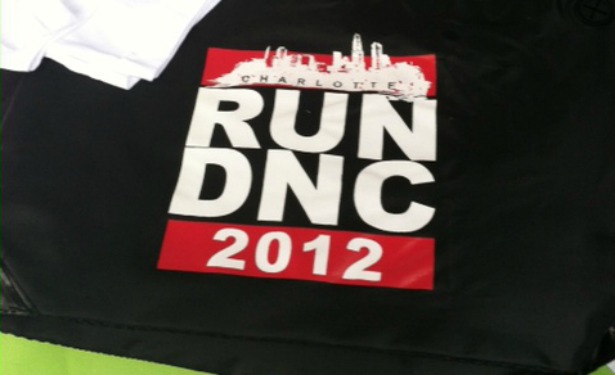 Meanwhile, there was plenty of silly humor on display at the official merch table. In case anyone had forgotten that the convention was being held south of the Mason-Dixon line, here's a reminder (as if the presence of a Bojangles' at the Charlotte Convention Center wasn't enough):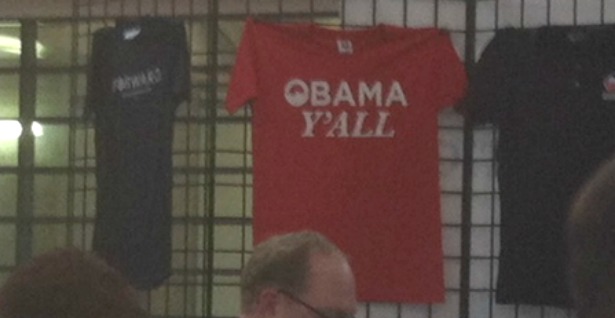 Bloomberg's Richard Rubin talked on Monday to an attendee from Arkansas who was upset that she couldn't find an "African-Americans for Obama" button. That might seem like a mild omission until you realize the broad range of professions represented in the pin selection at the merchandise table inside the DNC: dancers (perhaps left over from a Tampa counterprogramming effort?), fisherman (there's apparently only one), bartenders, and, yes, sisters. I thought that was going to be black women -- but no, it's a nun in habit. I haven't seen anyone actually wearing one (the button or a habit), but I did see "African-Americans for Obama" pins elsewhere.
Here, however, is my favorite one: "Hipsters for Obama." Set aside that the guy pictured looks more like I'm Still Here-era Joaquin Phoenix than any real-life denizen of Williamsburg; it makes sense that the first hipster president would hawk this pin. But who would wear this unironically? Everyone knows Obama was cooler back in 2003, before anyone had heard of him.