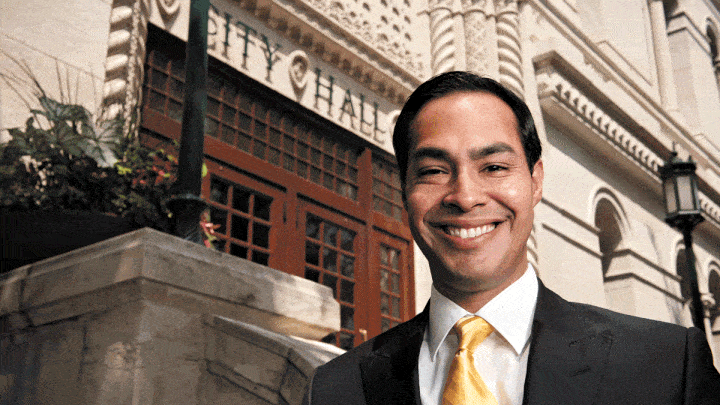 San Antonio Mayor Julian Castro, fresh from his keynote speech at the Democratic National Convention, said on Wednesday that Democrats as well as Republicans need to do a better job of reaching out to Hispanics.
"I would say that both parties historically probably didn't do a good enough job of outreach to the Latino community and cultivating outreach to the Latino community," said Castro, speaking at a National Journal/Univision/ABC News event in Charlotte.
(RELATED EVENT VIDEO: The Democratic Party in Tomorrow's America)
He added that campaigns need to speak to second- and third-generation Latinos in English, which tends to be their dominant language. He called that demographic "one of the most untapped segments" of voters.
"The campaigns have not been speaking with advertising to that group of folks, because generally folks think that they have got to advertise in Spanish and that's hitting the Latino vote, and then they don't want to mix their messages in English," he said.
Speaking at the same event Rep. Xavier Becerra, D-Calif., vice chairman of the House Democratic Caucus, acknowledged that Democrats need to do a better job of elevating Latinos to nationwide and statewide offices.
"Republicans have a long way to go, but good for the Republicans that they have high-ranking Latinos in their ranks, and shame on Democrats if we don't see that we better do the same thing real soon," Becerra said.
He predicted that achieving immigration reform is only a matter of time, but agreed with Minority Leader Nancy Pelosi's assessment that it will be harder for Obama to accomplish this goal if the Democrats do not win the House and keep the Senate.
"There are Republicans -- friends of mine who are conservative who want to do this, who I believe would be ready to break if they saw it could be done without them having 30 daggers in their back the moment it passes," Becerra said.
Castro added that he believes the growing Latino population and the influx of more moderate voters from other states will turn Texas from a deep red state to a purple one by 2020.
"About Texas, I believe, in the next six to eight years, what you will see is the acceleration of that state into a purple state, for two reasons "¦ the growing Latino vote and the growing number of people who come from more moderate places," he said.
We want to hear what you think about this article. Submit a letter to the editor or write to letters@theatlantic.com.