Bear Hugs and Biker Chicks: Good Times With Barack and Joe
Obama gets a boost from a Republican and the vice president gets friendly with a leather-clad woman.
The narrative has shifted. With President Obama appearing to enjoy a substantial bounce post-convention, the foremost peddlers of conventional wisdom are giving the president the advantage and Romney advisers are privately confiding worry.
Sure, polls are one way to look at the state of the race. But another is to look at how the respective tickets spent their weekend. Mitt Romney and Paul Ryan were on Meet the Press and Face the Nation, respectively, on Sunday, where both faced tough questioning. Meanwhile, here's what Barack Obama and Joe Biden were up to: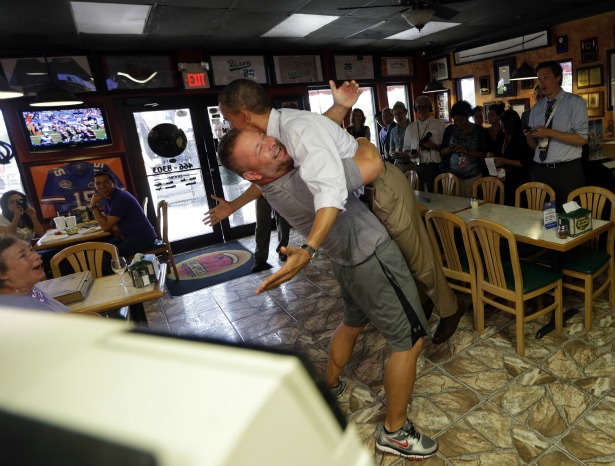 Associated Press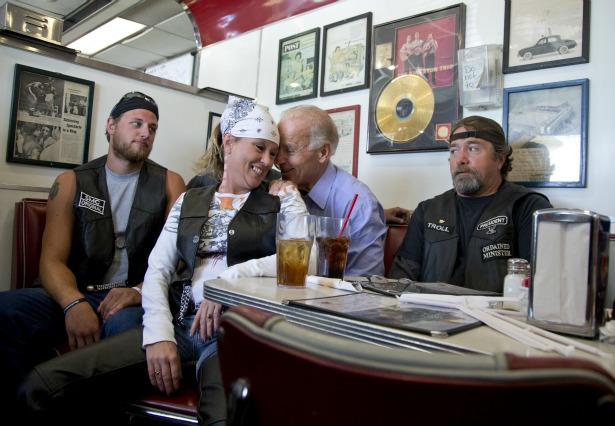 Associated Press
Obama, in addition to his polling bounce, enjoyed a lift from Scott Van Duzer, the 6-foot-3, 260-pound owner of Big Apple Pizza in Fort Pierce, Florida. Obama, pointing to Van Duzer's physique, cracked, "Everybody look at these guns. If I eat your pizza will I look like that?" The restaurateur, in response, lifted the president a foot in the air. (Obama's cool response -- hands raised in casual shrug -- is impressive given the circumstances.) Van Duzer is just the kind of voter Obama wants to court: He says he's a Republican, but voted for Obama in 2008 and plans to do so again.
The vice president, meanwhile, was in Ohio, another battleground state. Stopping at Cruisers Diner in Seaman, in the southwest area of the state, Biden had an unexpectedly intimate moment with a leather-clad woman. The only thing better than the blissful expressions on Bidens' and the woman's faces are the expressions on the other two men: It looks as though they'd be ready to head into the back alley with a couple of baseball bats if the Secret Service wasn't there to protect Biden. As TPM's Eric Kleefeld pointed out, this is the convergence of real-life Joe Biden with The Onion's version of Joe Biden.