As Economy Sags, Romney Talks Libya, Egypt, Medicare, and God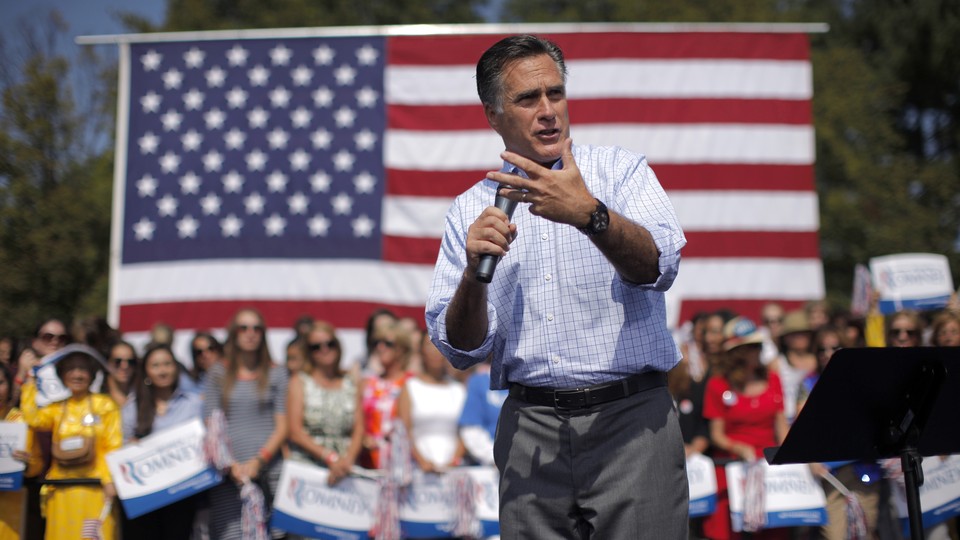 Here's what voters heard a lot of Wednesday: Mitt Romney assailing President Obama -- critics would say prematurely and ineptly -- over his handling of protests in Egypt and a deadly attack on the U.S. consulate in Benghazi, Libya.
Here's what they didn't hear much about: a new report from the U.S. Census Bureau showing that median family income declined last year by 1.7 percent.
Two months before Election Day, guess which topic voters care more about?
What was and wasn't discussed on Wednesday snaps into focus a recent and persistent problem for the Romney campaign. Despite a professed dedication to directing its fire solely on Obama's economic management, the campaign of late has often strayed into unfriendly subject matter.
Republicans dismiss speculation that Romney's wanderings off-subject are an admission that the GOP campaign, trailing Obama after the president's post-convention bounce, now believes an economics-only argument is not enough to win the White House. Rather, they say, the campaign needs to sharpen Romney's own economic vision while sharpening its critique of the president. To some, that means it's time to get tough.
"It's time to take the kid gloves off and put the big-boy gloves on," said Greg Mueller, a GOP strategist.
For much of the last month, the Romney campaign has struggled to deliver a message that attacks Obama on the single most important issue: jobs. When Romney picked running mate Paul Ryan in early August, the GOP ticket spent weeks assailing the president over Medicare. The tactic might have been designed to neutralize a traditional weak spot for the GOP, but it still steered the campaign onto Democrat-friendly turf. A United Technologies/National Journal Congressional Connection Poll released on Wednesday found that 54 percent of Americans trust Obama and congressional Democrats more on Medicare than Romney and congressional Republicans.
And just last weekend, Romney made headlines when he pledged to preserve the word "God" on American coins. The culture-war red meat came during a campaign appearance with evangelical leader Pat Robertson -- prompting speculation that after his convention, Romney had retooled his stump speech.
Those tacks would amount to diversions from Obama's greatest vulnerability at any point in the campaign. The irony is that the Romney campaign is wavering from an economic argument at exactly the moment that a stream of disappointing news is bolstering such a case.
The Census report found median family income had dropped more than 8 percent since its prerecession 2007 level while poverty levels remained at an all-time high. Moody's threatened this week to downgrade the U.S. credit rating, and last week U.S. government debt surpassed more than $16 trillion -- a record.
All of the news comes on the heels of last week's dismal jobs report, which showed more than 350,000 people had left the workforce in August.
It's not as if the Romney campaign has ignored the news -- the campaign issued a press release on Wednesday saying the Census report shows "the American Dream remains out of reach for too many families." Aside from Clint Eastwood's 10-minute soliloquy, the GOP convention rarely strayed from a blunt condemnation of Obama's handling of the economy. And the attack in Libya would have necessitated some kind of response.
But the campaign still hasn't seized on what appears to be an opportunity to press harder on the notion that Obama wasn't the right man to turn around the economy. Romney's controversial decision to go full-throttle against Obama in the midst of violence and tragedy could make it harder for him to direct attention to the economy even if he tries to pivot back.
"It's hard not to get distracted by the news of the last five minutes and keep your eye on the prize on November 6," said Whit Ayres, a Republican pollster who is not working for the campaign.
Ayres defended the Romney team's handling of the news out of Libya and how it has crafted the GOP message more generally. The key, he said, is not to ignore non-economic news, but to tie the news back to an argument about jobs.
"What choice do they have? Do you want to talk about abortion?" Ayres said. "It's all about jobs, the economy, spending, and debt. Barring some sort of international cataclysm, the victory is going to go to the candidate who paints the most compelling vision for why they have a better answer on creating a better economic climate over the next four years."