Akin Vows to Fight on in Missouri Senate Race
Deserted by the Republican Party and condemned by critics, he has harsh words for former allies but no intention of dropping his bid.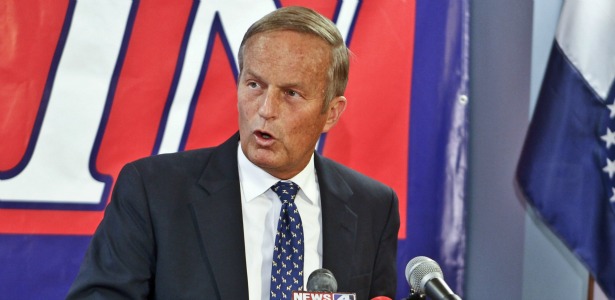 Reuters
OSBORN, Missouri -- At a cattle auction here late last month, drought-stricken farmers expecting to appraise livestock found themselves instead looking over the country's most-vilified Senate candidate.
Rep. Todd Akin was four-and-a-half hours and a tax bracket or two away from his prosperous, suburban St. Louis congressional district. Accompanied by his wife and three aides, Akin was making the second stop of his first day of public campaigning for the Senate after his statement that "legitimate rape" rarely causes pregnancy. In the 12 days since, he had rocketed from being a mostly unknown figure -- even within his own Republican Party -- to being a political pariah drawing unfavorable reviews from most Missouri voters. He had received death and rape threats. And Akin was surely aware that people he met -- even out here in Osborn -- saw him first as the guy who uttered the words "legitimate rape."
But he plunged right in, introducing himself to anyone who missed the "Todd Akin" sticker on his shirt, and talking one-on-one with coffee-sipping farmers. In the process, he made it clear why he is remaining in the race against Democratic Senator Claire McCaskill -- and why he is probably going to lose.
One reason involves the loaves and the fishes. The Democratic Senatorial Campaign Committee has booked about $5 million worth of airtime for McCaskill, who entered the fall with $3 million of her own money in reserve. The National Republican Senatorial Committee, meantime, said it will not spend a dime for Akin, who has quickly exhausted the $425,000 that his campaign said it raised online between his August 19 "rape" remark and this week.
Akin likes to note that he prevailed in a primary in which he was also outspent. His wife, Lulli, who plays a major role in this campaign and, like her husband, is a born-again Christian, said that their campaign funding at this point depends on God. The couple are members of the Presbyterian Church in America.
"God can increase," she said, citing the "Feeding of the 5,000" -- a Gospel miracle in which Jesus uses five small barley loaves and two small fish to feed a multitude. The campaign will take small contributions, "respect them, and say 'God, multiply it. Make it pay,'" Lulli Akin said. "It brought us through the primary, same way. We're gonna see it again, because God wants to be honored."
While Akin was here discussing grain prices with one farmer, McCaskill was preparing to reach Missouri's 6 million residents with a television ad touting her moderate voting record, an ad buy that Akin could not afford to effectively counter. That problem will worsen for him after a September 25 deadline for petitioning to get off ballot -- the last chance Akin has to leave the race. That's when Democrats will likely unleash an onslaught of millions of dollars' worth of negative ads.
That's a lot of loaves and a lot of fishes. And the financial imbalance, more than polling, is the reason campaign analysts call McCaskill a strong favorite to win the race.
"IT'S BIGGER THAN ME"
The Akins' faith is evident in their personal life. They homeschooled their six children. The six-term House member has a master's degree in divinity from Covenant Theological Seminary in St. Louis. Faith forms Akin's political identity as well. The animating concept of his campaign is the notion in the Declaration of Independence that God grants Americans their rights. He has said that promoting that message is the "cause" for which he defied calls by Republican Party leaders and others to quit the race. Akin credits God, too, for the principle that citizens should elect their government, a right that he says would be violated if "party bosses" forced his exit.
"It's bigger than me," Akin told about 20 people at a meet and greet in Plattsburg, 50 minutes north of Kansas City and his next stop after the cattle auction. "I am very into the idea of principle and not very tolerant of politics -- and a whole lot less so than I was before."
Despite being left for roadkill by his own party, Akin has supporters; he told them in Plattsburg that's he's staying in the race until November. His voice quivering, he said he takes "very seriously" supporters who say, "'I trust you because I know you're an honest man.'"
"A lot of people don't understand me exactly," Akin said. "When I say something, I do what I say I am going do."
Republicans in Missouri -- lawmakers, political operatives, and others -- seem to uniformly share Akin's assessment that the furor over his remark left him poorly understood. And they agree that Akin, even after a dozen years each in the Missouri state House and the U.S. House, has never "been a party person, particularly," as he put it.
"He has never really understood the political process and never really reached out to others," said one Republican in the state. The operative described Akin's unfamiliarity with major Missouri donors with whom other state Republicans keep close contact.
"He is unique," said former Republican Senator John Danforth, who argued that Akin's highlighting of divisive social issues undermines Republicans' focus on the economy and debt. "He is unique, because unlike everybody else I have ever seen in politics, he has taken the banner and marched into the woods."
Akin highlights Republican leaders' difficulty in managing their compact with Tea Partiers and social conservatives. The GOP seeks their votes but real, conscience-driven candidates pose problems. Those who are willing to lose on principle often do.
But while pundits find it tempting to tout Akin's continuing candidacy as emblematic of the tea party, social conservatives, born-again Christians, or of the rightward drift of Missouri politics, Akin is of a different sort. He is part of all those things. But he is not particularly representative of them, any more than he represents the Republican Party.
Akin was born in New York City, earned an engineering degree at Worcester Polytechnic Institute in Massachusetts, and worked for IBM outside Boston for four years. That is no standard résumé for a Midwestern archconservative. He was raised and lived for much of his adulthood in the leafy city of Town and Country, one of the wealthy St. Louis suburbs that make up much of his district. The lawmaker and his constituents are a long way from many of the financially struggling rural and exurban voters whose support he needs in November.
These days, Akin repeatedly asks voters to ignore "distractions" and instead compare his voting record with McCaskill's. Her affinity with President Obama is her chief vulnerability in this right-leaning state and the reason that, before Akin's controversial remarks, Republicans were gleefully chalking up the race in the win column. At the meet-and-greet, Akin said that McCaskill has voted with Obama 98 percent of the time and was "hugging on him and loving on him" during one of the president's appearances in the state.
"I don't know who he's working for, but it isn't for us," Akin said of Obama. "And Claire McCaskill isn't working for us either."
THE TIES THAT BIND
Akin grows most animated when discussing God as the source of American rights. That's the first sentence of his campaign brochure, and the concept of a divinely derived Constitution is a foundation of his political views. On the stump, he sounds like a Tea Partier by way of the New Testament. He has opposed or questioned Medicare, the 2010 health-care law, and the federal role in issuing student loans on the grounds that the Constitution does not grant the federal government those powers.
"What makes America unique and different?" Akin asked voters in Plattsburg. "I would say to you, it's this idea that the Founders brought us -- that there is a creator, that God gave us life and liberty and the pursuit of happiness. No other nation has ever been founded on that idea. And I think if we ever lose sight of that, then we are no longer the America you and I grew up with. And that is what I am standing for, the idea, first of all, that God gave us life."
His campaign operation, by design, is small-scale and close-knit, one much more befitting a House member than a Senate candidate in a race that has gone national. His son Perry manages the campaign. Lulli Akin is a major influence, something that GOP strategists critical of Akin privately lament.
Many Akin campaign staffers are joined through social or church ties to the Akin family. An aide said that they are committed to their boss as a cause rather than a means to advance their careers. This model served Akin in his first, upset House victory and his win over a better-funded opponent, businessman John Brunner, and others in the GOP Senate primary this summer. Those successes fuel the Akins' confidence that they can win again.
Calls by leading Republicans for him to drop out have only increased the insularity of his campaign. NRSC staffers who were working to prepare the campaign for Akin's first competitive, nationally watched general election disappeared. The controversy meant that Akin's paid staff of about 30, according to senior campaign aide Rick Tyler (a longtime sideman to Newt Gingrich), did not significantly expand with experienced party operatives, as is often the case as campaigns shift into general-election mode. After a critic tweeted Akin's cell-phone number, he changed it. As a result, many Missouri Republicans are unable to reach him.
The pressure and attacks clearly reinforced Akin's sense of mission. For the family of the lawmaker known for dressing in colonial garb at Fourth of July parties, the attacks also increased their identification with Revolutionary America. Lulli Akin said that efforts to push her husband out of the race threaten to replace elections "by the people and for the people" with "tyranny, a top-down approach." She added, "Party bosses dictating who is allowed to advance through the party and make all the decisions -- it's just like 1776 in that way."
She cited colonists who "rose up and said, 'Not in my home, you don't come and rape my daughters and my ... wife. But that is where we are again. There has been a freedom of elections, not tyranny of selections since way back. Why are we going to roll over and let them steamroll us, be it Democrats or Republicans or whomever?" Obama and Mitt Romney "both seem to be embodying" a British monarch, "with all the tactics that they've been revealing" toward her husband, Lulli Akin said. "Are they that dissimilar?" she asked. "Are they really dissimilar? They say with their mouths 'free enterprise' -- but, really, how free?"
Asked about comparisons of his plight to revolutionary Americans, Todd Akin called it "a little more grandiose than the way I would say it." But he seconded the theme, citing "this tremendous sense of uprising I feel among the people I talk to," that "'We made a decision, and [even if] I didn't even vote for you ... it was a legitimate race.' "
Akin's legislative record includes few significant bills passed and a focus on unsuccessful social-conservative proposals, such as a measure to strip lower courts of jurisdiction over the phrase "one nation under God" in the Pledge of Allegiance. He does not seem a man much interested in political compromise -- or even in legislating at all. But he doesn't pretend that he is, and his political struggles now are part of his outsider appeal. He can honestly argue that he sacrificed political benefit for his principles.
Typical congressional campaigns, like many families, will go into debt to cover expensive necessities. The Akin family, and the Akin campaign, strictly avoid debt, a position the candidate would like to apply to the U.S. government. The Akins did not have a mortgage until a few years ago, and they took one out only to boost their credit rating.
This stance contributed to the campaign's struggle to reach voters in the primary, according to campaign aides and Lulli Akin. The candidate's main problem now is that he cannot raise enough money, but his refusal to rack up debt worsens that disadvantage. His aides say they are seeking new sources of funding. Tyler predicted last week that "national funding will come back" when polling shows that Akin can win. But, in the meantime, Tyler said, the campaign's current intake "won't be enough."
Akin appears well aware of his challenge. He declined to assure supporters he can compete with McCaskill financially or prevail in November. "I can give them reassurance that I am gonna stay in the race," he said in an interview. "That, I can give them. What is gonna happen, that is not in my [control]. You know, I am gonna do the best I know how. That is all anybody can do."
Akin seemed both apologetic about his controversial statement and still stunned by the reaction. "If I'd done some heinous crime or something, then I can understand that I, just on my own, should step down," he said.
But, he continued, "people made their choice, and I think it would be wrong for me to step down. I really do. I think it's the wrong thing for me to do. And I don't do wrong things intentionally. Sometimes I hurt people, but I don't mean to."
Tyler said that Akin is committed to winning the race but willing to lose rather than compromise his principles. He is prepared "to be happy returning to being an American citizen," Tyler said."His identity is not all wrapped up in this. "There are plenty of politicians," the aide said, who "if they lose, they wouldn't know who they were. That's not Todd Akin."
LAYING BLAME
Whatever Akin's fate, his party is working hard to mitigate damage to other Republican candidates, especially Romney. In unifying against Akin, GOP leaders reduced damage to the national brand with women and independents, but concern remains. Senator Olympia Snowe of Maine said that Akin's continued candidacy "can reinforce, regrettably," Democrats' claim of a Republican "war on women." But worry about Akin is not limited to Washington. In Missouri, all living former GOP senators called for him to step aside. Akin backers claim that Republican Senator Roy Blunt, who organized that effort, also unsuccessfully pushed in recent weeks for the Missouri Farm Bureau to drop its endorsement of Akin.
Republican state Rep. Sue Allen, a Missouri lawmaker who represents part of Akin's House district, says she "wouldn't vote for Claire McCaskill if my life depended on it," and will vote for Akin if he is on the ballot. But Allen said she was telling constituents that Akin is unelectable. "At some point, he has to realize that whatever the message is, it's not going to get out there," Allen said.
Meanwhile, some Republicans fear that the Akin controversy, particularly former Arkansas Governor Mike Huckabee's charge that GOP leaders are ignoring social conservatives in abandoning Akin, risks reducing enthusiasm and, potentially, turnout among a small but possibly consequential slice of conservatives.
Tyler is clamoring for the NRSC to resume aid to Akin, touting that same scenario. He predicted a "revolution in the party" if the GOP fails to capture the Senate or the White House and fallout for Senate GOP leaders if McCaskill wins.
"If we lose, it will be their fault," Tyler said. For his part, Akin declined to say if Republican leaders will bear the fault if he loses.
Still, in Osborn, farmers were much less interested in talking about abortion and more worried about the long drought that spiked grain prices. In a situation like this, many lawmakers could cite their efforts to enact a disaster-relief bill, which the House passed this summer. Not Akin, who missed the vote and has regularly voted against such relief measures. He has also opposed farm bills because of food-stamp funding and other provisions. He says he "wants to vote" for the farm bill pending in the House, but that his decision will depend on its details.
If Akin wanted to please farmers, he could reverse his position on farm and disaster-aid legislation and assert that he is running to represent millions of new constituents. Many past Senate hopefuls have taken that tactic in adjusting policy positions.
But Akin didn't do that. He did not mention pending legislation, and he agreed, when asked, that he couldn't offer drought-stricken farmers much beyond the hope of rain. It had been a hot, dry week. However, as Akin headed for his car, the wind picked up, and a storm, the remnants of Hurricane Isaac, moved up from Arkansas and drenched Missouri.