Why South Carolina's 'Most Sacred' Right Is in Jeopardy
Why is Governor Nikki Haley defending her state's racist voter-identification law? And why is the Republican Party cheering her efforts?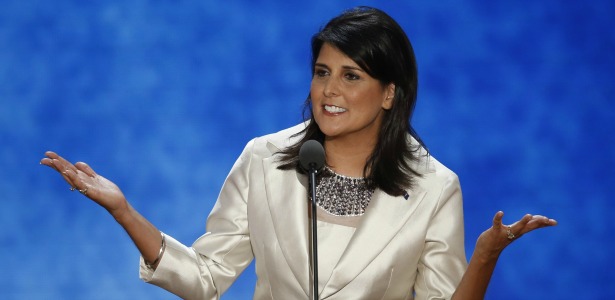 Reuters
Last night, at the Republican National Convention, to a wildly cheering crowd, South Carolina Governor Nikki Haley said this from the podium about her state's new voter-identification law, which has been blocked by the Justice Department because of its discriminatory impact upon registered minority citizens in the state:
We said in South Carolina that if you have to show a picture ID to buy Sudafed and you have to show a picture ID to set foot on an airplane, then you should have to show a picture ID to protect one of the most valuable, most central, most sacred rights we are blessed with in America -- the right to vote. And what happened? President Obama stopped us.
Her remarks came just a few hours after the end of the testimony in the second day of a federal trial in Washington, D.C., over whether the South Carolina law violates the provisions of the Voting Rights Act. In that trial, on Tuesday, we learned many things about the intent behind the law -- none of them supporting the governor's premise that South Carolina holds "sacred" the right to vote for all of her citizens. (Here is the transcript of the afternoon session; it's well worth the read.)
First, from McClatchy, we learned about some of the racial animus that surrounds the legislation:
WASHINGTON -- A South Carolina lawmaker and the author of a voter ID law considered discriminatory by the Justice Department testified in federal court Tuesday that, while crafting the bill, he had responded favorable to a friend's racist email in support of the measure ....

Garrard Beeney, who represented the civil rights groups [challenging the law], presented emails sent to and from [State Rep. Alan] Clemmons' personal account between 2009 and 2011, when he was working on the law. One, from a man named Ed Koziol, used racially charged rhetoric to denounce the idea that poor, black voters might lack transportation or other resources necessary to obtain photo ID.

If the legislature offered a reward for identification cards, "it would be like a swarm of bees going after a watermelon," Koziol wrote. Beeney asked Clemmons how he had replied to this email. Clemmons hesitated a moment before answering, "it was a poorly considered response when I said 'Amen, Ed, thank you for your support.'"
The world also learned Tuesday, just hours before Haley took the podium in Tampa, that South Carolina had rejected another voter-identification law, a perfectly reasonable one, that would have made elections there more accurate in a more inclusive way. From NPR News:
Another witness Tuesday was South Carolina Lt. Gov. Glenn McConnell, a Republican, who was a leader in the state Senate at the time the voter ID law was passed. He said he and several other senators pushed for a broader bill that would have allowed voters to show ID from their government jobs at the polls and would also have allowed early voting. Those provisions were struck from the bill in the House.

McConnell said the "political heat was on" from Tea Party and Republican Party leaders to pass the more restrictive measures. "I thought our bill was a superior bill," he said of the less restrictive measure, adding that it had bipartisan and biracial support an implying it would have faced much less opposition from the Justice Department." Who was to complain?" he asked.
Now we know what Haley means when she talks about protecting the "sacred right" of voting. She means that to protect that right for some it's okay to destroy it for others. It's no wonder that the three federal judges who heard testimony Tuesday often seemed puzzled at the utter lack of reason behind the measure -- and the utter failing of state officials to gin up a rational justification for it. In the meantime, someone should tell Haley that the right to vote is a constitutional one, for which many good men and women have died, while the right to Sudafed is not.