Why Romney Can't Run Away From Ryan's Budget
The same conservative base that's thrilled to see Paul Ryan on the GOP ticket is in love with Ryan's budget proposals -- which Romney is already backing away from.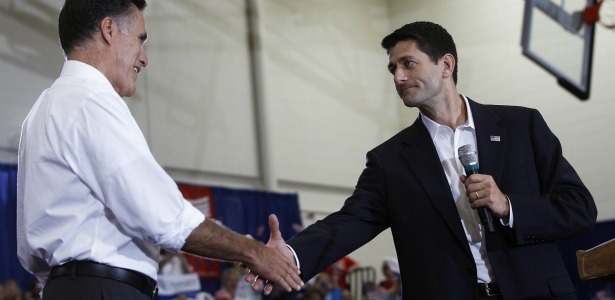 Reuters
ASHLAND, Virginia -- Just hours after Paul Ryan was selected to join Mitt Romney on the Republican ticket, there are signs Romney is trying to tiptoe around Ryan's controversial signature legislation -- the House budget plan he formulated that includes major changes to Medicare.
The campaign has issued talking points emphasizing that Romney "will be putting together his own plan" for the budget as president, and that he and Ryan "have different views on some policy areas - like Medicare spending [and] entitlement reform." And despite all the hosannas from the punditocracy predicting a newly substantive tone to the presidential race, Ryan and Romney did not exactly spend their first couple of joint appearances geeking out over policy details. The word "budget" occurred not at all in Romney's first speech with his new ticket-mate, and just once in Ryan's.
But if Romney is planning to go squishy on the Ryan plan, he does so at his own political peril. If GOP voters are newly revved-up by Ryan's selection, the Ryan plan is a central reason, according to more than a dozen conversations at Romney's Virginia events Saturday.
"I think he is smart. I think he has a plan, which others don't seem to have," 64-year-old Gina Alexander told me at Romney and Ryan's second stop of the day, held in a packed, raucous gymnasium at Randolph-Macon College here, just north of Richmond.
Her husband, 58-year-old Douglas Alexander, said it's the specifics of the Ryan plan that give it heft. "This country has got a serious economic and financial burden it's got to address," he said. "If politicians don't address the stress on entitlements, the country's going to collapse."
It was the same story with voter after voter I talked to -- they liked Ryan because he has a plan, and they liked the plan for very specific reasons. Some even said they'd read it. "The other side has been criticizing Paul Ryan from the beginning, but they're not serious about solving the country's problems," said Susan Roesch, a former oil trader from McLean who attended the last event of the day in Manassas. "They're going to have to talk about issues now. They're going to have to talk about specifics."
As Romney and Ryan spoke in Ashland, the crowd -- half standing in front of the candidates' elevated platform, half seated on bleachers behind -- surged with an enthusiasm not always seen at Romney's rallies, which can be rather staid affairs. Ryan, who had been a bit stiff at the day's first event in Norfolk, was noticeably looser and more personable without a teleprompter to guide him; the fact he was allowed to go off-script so quickly was a striking sign of the campaign's trust in the ticket's newest addition.
Toward the end of the speeches, audience members began pounding on the bleachers as they applauded, creating a drumroll effect. An especially big cheer went up when Romney vowed that Ryan's addition would mean an elevation of the campaign, a debate that would no longer "drag down in the dirt like you're seeing from the Obama campaign."
To conservatives and liberals alike, the great virtue of Ryan's selection is the license it gives to have a debate on the merits of the sort of truly contentious issue politicians usually prefer to obfuscate. The supporters I talked to thrilled to his steadfastness, bravery, and ideological core. If Romney starts running away from his politically difficult ideas, that appeal disappears.
There's also the question of how far Ryan will allow Romney to stray from his plan. Before he gave Romney his late endorsement in the spring, Ryan met at length with Romney and briefed him on the budget plan, only agreeing to give his support when he was satisfied the front-runner was on his wavelength. "I have spoken to him repeatedly. I'm convinced he'll do the right thing when it comes to the budget and averting a debt crisis," Ryan told the Milwaukee Journal Sentinel at the time.
But if even Ryan won't keep Romney on board with the Ryan plan, there's one entity that definitely will: the Obama campaign. Obama has been campaigning against the Ryan plan, and tying Romney to it, since April. If Romney disowns it, the left will take almost as much pleasure at calling him out as a flip-flopper as they're currently taking in calling him an extremist.