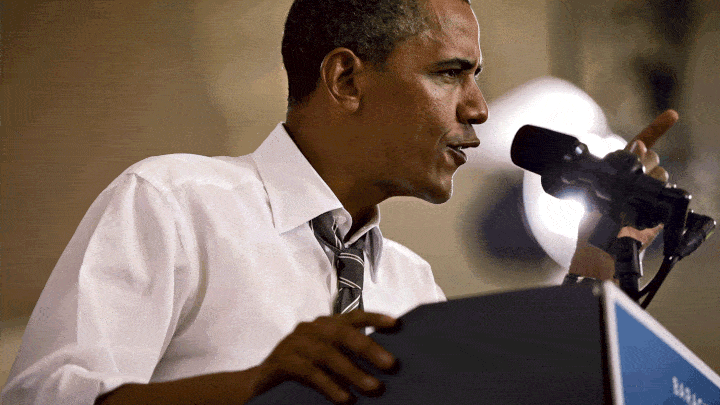 In remarks that could preview the themes of his convention next week, a combative President Obama on Wednesday offered a defiant defense of his embattled health care law and hit hard at Mitt Romney for wanting to take the country backward to the last century. While many Democrats rarely mention the 2010 Affordable Care Act, the president lovingly embraced the name given it by critics — "Obamacare" — and all but dared Republicans to try to repeal it.
At a campaign event in Charlottesville, Va., Obama hit the new GOP nominee on energy, climate change, and education. But he was his most passionate on health care.
"We could go back to a health care system that lets insurance companies decide who and when and what to cover," he said. "But I think we've got to move forward with Obamacare. It's already cutting costs; it's covering more people; it's saving lives."
Noting that Romney has pledged to kill the health care law on his first day in office, the president added, "That means that by a stroke of the pen, apparently he thinks he can kick 7 million young people off their parents' plan, he can make prescription drugs higher for seniors. Suddenly, folks with preexisting conditions are out of luck."
Warming to the topic as his student audience applauded, Obama said, "He calls my health care law "˜Obamacare.' I call his health care plan "˜Romney-doesn't-care.' " He dismissed Republican attempts to undo the signature accomplishment of his presidency. "This law is here to stay. The Supreme Court has spoken. We're not going to refight the battles of the last four years. We're moving forward. That's what's at stake in this election."
The Virginia speech signals that Democrats meeting in Charlotte next week will try to stay on offense on the health care law and environmental measures. That could mean more talking about the benefits of the reform after generally ceding the floor to the Republicans talking about the costs and negatives.
Obama also mocked Romney's criticism of efforts to increase fuel-efficiency standards. "My opponent called my position on fuel-efficiency standards extreme.... It doesn't seem extreme to me to want to build more fuel-efficient cars. Maybe the steam engine is more his speed."
Obama contended that Romney "wants to go backwards — sometimes all the way to the last century." To cheers and applause, he added, "In November, you can say that in this century, women should be trusted to make their own health care choices.... You can say we shouldn't rewrite the Constitution to prevent gay Americans who love each other to marry the people that they love."
And on the day when Republicans in Tampa were targeting his stewardship of national-security policy, the president also tweaked Romney for calling the end of the war in Iraq "tragic." Romney, he said, "likes to talk tough, but he doesn't have a lot of details when it comes to these critical issues." Obama added, "When I say I will end the war in Iraq, I will end it. When I say that we will go after bin Laden, we will go after him."
We want to hear what you think about this article. Submit a letter to the editor or write to letters@theatlantic.com.