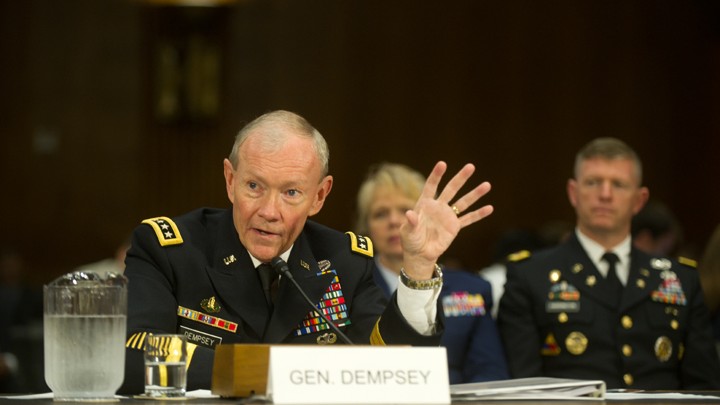 Afghan militants fired rockets into a U.S. military base in Kabul, damaging the plane used by Joint Chiefs of Staff Chairman Martin Dempsey, the Associated Press reports. The general was not near the aircraft at the time of the attack.
The U.S. military is calling the attack another tool for propaganda. A Taliban spokesman told the AP the insurgents had "exact information" to target Dempsey's plane, and the incident comes one week after the Taliban claimed responsibility for a helicopter crash that killed seven American soldiers.
Two maintenance workers were injured in the attack from shrapnel.
The Taliban is believed to be behind some of the so-called green-on-blue attacks, in which where men in Afghan uniforms fire on NATO forces. These attacks have left 10 Americans dead in the last two weeks.
Dempsey was in Afghanistan this week on a visit, but was "nowhere near" the plane during the shootings, a coalition spokesman told AP. The general left Afghanistan later Tuesday morning in a different airplane.
We want to hear what you think about this article. Submit a letter to the editor or write to letters@theatlantic.com.