Todd Akin Apologizes for Rape Comments in Interview With Huckabee
But the chorus of GOP members calling on him to step aside, including the National Republican Senatorial Committee, is growing louder.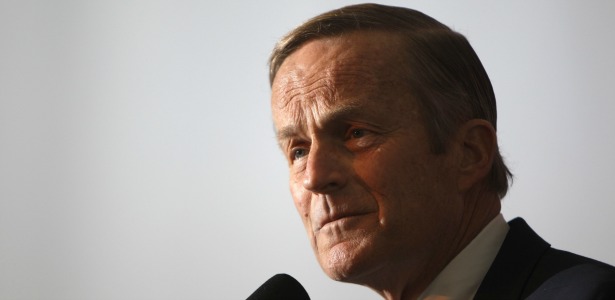 Associated Press
Missouri Senate nominee Todd Akin appeared on Mike Huckabee's radio show Monday for his first interview since the eruption over his controversial comments on rape Sunday. Akin apologized for his comments and said he'd "spoken in error" -- and maintained that he would not drop out of the race.
Huckabee's show was a friendly choice for the congressman: The former Arkansas governor supported and cut ads for him during his contentious three-way primary contest.
Akin opened the appearance by saying he made "a couple of serious mistakes that were just wrong" and needed to apologize.
"Rape is never legitimate," said the congressman. "I used the wrong words in the wrong way."
He emphasized that he is pro-life but cares equally for rape victims. Noting that he has two daughters, he said he wants "tough justice for sexual predators."
He also said he knows "that people do become pregnant from rape," and that he didn't mean to imply that it didn't happen -- but didn't specifically address whether pregnancy was less frequent in cases of rape.
Huckabee asked him about the use of the word "legitimate" in talking about rape.
"I was talking about forcible rape, and that was absolutely the wrong word," Akin responded.
The host also asked whether the comments and resulting firestorm was fatal to his campaign, and Akin responded that he was not the first public official "to suffer from foot-in-mouth disease," though he noted that this was a serious error. But in saying his campaign would continue, he cited the primary voters who chose him, the importance of the election, and tried to bring the focus back to economic issues and the differences between himself and Democratic Sen. Claire McCaskill.
"I'm not a quitter," said Akin. "By the grace of God, we're going to win this race." The people who elected me "know that I'm not perfect," he said. "Just because somebody makes a mistake doesn't make them useless."
He maintained that neither Mitt Romney's campaign nor the National Republican Senatorial Committee had asked him to step aside.
"No one has called me and said Todd, I think you should drop out," he said.
However, NRSC head Sen. John Cornyn has since issued a statement calling on Akin to "carefully consider what is best for him, his family, the Republican Party," and the NRSC has reportedly said it will pull funding from the race is Akin doesn't drop out. Sens. Ron Johnson, R-Wis., and Scott Brown, R-Mass., have also called for him to drop out -- and the Huckabee interview is unlikely to quell the furor.