The Underdogs? Inside the Romney Campaign's Digital Efforts
Despite a Pew report saying Obama is ahead online, Romney digital guru Zac Moffat says the Republican is social-media savvy.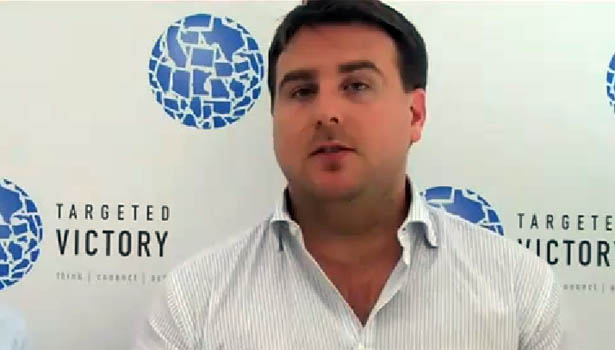 TargetedVictory / YouTube
Mitt Romney's social-media guru does not quantify success in his candidate's number of Facebook followers, but by their level of activity. Despite a recent Pew report that pegs President Obama as winning the battle for digital audiences, Zac Moffatt, the head of the Romney campaign's digital operation, says that the Republican candidate is ahead of Obama in terms of building an engaged and dedicated online following.
The raw numbers lean Obama's way. He has more than 27 million "likes" on his Facebook page, for example, versus fewer than 5 million for Romney. But according to Moffatt, Romney's followers are more likely to share information, post, and spread the word about their candidate. He cites June 28, the day of the Supreme Court ruling on the Affordable Care Act as an example. On that day, he says, the Romney campaign saw activity in the form of comments or sharing from 27 percent of their list of followers, compared to 1.7 percent for Obama. "That's how I'd define success for us," Moffatt says.
This is a tough sell. Obama's campaign team is legendary for its online prowess and its data-driven digital outreach. The Obama campaign appears to have raised the bar yet again, with the release of a mobile app that integrates digital outreach with the door-to-door shoe-leather efforts of volunteers, providing canvassers with voter-registration lists, neighborhood maps, campaign talking points, and a fundraising interface.
According to Moffatt, the release of this app so late in the game points to the challenges of leveraging digital assets in the real world.
"The Obama folks knew they were going to be running for president three years ago," he said. "It took them 100 days to build out this app that does all these pieces. You should look at that as realistic of how difficult it is to build a multipurpose, integrated app."
The Romney campaign "still has millions of doors being hit every month, whether or not we have an app," Moffatt says. "That just reduces some of the barriers, but it's not going to stop us from doing what we do every day."
The Romney campaign does have a couple of apps, including one that was built to deliver advance news of the candidate's vice-presidential pick. Although the app failed to scoop the press on the news about Rep. Paul Ryan, it did generate 100,000 "likes" on the Romney campaign's Facebook page, Moffatt says, while gathering e-mail addresses and other data on potential supporters. The campaign has been mum on how it is going to retool its Mitt's VP app for the general-election drive, but Moffatt says he has a plan. "I wouldn't be much of a digital director otherwise," he says.
Using search and other online media as a conduit to more standard advertising fare is an important part of the online media mix. Moffatt's research has shown that in a given week, there are one in three voters who don't watch live television other than sports. "That just means they live on DVR, Netflix, and Hulu. If we ran our entire campaign predicated on TV, that's a lot of voters we're missing," he says.
In Ohio, that figure could be 2 million voters. "The election will be won or lost most likely in that group," Moffatt says.
In the Nevada caucuses, for example, the Romney team placed an ad on Google's search engine that directed people searching for information on Newt Gingrich to an ad that criticized the former House speaker for taking consulting fees from federally backed mortgage-finance companies Fannie Mae and Freddie Mac.
In the 2012 cycle, Moffatt says, digital has seen a transformation from a "base list-building and fundraising effort" to "becoming a persuasion and mobilization tool." In 2008, digital strategy was not a major piece of Romney's primary-election bid. Now, Moffatt says, the numbers make it impossible to ignore.
Romney's immediate family is more engaged on digital than in the past, and this has meant greater exposure for the candidate to social media. Ann Romney was an early adopter of the photo-sharing site Pinterest. Romney's sons are active on Twitter and Facebook.
Presumptive vice-presidential nominee Ryan has a lot of everyday, hands-on experience with social media. "Whenever it breaks into your peer groups, it makes a difference," Moffatt says.
Where the election won't be won or lost, Moffatt says, is on Twitter. He's a little irate about the Pew report, which gives the Romney campaign low marks for use of Twitter, and criticizes both campaigns for failing to engage ordinary users via retweets.
"We try to keep the Twitter account in Mitt's voice, and have him be a part of it. It limits the amount we do. We're not able to tweet 25 times a day like the Obama folks have."
That's not to say that the candidate is tapping out his own tweets, or even dictating them to staff. "It's more often that something will occur, and he's like, 'We should get that out on Twitter,'" Moffatt says.