The Real Ryan Record: 2 Minor Bills, Lots of High-Profile Talk, Gridlock
Ryan's legislative record shows him renaming post offices, honoring Ronald Reagan and Wisconsin, approving commemorative coins, and increasing the deficit.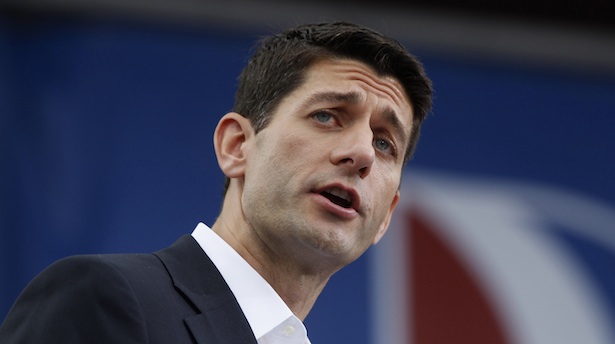 A lot of the coverage of Republican vice presidential pick Paul Ryan talks about how handsome he is. How thoughtful. How serious and substantive and what a genuinely nice guy.
After looking at his record, I'm going to have to agree with Jonathan Chait, who writes that Ryan's "public persona is a giant scam" that marks him as a "skillful pol" -- and also someone who ought not to be underestimated. But there's a big difference between manners and character, between ideologically rigid political posturing and a substantive commitment to the difficult work of creating positive change within a pluralistic and diverse democratic society. If people can no longer tell the one from the other it's because we now live in an age, as Ta-Nehisi Coates has so memorably noted, where "where counter-intuitive bullshitting is valorized, where the pose of argument is more important than the actual pursuit of truth, where clever answers take precedence over profound questions."
Mitt Romney said Sunday that Ryan's "career ambition was not to go to Washington." But Ryan did go to Washington, D.C., arriving as an intern in 1991 and spending the entire rest of his career here after graduating from college. As National Journal's Rebecca Kaplan and Sarah Huisenga put it:
Ryan's career path doesn't quite gel with the image Romney projected in his speech. As a college student at Miami University in Ohio, he began serving as a staffer for Republican Sen. Bob Kasten. After graduating, he was hired as a speechwriter for Jack Kemp, then a congressman from New York. Ryan, who cited Kemp as a mentor at an event in Manassas, Va., on Saturday, went on to work for Kemp's think tank, Empower America, and as a speechwriter on his vice presidential campaign in 1996. He also was a legislative director for then-Sen. Sam Brownback, now governor of Kansas.
Ryan ran for and was elected to Congress in 1998, and has been serving as a member from his Wisconsin district since 1999.
As such, Ryan is both a product of and poster boy for the political city. And it is symptom of the corruption and divisiveness of contemporary Washington that a man who has not passed a single piece of substantive legislation, ever, can be hailed as a substantive and deep thinker and the voice of budgetary sanity while racking up an actual record consisting overwhelmingly of renaming post offices, honoring Ronald Reagan and Wisconsin, providing for the issuance of commemorative coins, and increasing the deficit through massive tax cuts. (The post office thing, of course, is not specific to Ryan -- a quarter of bills passed in 2011 involved postal branches, and the Congress passed fewer pieces of law last year than at any point since a tally began to be kept in 1947, according to Bloomberg News. And we all know the relationship between the Bush tax cuts, which President Obama and Democrats have extended, and the deficit: they added $1.7 trillion to the tab between 2001 and 2008, according to the Center on Budget and Policy Priorities.)
My theory of politics is that, from the perspective of the voter, nothing that has not been passed into law and enacted on the ground has actually taken place, no matter how much hot air it has garnered inside the Beltway. This is why politicians, like President Obama, who love to tout as yet-unimplemented programs run into trouble -- because voters are very fact-oriented in their assessments. Until something touches their lives, it hasn't happened. There is only what is, and what is not -- the rest is just noise that most people tune out, or dismiss as empty promises.
Sure, Ryan signed on to substantive tax reforms as a co-sponsor of bills that passed during Bush's first term, as well as being a co-sponsor of the second round of Bush tax cuts. But since then his proposals and those he's backed as a co-sponsor have gotten further away from the congressional mainstream, making him a force for gridlock and the sort of legislative failure that has come to characterize the 112th Congress.
Ryan joins the GOP ticket as a creature of this Congress, the one that has a 9 percent approval rating -- the lowest level of support ever recorded. He's been a rising star among the people normal Americans hate, and the fresh-faced embodiment of what Washington insiders value today.
Whatever his reputation in Georgetown, Ryan's more-than-13-year record proves he is no legislative great. No one in America has yet lived under Ryan's radical proposals for rewriting the social contract in America, because in seven different Congresses, in Houses run by Democrats and by Republicans, and under three different presidents, not one of his big ideas has gathered enough support to become law.
Ryan's first successful piece of legislation was a bill "To designate the facility of the United States Postal Service located at 1818 Milton Avenue in Janesville, Wisconsin, as the 'Les Aspin Post Office Building.'" It became a law in 2000.
Since then, he has been the sponsor of only one other bill that has become a public law of the United States, according to records kept by the Library of Congress -- a measure introduced in 2004 "To amend the Internal Revenue Code of 1986 to modify the taxation of arrow components." (That one's a bit of a self-interested move on his part, as Ryan is enjoys bow hunting.)
That's it. No other piece of legislation sponsored by Ryan has been able to win the support of both houses of Congress and a president during his 13-and-a-half years in office.
And since he took over the chair of the House Budget Committee, the budgeting process has been even more of a mess than usual. Starting with a punt by Democrats in the Pelosi-led House and continuing under House Budget Chair Ryan, the U.S. government was funded for fiscal 2011 through "eight stopgap spending measures that often brought the government within days or hours of shutting down." The 2012 budget was similarly off track, necessitating another series of temporary measures to keep the U.S. government funded.
The Path to Prosperity, Ryan's alternative to Obama's annual budget proposal, is so wildly out of touch with anything Democrats would agree to as to be a effectively a symbolic statement of principles. (Which is, of course, why the Republicans of today love it.) With his elevation to the Republican ticket, Ryan has become, as the New York Times' Mike Shear put it, "unquestionably the face of the Tea Party caucus in Washington," a man whose "success is certain to embolden House lawmakers whose proudly unyielding approach to governance has contributed to legislative gridlock."
Ryan, in short, is a blue-eyed, square-jawed product of the great age of congressional decline and hard-core partisanship. Tutored initially under the divisive mantras of Newt Gingrich's radicals and the far-right social conservatism of Sam Brownback of Kansas, Ryan has always been saved by his peers from having to see his big ideas take on the force of law or touch the lives of actual Americans.
That's not to say he has never co-sponsored successful legislation or resolutions affirming a sense of the House. A review of every bill he's co-sponsored that did not fail provides a picture of what Ryan has contributed to the nation over his years in public office.
Ryan served as co-sponsor on eight bills that successfully provided for the issuance of new commemorative coins. These coins celebrated: American veterans who are disabled for life; the National Infantry Museum and Soldier Center; the Boy Scouts of America Centennial; the San Francisco Old Mint; Jamestown's 400th Anniversary; Benjamin Franklin; American Bald Eagle recovery; and the American buffalo (which, we can all agree, is a truly majestic animal).
Ryan has honored Wisconsin as a co-sponsor of efforts that celebrated: the 100th anniversary of the University of Wisconsin-La Crosse; the Wisconsin Badger football team for an outstanding season and 2011 Rose Bowl bid; that Flag Day originated in Ozaukee County, Wis.; and also the renaming of several Veterans Administration and Post Office buildings in the state.
Speaking of post offices, in addition to sponsoring the renaming of one after Les Aspin, Ryan successfully co-sponsored the renaming of U.S. Post Office branches in Schertz, Tex.; Dixon, Ill.; and Madison, Wis., giving us the Robert M. La Follette, Sr. Post Office Building.
Ryan has co-sponsored five successful resolutions honoring Ronald Reagan. These measures: established the Ronald Reagan Centennial Commission Act; renamed a post office in Dixon, Ill., the "President Ronald W. Reagan Post Office Building"; authorized the Secretary of the Interior to establish the Ronald Reagan Boyhood Home National Historic Site; recognized the 90th birthday of Ronald Reagan; and provided for "the award of a gold medal on behalf of the Congress to former President Ronald Reagan and his wife Nancy Reagan in recognition of their service to the Nation."
Ryan has co-sponsored successful legislation banning animal crush videos.
What about all that budgety substance we keep hearing about? Well, none of the recent budgetary control measures Ryan has sponsored -- such as the six he'd laid out so far this year -- have become law, because they are all too extreme to pass. Still, Congress is a place for collaborative ventures, and Ryan signed on to some winning measures in other areas.
Ryan was one of 161 co-sponsors of Ohio Rep. Steve Chabot's "Partial-Birth Abortion Ban Act of 2003," a version of which passed the Senate and became law. But while Ryan has taken a number of strict anti-abortion positions and votes, his record shows he has never been a proactive leader when it comes to legislating against abortion. This is the only anti-abortion measure he's signed onto that has passed.
Ryan has been surprisingly heavily involved in efforts to sanction and condemn Iran, co-sponsoring four bills on the topic with Florida's hawkish, Cuban-born Rep. Ileana Ros-Lehtinen to emphasize House opposition to Iran acquiring nuclear capabilities, or to provide for efforts to broaden freedom in Iran. He's also backed successful efforts by Republican Benjamin Gilman of New York to oppose proliferation in Iran and Democrat Howard Berman of California to sanction Iran and encourage divestment from it.
The most substantive part of Ryan's record as a legislative co-sponsor is as a backer of deficit-exploding tax cuts during President Bush's first term. He was one of 32 co-sponsors of H.R. 3, the "Economic Growth and Tax Relief Act of 2001," some provisions of which became law as H.R. 1836, the first Bush tax cut, and was one of 51 co-sponsors on H.R. 2, the "Jobs and Growth Tax Relief Reconciliation Act of 2003," which enacted the second Bush tax cut. (Ryan voted for the final version of both bills.) He was one of 227 co-sponsors on the "Marriage Penalty and Family Tax Relief Act of 2001," which addressed an unfairness that had developed in the tax code, and was one of 129 co-sponsors on "Victims of Terrorism Tax Relief Act of 2001," which provided relief to those struggling to recover from the attacks. Ryan, whose father died when he was 16, has also passionately opposed to estate taxes in the House. He backed the "Death Tax Elimination Act of 2000," which failed to override a presidential veto, the "Death Tax Elimination Act of 2001," provisions of which were later included in the first Bush tax cut bill, and a resolution "Expressing the sense of the House that Congress should complete action on the Permanent Death Tax Repeal Act of 2002." And he's signed on to some more minor tax tweaks. In 2000, he co-sponsored a successful effort along with 194 others to tinker with installment tax payment rules; in 2010 was one of 87 tweaking the payment times for firearm excise taxes; and in 2011 was among 273 co-sponsors of a winning effort to revise the unpopular 1099 income reporting rule.
If Ryan is now a born-again deficit hawk, perhaps it is as penance for what he did to explode it more than a decade ago. But so far, that is his most substantive, real enacted legislative legacy.