The rebirth of Washington, D.C., and especially its U Street neighborhood, didn't happen by chance.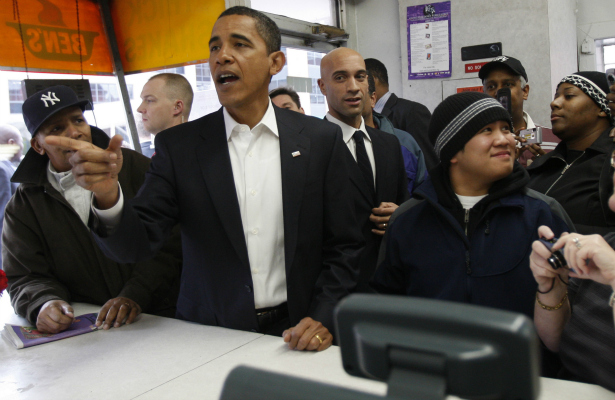 President-elect Obama and D.C. Mayor Adrian Fenty had lunch at Ben's Chili Bowl on U Street on Jan. 10, 2009. (Reuters)
Is bemoaning the gentrification of Washington, D.C., a genre past its prime? I mean, there's considering the meaning of the transformation of the city from a majority-black metropolis to one that is no longer so, and there's reflecting on what it means to see all-black, working-class cultural communities replaced by middle-class, multi-ethnic, multi-racial ones that nonetheless have the kind of homogenized cultural aesthetic characteristic of the college-educated. And then there's just writing an ahistoric rant that ignores the successful decades-long effort by black political leaders and real estate developers and businesspeople of multiple races to rebuild a neighborhood decimated by the 1968 riots, drugs, and the flight of the black middle class, while also downplaying the significance of black American artists in the cultural life of not just white America but the entire world.
I speak, of course, of Stephen A. Crockett Jr.'s piece, "The Brixton: It's new, happening and another example of African-American historical 'swagger-jacking'", which set off lively Facebook and blog comment threads in my corner of D.C. and was among the Washington Post's most read local stories when published last week. Writes Crockett:
Look. I get it. The Chocolate City has changed. It isn't what it used to be, and I don't know what's worse: the fact that D.C. was once so marred by murder that it was nicknamed Dodge City or that there is now a hipster bar on U St. that holds the same name. Point is, there is a certain cultural vulturalism, an African American historical "swagger-jacking," going on on U Street. It's an inappropriate tradition of sorts that has rent increasing, black folks moving further out -- sometimes by choice, sometimes not -- while a faux black ethos remains.

In a six-block stretch, we have Brixton, Busboys and Poets, Eatonville, Patty Boom Boom, Blackbyrd and Marvin. All are based on some facet of black history, some memory of blackness that feels artificially done and palatable. Does it matter that the owners aren't black? Maybe. Does it matter that these places slid in around the time that black folks slid out? Maybe. Indeed, some might argue that these hip spots are actually preserving black culture, not stealing it.

But as a native of a then Chocolate City, I can remember when a Horace & Dickie's fish sandwich always felt like a warm hug, because they were cheap, and we were broke. It felt like the owner knew we were struggling, so he lowered the prices for us. It felt like home. ...

Maybe I want to sit at the doors of D.C.'s black culture and check IDs, making sure you deserve to appreciate what Marvin Gaye and Donald Byrd meant to a city that really didn't have much to be proud of when these cats came up.

Maybe there should be a quiz at Brixton about the neighborhood's cultural significance. Maybe there should be a box set sold behind the bar at Marvin. Or maybe these places should just be called something else...
This article rehearses the by now tired tropes of the anti-gentrification genre, harkening back to a mythic, culturally perfect moment that was somehow destroyed by white middle-class professionals and successful new businesses that -- entirely on their own -- made the decision to move into historically black neighborhoods. But the reality of the transformation of D.C. is that that is not what actually happened. And it's definitely not the story of the transformation of the U Street neighborhood.