The Obama Campaign's Forlorn Hope: Just Get Unlikely Voters to Turn Out
There's a big chunk of the population that overwhelmingly favors the president. The only problem? They probably won't vote.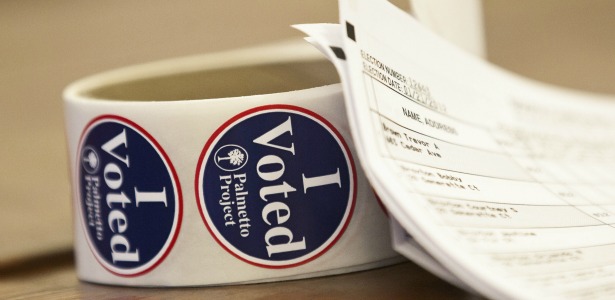 Reuters
Throughout the presidential race, we've been treated to story after story about how the Obama campaign's trump card is its formidable ground game. During the primaries, the president's reelection team was busy reconstituting the field apparatus that helped it overpower John McCain in 2008, we were told. Tools like Dashboard, Obama's innovative new software organizing tool, would help him replicate or even best the success he enjoyed four years ago, the campaign said.
But what if that's not true?
A story in the Boston Globe on Thursday raised real questions about whether Democrats have been successfully registering new voters:
In Florida, Iowa, North Carolina, Colorado, and Nevada -- tossup states where direct election-year comparisons could be drawn -- the numbers are striking. Democratic rolls increased by only 39,580, less than one-tenth the amount at the comparable point in the 2008 election.

At the same time, GOP registration has jumped by 145,085, or more than double for the same time four years ago. Independent registration has shown an even stronger surge, to 229,500, almost three times the number at this point in 2008.
Meanwhile, Democrats have not been doing a great job at holding on to the voters they gathered last time around. A separate analysis by the Democratic organization Third Way found Democratic registrations down by 800,000 in eight states, with Republican registration also ticking down, slightly, and independent registration rising sharply.
The real story, however, is the spike in independent voter registration. The number of independents grew by 207,173 (14.4 percent), meaning they now compose a quarter of North Carolina's registered voters. In the state's two largest counties, Charlotte's Mecklenberg County and Raleigh's Wake County, independent registration increased by nearly 11 percent and 17 percent, respectively, since 2008.

Colorado, Nevada and New Mexico have also posted double-digit percentage gains in the number of independent voters since the last presidential election.
The Obama team told the Globe not to read too much into the stats. After all, they argued, having registered so many people in 2008, there are simply fewer voters to add to rolls this time around.
That analysis is fine as far as it goes, but it still presents the campaign with a problem -- as was made clear by a poll from Suffolk University and USA Today released on Wednesday. Numbers-crunchers have been predicting for weeks that Romney would gain ground once pollsters switched from polling all voters to just likely ones, which they do closer to the election. The Suffolk poll seemed to confirm that. Among unregistered voters, Obama led Romney nearly 3-to-1, 43 percent to 14 (23 percent said they'd opt for a third-party candidate). Among unlikely voters, his support was twice as strong as Romney's, 43 to 20 percent.
And these aren't just the average apathetic people who don't care about politics and think the government doesn't affect them. Most said that politics does have an impact on their lives, and that they pay attention to it. But they still said they don't intend to vote. Twelve percent said they didn't think their vote mattered; another quarter said they were too busy. (That's one reason Democrats are in a tizzy over curtailed early voting laws. For example, Ohio's attorney general said polling places won't be open on weekends this year, which Obama and his allies say disadvantages working people who can't take time from their jobs to cast votes).
It's just those sorts of people -- sympathetic to Obama, unlikely to vote -- who helped him win four years ago. Voter registration deadlines vary across the country, but they're approaching throughout September and October. Even if unlikely voters register, they and those who are reluctant to vote presumably pose a serious challenge for the campaign later on. Of course, that's assuming the campaign has actually been trying to register voters. Sasha Issenberg, the best reporter on the data-driven campaign, reports that Obama's team is essentially treating voter-registration drives as a way to build volunteer networks for later in the campaign, not so much to, you know, increase registration.
There aren't many undecideds left in America. What this new crop of data shows is that the challenge for Obama isn't to win them over -- it's to get the unlikely voters to vote. That's not a mission that inspires a lot of confidence, but perhaps that fabled ground game is just keeping its powder dry.