The National Scandal They Didn't Talk About in Tampa
While Republicans and the media were partying at the convention, the GOP's voter suppression efforts got thrashed in court.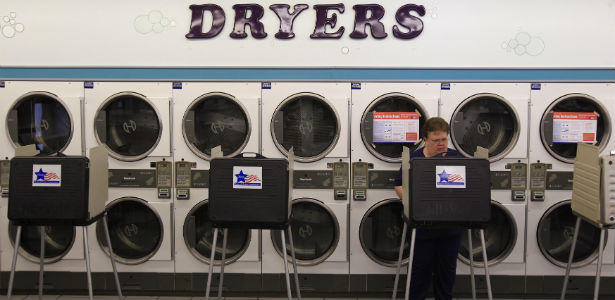 Reuters
History's view of this year's Republican National Convention will become clearer after we learn the results of the November election, of course (and, even then, it may take a few years). But some things we know already will forever be a part of this week's story: Hurricane Isaac, Clint Eastwood, Condoleezza Rice, Paul Ryan -- and the fact that, while Republicans were celebrating in Tampa, federal judges in Washington and Florida were thrashing their efforts to impose restrictive voting laws on registered voters.
By my count, while the GOP partied, six different federal judges this last week of August weighed in on three separate Republican plans to suppress the votes of American citizens. There were two Republican appointees and four Democratic appointees who signed their names to opinions or orders and not a single one of them -- not one -- defended the new state rules they were asked to evaluate. (In the pending trial over South Carolina's new voter ID law, two Bush appointees are sitting on the federal panel along with a Clinton appointee).
MORE ON THE VOTING RIGHTS FIGHT

On Tuesday, a three-judge panel in Washington unanimously struck down Texas' redistricting plan on the grounds that it violated the rights of minority voters. On Wednesday, a federal judge in Tallahassee said he would permanently enjoin the Florida GOP from enforcing new voter registration restrictions. And, on Thursday, another three-judge panel in Washington unanimously struck down Texas' voter ID law (Judge Rosemary Collyer, a Bush appointee, was part of the panel in both Texas cases).
That the jurists would be so unanimous in their condemnation of these new laws surely comes as no surprise to anyone who has been paying attention to these cases. The bad "legislative facts" on which they were based, the cynical biases and assumptions they embraced, the sloppy social science they endorsed, the undertone of prejudice, the bureaucratic infirmities, all practically leaped off the briefing pages -- or, as we have seen this week in the South Carolina case, off the tongues of earnest state election officials.
"Don't boo, vote," President Barack Obama has taken to saying during his speeches when he hears his audience reacting to mention of his Republican opponents. What, then, is the Republican response to that message? After ginning up these state laws designed to prevent people from voting -- but only people without cars, or students, or the elderly or ill, or anyone else who can't afford an ID they've never before needed -- how does the GOP now pivot and tell the nation: we want you to vote!?
But were Republicans in Tampa pressed to talk about what was happening to their restrictive voter laws in the world beyond the convention? Hardly. The GOP, remember, proudly adopted these measures last week as part of its platform. The party owns these discriminatory laws now as they fall, one by one, under the sort of scrutiny that happens in federal court (but not in politics). In the world outside Tampa, in the world outside American politics in 2012, facts and evidence still matter.
Which probably explains why "civil rights" weren't much of a talking point this week, except as a means of diminishing the current struggle of the poor to keep the voting rights they thought they had long ago secured. On Tuesday night, South Carolina Governor Nikki Haley sang the virtues of photo identification laws, likening the right to vote with the right to buy medicine for a runny nose. She did this just hours after court testimony revealed one measure of the discrimination at the heart of her state's new law.
Then, on Wednesday, Condoleezza Rice, her conscience evidently unsullied by her role in the scandal over the torture memos, and sounding like she wants to be the first black female president of the United States, said that "failing neighborhood schools" are the "civil rights struggle of our day." You already know what Rep. John Lewis, the civil rights icon, thinks of that theory. Meanwhile, of the millions of minority citizens in America facing disenfranchisement this election cycle due to Republican policy, Rice said nothing.
And no one else did, either. Not Ron Paul, the libertarian, the darling of the Republican anti-establishment, who talks ceaselessly about individual rights in an era of broad government control. Where were his people when the most sacred liberty of all was being undermined by official Republican policy? They weren't standing with John Lewis -- or with poor voters in Texas. Mitt Romney and Paul Ryan? Focused on broad generalities, and on looking good, the top of the Republican ticket didn't say a word.
And, by and large, the media didn't ask. The cognitive dissonance between the week's political frolic and the week's legal news is striking, the stuff of a Robert Penn Warren novel. How does a major political party fight so wildly to make it harder for poor people to vote, people who have never before been suspected of voting illegally or improperly? And how do journalists fail so universally to inquire about it? The GOP has succeeded in framing the fight as partisan only because the media have let it do so.
It says something to me that it has been our nation's comedians (Jon Stewart, Mo Rocca) who have best captured the absurdity of these new restrictive voting laws. Our elections have never been perfect. But the idea that there is significant voter fraud that needs preventing is delusional. Stewart likened the hunt to the hunt for a dragon. "A victory for fraud," Texas Gov. Rick Perry said late Thursday after his attorney general got smoked again in Washington, When is someone important going to ask him to prove it?
Sadly, the scourge of false equivalence has come to this place, too. The argument in favor of these identification laws -- that they prevent election fraud -- are dutifully reported along with the allegations of discrimination. Sadly, what too few journalists or outlets this week found the time or space to report, however, is that all these judges are finding all this evidence of discrimination while finding no evidence of voter fraud. Sometimes, clarity brings justice. And sometimes justice brings clarity.
POSTSCRIPT


The candidates in Tampa (and the ones gathering next week in Charlotte) must feel like they have a long road ahead of them the next two months. But it's getting late early for the courts. Texas Attorney General Greg Abbott, two times a loser this week in Washington, promised immediate appeals in both the redistricting and voter ID cases. But do the justices in Washington, still on their long summer break, want to rush back into the middle of yet another super-heated political debate?
It would take all five of the Court's conservative justices to overturn either of the two Texas cases. It would take an expedited briefing session and an all-hands-on-deck attitude by the Court well in advance of the first Monday in October. It would take the vote of the swing justice, Justice Anthony Kennedy, the Reagan appointee most attuned among his conservative colleagues to the injury caused by discrimination, to resuscitate the discriminatory Texas laws. Hey, stranger things have happened.
Update: 3:00 p.m. -- On Friday, after the convention concluded, while the party delegates were flying home and the candidates were back on the campaign trail, a seventh federal judge, this one in Ohio, struck down Republican efforts to restrict early voting in that key state. In 2008, approximately 100,000 Ohioans, many of them working class people, voted early. The judge cited Bush v. Gore in restoring early voting for those people, ruling that the state could not "arbitrarily" take away such rights. And on Monday, before the convention convened, another federal judge in Ohio issued a ruling protecting "wrong precinct" votes cast by mistake. So I guess the total is eight federal judges in all. 8-0.