The Most Plausible Vice Presidential Speculation You'll See Today
Romney could choose a running mate any day now, but don't believe the din of ill-informed speculation and analysis.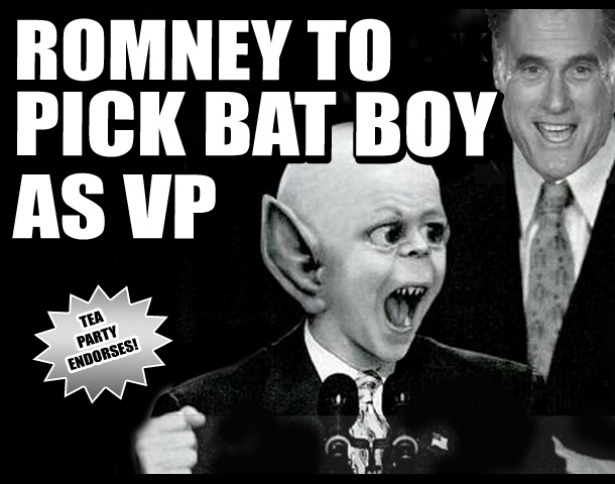 Weekly World News
As Mitt Romney's running-mate announcement draws ever closer, the vice presidential speculation gets ever noisier -- and less reliable.
Insiders grown bored with the long-running (and itself only thinly substantiated) conventional wisdom that Ohio Sen. Rob Portman and former Minnesota Gov. Tim Pawlenty are the joint front-runners have raised anew the outside possibility of a Chris Christie, Bobby Jindal or Bob McDonnell selection. The Weekly Standard is waging a last-minute campaign for conservative dreamboats Marco Rubio and Paul Ryan. Matt Drudge, who a few weeks ago stirred a few hours of buzz by suggesting Condoleezza Rice, is floating Gen. David Petraeus, now serving as head of the CIA. And just in case all the ill-informed speculation turns out to be wrong, some pundits are covering all their bases with a last-minute disclaimer -- like Politico's all-knowing Mike Allen, who wrote, gnomically, on Tuesday morning: "We would not be surprised to be surprised." The collective takeaway from all of this: Until an announcement actually gets made, don't believe anything you hear.
But the award for most out-of-the-box VP possibility goes to the Weekly World News, the onetime supermarket tabloid, now online-only. Its sourcing appears solid: "sources close to the Romney camp." It laid out the political calculation: Like Sarah Palin four years ago, the candidate in question meets with disapproval from Beltway elites like Karl Rove, but he is endorsed by the Tea Party and has the ability to help Romney with one of his major vulnerabilities, his ability to connect with the average voter. "Bat Boy is from West Virginia and really understands the struggles that the middle class is going through," a "Romney advisor" tells the publication.
If Bat Boy does join Romney on the GOP convention podium, it would be something of a political reversal for the five-foot-tall , cave-dwelling mutant: He endorsed Al Gore in 2000. In 2008, Bat Boy initially endorsed John McCain, then changed his mind and switched to Obama, according to his remarkably detailed Wikipedia page.
The Bat Boy idea is, of course, a joke. But it's a good reminder: When it comes to Romney's running mate, right now, nobody knows anything. Except Romney. And for now, he's not telling.