The Incredible Shrinking Political Convention
Are the conventions just an expensive waste of time? Not to activists, undecided voters, and the history books.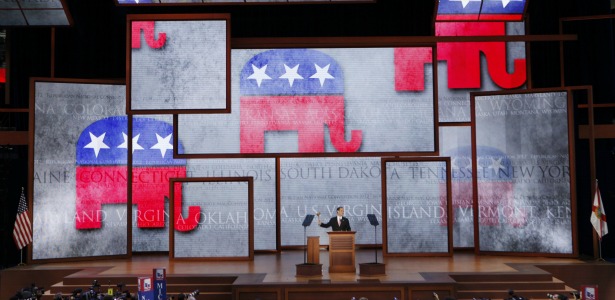 Reuters
TAMPA -- All the cool kids at the political convention think the political convention is stupid.
Already, due to the looming threat of Tropical Storm Isaac, the Republican convention here has been shortened from four days to three, with no apparent adverse effect -- calling into question why there were ever four days of the thing. The Democrats also have a three-day convention planned when they gather in Charlotte next week. No less a figure than the speaker of the House, John Boehner, mused on Monday that the whole thing might be an expensive waste of time. And while the schedule was proceeding as planned Tuesday, the campaign of the Republican nominee, Mitt Romney, was poised to call the whole thing off should the storm, now nearing hurricane strength and heading toward New Orleans, dramatically worsen, possibly replacing it with a simple televised address, according to the Boston Globe.
To many, the conventions appear to be a relic and a formality, remnants of a time when nominees and their running mates were decided by party grandees in smoke-filled rooms rather than through primaries and caucuses. "Conventions are now largely an attempt to create an impression rather than having any drama about who the nominee's going to be," mused Bob Walker, a lobbyist and former congressman from Pennsylvania who is attending his ninth GOP confab since 1972. "The staging is more important than the politics."
But that kind of attitude couldn't be more alien to Sue Lynch, a 60-year-old activist from Onalaska, Wisconsin. Back in April, she ran for delegate in her state's party caucuses, beating out more than a dozen others. A Newt Gingrich supporter in the primary and a GOP volunteer since 1974, her campaign for delegate was based on a platform of representing the party grassroots.
"You're among like-minded people, sharing experiences throughout the different states," Lynch, who paid her own way here, said in explaining what she gets out of the convention. That can mean learning new approaches for mobilizing and turning out voters, or boning up on the party platform in order to be able to explain it to voters back home.
"Not that you can't read about it," she said. "But when you experience the energy in the room, the enthusiasm to know that we can win -- it makes all the difference in the world."
Sure, the conventions are a manufactured event, more infomercial than news, with nothing of consequence decided. But here's why you shouldn't be too cynical about them.
* They're for the delegates: To the thousands of delegates and alternates who will formally nominate Romney today and cheer his speech from the floor Thursday, a political convention is much like a convention in any other industry -- a chance to exchange information and hone their craft. Talking to delegates, from the 10-time veteran to the first-time participant, you get a sense of the grassroots energy that powers American politics at the most basic level.
* They're for the voters at home: Tens of millions of viewers will tune in to see the primetime speeches of Romney and his running mate, Rep. Paul Ryan. It's a rare chance to see the candidates unfiltered, as they wish to be seen, and the way they present themselves sends an important, if one-sided, message. A CBS poll out Tuesday found 32 percent of voters are still undecided about Romney, making his convention speech a potentially crucial introduction.
* They're for history: Formalities like the party platform don't actually dictate what politicians on either side believe -- Romney, for example, has said he disagrees with the GOP platform's no-exceptions opposition to abortion. But they, along with the speeches, are significant in tracking the movement of the parties over time. This year, the Democratic platform will include a plank supporting gay marriage for the first time ever.
* They launch stars: Then-state legislator Barack Obama's 2004 convention keynote catapulted him to national political stardom. Vicepresidential nominee Sarah Palin's 2008 speech, in which she inserted an ad-lib line about hockey moms, pit bulls, and lipstick, created a sensation and presaged her role as a hard-charging provocateur. This year, Republican up-and-comers such as Chris Christie, who will deliver the keynote; Marco Rubio, who is slated to introduce Romney; and a host of lesser-knowns will be hoping to make an impression. If history is any guide, by the time the confetti has fallen and the balloons have been dropped from the ceiling, there will be a new name on the lips of the political world.