The Cheesehead Mafia: Paul Ryan and the Rise of Wisconsin Republicans
How Ryan, Scott Walker and Reince Priebus came out of the Badger State together to reshape American conservative politics.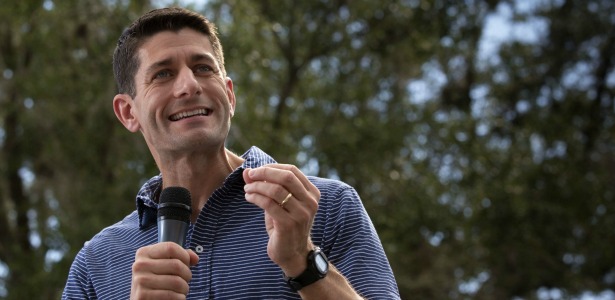 Reuters
In 2006, Brad Courtney, a Republican activist and forklift-business owner in suburban Milwaukee, threw a Christmas party at his house near Lake Michigan. Republicans had recently been trounced in another state election, failing to unseat either the Democratic governor or U.S. senator on the ballot. The Milwaukee County executive, an old friend of Courtney's named Scott Walker, was there, as was another die-hard party activist, Reince Priebus. Outside, a snowstorm raged, and an up-and-coming young congressman, Paul Ryan, called to say he wasn't going to be able to make it.
"We all sort of grew up together in politics," Courtney, now the chairman of the Wisconsin Republican Party, told me. But at the time, the men often had little but their friendships to sustain them in the face of a hostile political landscape.
Today, things look very different. Here's a poster Courtney received as an email forward, created by a talk-radio host in Arizona,* that celebrates Wisconsin's political stars alongside the state's recent success in athletics and beauty pageants: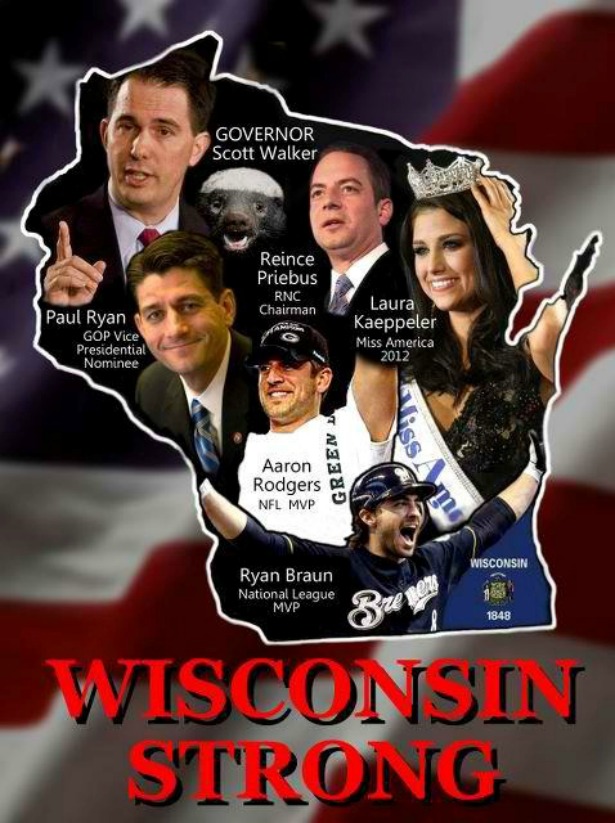 Ryan, Walker and Priebus are three of the GOP's brightest national stars, and Wisconsin -- the state that helped birth the Progressive Movement and shape the New Deal -- is suddenly the leading exporter of a hard-charging, sharply ideological brand of conservatism. The Republican trio sometimes dubbed the "Cheesehead Mafia" have made their state "the capital of the Obama-era Republican resistance," as one writer put it. And they are reshaping the Republican Party.
"People in this country are hungry for real, authentic people who make promises and keep their promises. That's what you're seeing come out of Wisconsin," Priebus, who now chairs the Republican National Committee, said in an interview. As an undergraduate at the University of Wisconsin-Whitewater, Priebus became close friends with a man named Andy Speth who would go on to become Ryan's chief of staff and top adviser. Around the same time, Priebus also interned at the state legislature, where he met a young member of the assembly: Walker, elected at the age of 25 in 1993.
Today, Walker is the governor whose assault on public-sector unions provoked an angry backlash -- and whose survival of recall election this summer cemented his status as conservative folk hero. Priebus, elected to the national committee after years as a Wisconsin party lawyer and official, has steered the national party out of debt while keeping its disparate factions on message and in the tent. And then there's Ryan, the onetime enfant terrible of the House of Representatives, who has shepherded his vision of budget-slashing entitlement reform from an idea so extreme no one would touch it to the official platform of his party -- and galvanized the party base with his presence on the presidential ticket. "What Texas was to the Republican Party in the 1990s," says Nathan Conrad, spokesman for the state GOP, "is what Wisconsin is becoming now."
Ryan, Walker and Priebus have brought a new generation's insurgent mindset to the establishment perches they now inhabit, says Charlie Sykes, a Milwaukee-based conservative radio host on whose show all three have been regulars since the 1990s. "They're all from exactly the same school," Sykes said. "It's a slightly dissident wing of the party that was a little bit frustrated with the old-line Republican [view of] 'tax and spend, but spend it on our tribe.' If you talk to them at any length, they sound remarkably similar."
Though all three are social conservatives -- "they check the box" -- what animates them is an uncompromising commitment to fiscal conservatism. "They are extremely conservative when it comes to taxes, spending, budgets and [attacking] the whole liberal infrastructure," Sykes said. "They really want to do big things, as opposed to your usual politician who just wants to be somebody. There is a kind of edginess to them in that they really see themselves as change agents."
Unlike a more traditional, status quo-oriented brand of conservative, the new Wisconsinites are self-styled reformers. They're looking not just to rein in what they see as liberalism's excesses, but to roll back the welfare state, from state workers' pensions to seniors' Medicare benefits. And while that rigid policy vision has bitterly polarized a state that has voted for the Democrat in every presidential election since 1984, the conservative reformers have succeeded in part by making sure to get rid of internal competition. Long before the Tea Party crusaded to drive moderates out of the GOP nationally, Wisconsin Republicans were redefining their party as explicitly conservative, purging moderates in primaries in the 1990s and, led by Priebus, using the party's clout to direct resources to candidates like Walker.
"If you are a moderate Republican in Wisconsin today, you are just not welcome at those state conventions," said Dennis Dresang, a retired political scientist at the University of Wisconsin's La Follette School of Public Affairs -- named for the early 20th Century Progressive leader "Fighting Bob" La Follette. Politicians like Walker, he said, have succeeded by tapping the economic anxieties of the predominantly white, upper-middle-class suburbs of Milwaukee.
Members of the state's once-vibrant liberal community see politicians like Ryan as putting a friendly face on a set of extreme policy positions. But multiple recent polls show Wisconsin, despite its history, in play in November's presidential election.
"Ryan is very effective because even if I think what he's proposing is dangerous and destructive, it's still hard to dislike him personally," said Robert Kraig, a longtime liberal activist who heads the progressive coalition Citizen Action of Wisconsin. Ryan, says Kraig, frequently buttonholes him for earnest-minded policy debates on flights to Washington.
"They give conservatism a different feel," he said. "They come off as reformers. To the extent the public thinks things aren't working, they're able to credibly say 'I'm going to shake things up,' while progressives get pigeonholed as defending failed institutions."
"They come off as reformers. To the extent the public thinks things aren't working, they're able to credibly say 'I'm going to shake things up,' while progressives get pigeonholed as defending failed institutions."
To proponents, the above-the-fray approach of Ryan and his brethren is a mark of virtue. "The Wisconsin brand of conservatism is about having big ideas, but not personally attacking anyone," said Rep. Sean Duffy, a onetime contestant on MTV's Real World who in 2010 won a congressional seat that had been held by a Democrat for 30 years. "Paul Ryan exemplifies that. A lot of liberals don't agree with him, but they respect him, because he keeps the discussion on the level of ideas." Ryan has been a mentor to Duffy, a rising star in the party who, along with Walker, got a speaking slot at the national convention Tuesday night.
In a way, the godfather of the current GOP surge in Wisconsin is Tommy Thompson, the four-term Republican governor and George W. Bush-administration cabinet secretary who recently won the party's Senate nomination for November. Thompson's push to reform welfare in Wisconsin became the template for President Clinton's national welfare reform in the 1990s, and he was a pioneer in pushing for school choice, another idea that has achieved national prominence. Even as he pushed for conservative reforms, he maintained an immense, bipartisan popularity in the state. But in a sign of how things have changed since Thompson last held office in 2001, Thompson barely survived the recent senatorial primary, attacked by two opponents who accused him of being insufficiently conservative, in part because of his record of support for health-care reform.
Priebus rejects the idea that he, Ryan and Walker are ideologues who shun compromise. But he said their success is proof that voters want politicians who stick to their guns, know what they believe and are willing to fight for it. "My general view is you have to be on offense all the time," he said. "I've never believed in being meek or not responding to attacks. If we really believe that liberty and freedom are at stake in this election, we are going to have to fight for it. And I have no problem putting on the brass knuckles in order to make that case to the American people."
The liberals who have watched the Cheesehead Mafia rise with a mix of admiration and horror have no doubt that's the case.
"These are movement leaders, not just people who want to hold office. They want to push the country further to the right and undo the Great Society," says Kraig, the progressive activist. "They take strong positions and they don't take to the center in order to win elections. I'd like to see more leaders like that on our side."
Correction: This article originally misstated the origin of the "Wisconsin Strong" poster.