Support for No Child Left Behind Wanes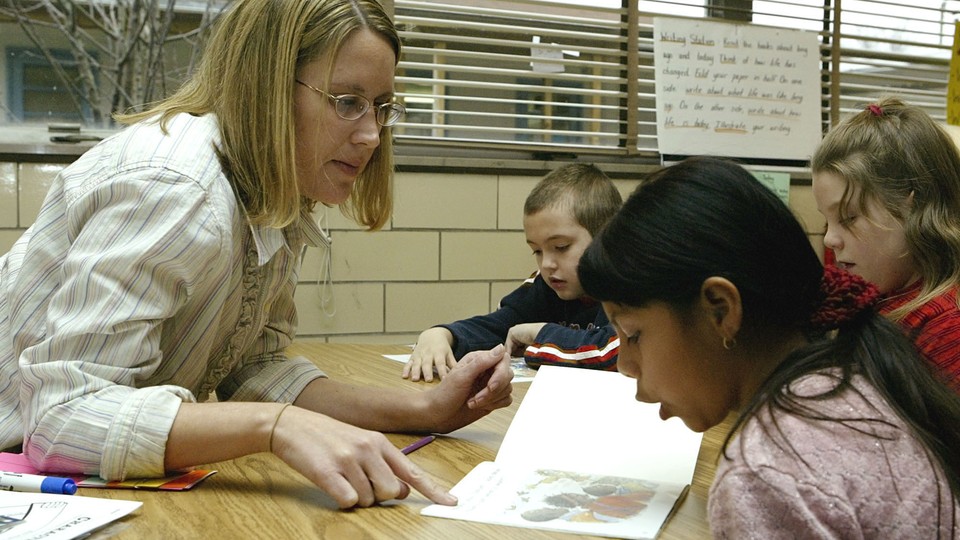 Adults from lower-income households are more likely than others to believe that No Child Left Behind has made public education better, according to a new Gallup Poll. It's a stark contrast to the national average: 29 percent of all U.S. adults believe the policy made education worse. Just 16 percent say the 10-year-old policy has made education better.
(Related Analysis and Commentary: The Legacy of No Child Left Behind)
The sample was weighted by gender, age, race, Hispanic ethnicity, education, and region, among other factors.
About one-third of adults from higher-income tiers believe the policy made education worse, compared with adults from lower-income households, who were evenly split--22 percent to 21 percent--over whether the policy was better or worse. Of the adults from higher-income households, about 15 percent believe the policy made education better.
The differences are subtle, but they reveal just how strongly public perception of education policy is tied to class and income. Although it's true that a substantial portion of adults from all income levels believe the policy is worse for wear, delving into perceptions why paints a different portrait.
"Frankly, I don't find it terribly surprising because lower-income students "¦ are so much in need of intervention," said Ann O'Leary of the Center for the Next Generation, a California-based nonpartisan education organization. "In some ways, this was a welcoming effect for families because they felt like it was shining a very strong light on the importance of basic skills of reading and math."
In contrast, students from higher-income families already tended to be succeeding academically, causing some of the more criticized aspects of the policy--such as the rigorous standardized testing--to be seen as a distraction, O'Leary added.
Although higher-income families may cite the distraction of standardized testing, lower-income families are more likely to focus on other possible shortcomings, including the lack of improvement in teacher quality and programs for preschool and after-school care, she said.
The Gallup Poll also found no difference in support — or lack thereof — among adults by political affiliation, reinforcing the sense of bipartisan support that pushed the original legislation through in 2001.
The decade-old policy, enacted during the George W. Bush administration, has largely fallen by the wayside since President Obama took office and introduced Race to the Top, a competitive grant program challenging states to create and implement reforms that would meet national standards.
After Congress failed to agree on terms to extend NCLB, the Obama administration began issuing waivers that give states flexibility from core requirements in 2012 in exchange for new guidelines to educate students and to create accountability for schools and teachers. Thirty-three states have since received the waivers, effectively excising half the country from what was meant to be a flagship national reform of the educational system.
The policy was "focused on ensuring that all students are at grade level in core academic subjects," said Martin West, executive editor of Education Next and a professor of education at Harvard University. "In practice, what that means is that there's a strong mandate to improve the performance of traditionally disadvantaged students."
States that didn't already have accountability programs in place developed them in accordance with NCLB requirements and saw modest improvements especially among the underserved student population--traditionally the lower-income, minority students, he said.
"There's also some evidence to suggest that low-income families are more comfortable with the law's focus on basic academic skills and ensuring that those are in place," West added.
One of the policy's cornerstones was measurable standardized goals with the hopes of increasing teacher accountability and educational quality--especially for poor, underserved communities--to ensure every student test on grade level for reading and math by 2014.
Almost half the country's schools did not make adequate progress in their test scores for the 2010-11 school year, according to the Center on Education Policy. That was the highest percentage of schools to ever fall short of standards since NCLB was enacted.
Percentages of states with schools that made adequate progress varied widely and inconsistently. Even states with traditionally strong educational programs, such as Massachusetts and New Jersey, didn't meet requirements. More than 80 percent of Massachusetts schools did not meet standards, and 50 percent of New Jersey's schools didn't make the numbers.
Nationally, the percentage of schools not meeting adequate-progress goals has been increasing steadily, from 26 percent in 2006 to 49 percent in 2011.The significant fluctuations indicate that the failure to meet standards is unrelated to educational quality, the report's authors wrote, but rather the increasing difficulty of tests changes what counts as a passing or failing score.