Spanish Appears to Be on Trial in Ariz. Case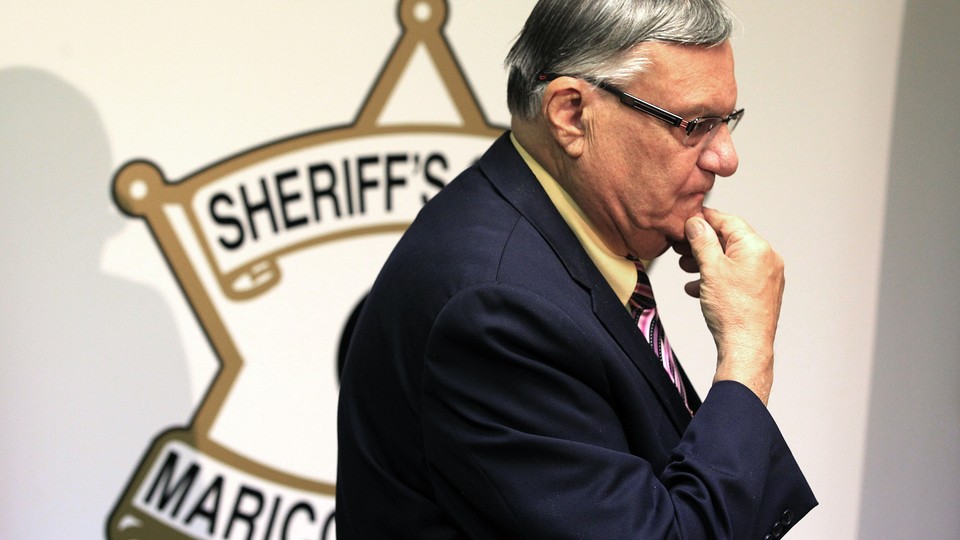 Four years ago, a Minnesota retiree who had resettled in the Phoenix area was upset when she visited a McDonald's and observed workers speaking Spanish to each other.
Known only as "Gail" in court records, the retiree penned a letter to Maricopa County Sheriff Joe Arpaio, who'd become popular among the county's aging majority white population for his crackdowns on illegal immigration in heavily Latino neighborhoods and workplaces.
"I am a fan of yours and what you are doing to rid the area of illegal immigrants," Gail wrote Arpaio. Her letter is frequently mentioned in an ongoing trial in U.S. District Court in Phoenix, where Arpaio has denied allegations that he and his department engaged in widespread racial profiling of Hispanics during traffic stops, detentions, and arrests in the nation's fourth-most populous county.
Throughout the trial, expected to end in early August, attorneys for Latinos have introduced constituent communiqués to the sheriff's office that signify anger, fear, and unease with Maricopa County's changing demographics--the county's Latino population grew by 47 percent from 2000 to 2010, according to the U.S. Census Bureau. Today, about 30 percent of the county's 3.8 million people are Hispanic.
Hispanic plaintiffs in this class-action suit allege that Arpaio relied on the race-based constituent tips to conduct sweeps that wrongfully targeted innocent and legally present Hispanics.
Often, such tips failed to note the commission of any crime, plaintiffs contend.
Gail, for instance, merely expressed "dismay" that "there was not an employee in sight, or within hearing, who spoke English as a first language"¦. All I heard was Spanish--except when they haltingly spoke to a customer" at the McDonald's.
Arpaio testified in late July that he wrote Gail a thank-you note for the "information" and forwarded her letter to a subordinate already planning a "saturation patrol" of the area. He said he did not advise Gail in his thank-you note that speaking Spanish or broken English is not a crime.
Discomfort with language has been a common trigger for distrust of Hispanics, court records show. One Arpaio constituent, named only "Varia" in court records, wrote: "Just today at the grocery store I was checking out when I noticed a Mexican [sic] lady standing mindlessly at the end of the belt. She expectantly asked me, "˜Hablo espanol? [sic]' This is becoming a most annoying occurrence and it is not ceasing to stop."
Beyond exhibiting discomfort with language differences, court documents show, Arpaio's constituents listed skin color, demeanor, nationality, and day-labor soliciting as reasons for the "Toughest Sheriff in America" to conduct sweeps.
The records also show internal e-mails within the sheriff's office that disparage, mock, or falsely represent Mexican immigrants. One interdepartmental e-mail portrays Mexicans as drunks; another paints them off as public-assistance leeches. The department said it had disciplined personnel who sent such e-mails.
Arpaio and his attorneys say that such constituent letters and internal e-mails did not influence the department's operations. "The sheriff's office does not, will not, and has never used racial profiling."¦ It is morally wrong, it is illegal, it is ineffective, it is an unproductive and dangerous thing to do, and that is what the evidence has shown so far," said Tim Casey, Arpaio's attorney.
Casey pointed out that federal immigration officials themselves list language, combined with other factors, as an indicator for "reasonable suspicion" that a person may be "in the country unlawfully." But taken alone, language signifies nothing suspicious, he added.
Stanley Young, an attorney for the Hispanic plaintiffs, said that in an increasingly diverse nation, people need to become "more comfortable" with each other's differences."
Many Americans have become more tolerant in recent decades, he added, but the sheriff's office is "considerably behind the times."
Young's clients do not seek financial damages, beyond attorneys' fees and court costs, from the sheriff and his department. Instead, they're seeking a court injunction that would prohibit Arpaio and his 2,700 officers and 3,000 posse members from engaging in racial profiling, and, possibly, a monitor to ensure the sheriff is complying with the judge's ruling.
Arpaio wants just the opposite--no injunction and no monitor--because he contends he has done nothing wrong.
The current trial is thematically related to another case filed by the Justice Department in May. In this case, the department alleges that Arpaio's office engages in ongoing "discriminatory police conduct" that includes, among other things, unconstitutionally targeting Latinos in their neighborhoods and workplaces, retaliating against political foes with bogus criminal charges, and abusing the civil rights of Maricopa County jail inmates with limited English skills.