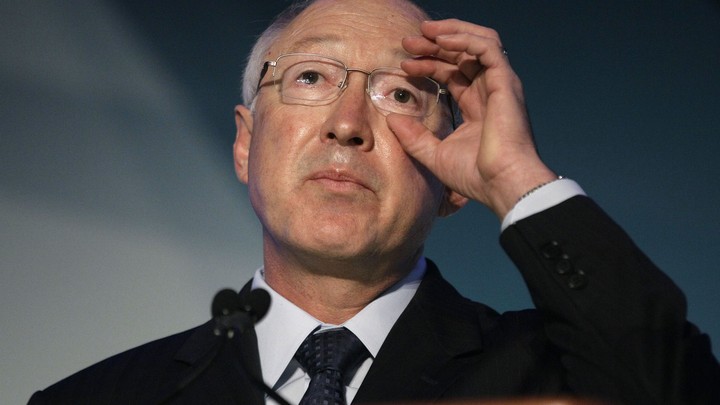 Interior Secretary Ken Salazar is ending a three-day tour of Alaska with a press event on Monday, but sources say that a highly anticipated announcement about the start of drilling in the Arctic Ocean will not be forthcoming, despite Salazar's self-imposed deadline of Aug. 15 to decide whether Shell Oil can begin exploratory drilling in the Chukchi Sea.
Instead of an announcement about Shell's drilling permits, sources close to Interior's oversight efforts expect Salazar to tout the administration's support of oil development in the National Petroleum Reserve-Alaska, which he visited during his trip.
After pushing back its start-up plans by several weeks due to heavy sea ice and delayed approvals, Shell is still waiting for Coast Guard certification of its oil-spill containment barge, the Arctic Challenger. And that could take days or weeks.
Shell spokeswoman Kelly op de Weegh told National Journal last week that the company hopes to move its barge and containment system out of Bellingham, Wash., "in a matter of days," and from there it could take up to 18 days to get to the Chukchi drilling site off Alaska's north coast. The window is getting narrower every day, because it takes about 30 days to drill an exploratory well and Shell is supposed to be out of the Chukchi Sea by Sept. 24 in advance of the harsh Arctic fall and winter. The company has until the end of October to drill another planned well in the Beaufort Sea.
"We are progressing through a punch list of items for review and continuing to work with the USCG toward certification of the first Arctic containment system," op de Weegh told National Journal on Monday, speaking about the process to get the barge certified.
Because of these challenges, Shell has already scaled back its exploratory drilling plans in the Arctic. The company was originally hoping to drill five exploratory wells — two in the Beaufort Sea and three in the Chukchi Sea — but now it may just be able to drill one in each this year to jump start its exploration there.
Meanwhile, the administration's support for development in the National Petroleum Reserve isn't new; President Obama said last year that he was ordering Interior to conduct lease sales there. The 23 million-acre reserve is about the size of the state of Indiana and is located just west of the Arctic National Wildlife Refuge. According to a U.S. Geological Survey estimate in 2010, it could contain nearly 900 million barrels of oil and 53 trillion cubic feet of natural gas.
We want to hear what you think about this article. Submit a letter to the editor or write to letters@theatlantic.com.
Olga Belogolova
is an associate editor at
InsideDefense.com
in Washington, D.C., where she covers the Navy. She was previously a staff reporter at
National Journal
, where she covered energy policy and other global issues.