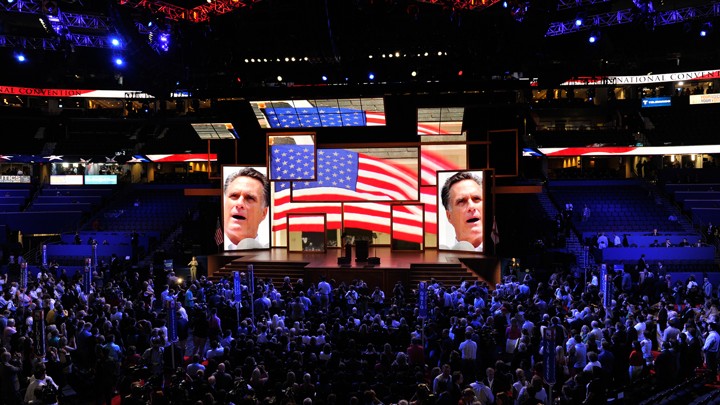 Here's the challenge Republican convention organizers found themselves stuck with: How could they capture the attention of a viewing public increasingly distracted by their Facebook accounts and smartphones?
The answer: Go big and get creative.
Mitt Romney's campaign has made a three-dimensional collision of 13 screens to serve as the backdrop of the convention stage, an arresting design that will make viewers take notice every time they tune in.
The set is the centerpiece of an effort by Republicans and Phil Alongi, the convention's executive producer, to bring the traditionally stodgy event into the 21st century. "What we want is somebody scrolling through [their TV channels] to say, "˜Wow, that's really cool,' " said Alongi, a veteran of 31 years at NBC News before taking the convention job. "And then, all of a sudden, you realize you're not watching American Idol, you're watching the Republican convention."
The design was inspired by the work of Frank Lloyd Wright — and it looks it, with its combination of avant-garde and naturalistic elements. The screens, $10 million worth, are unmistakably modern. Yet the wood-paneled frames and platform make the stage look like the inside of a log cabin. The podium itself actually sits a little off-center, accentuating its difference from previous convention sets.
Alongi and the set designers, Jim Fenhagen and Eddie Knasiak, presented a series of options for the Romney campaign to pick from in May. They weren't sure if the famously buttoned-down Romney and his team would want to take the risk.
That's when Michael Miller, the convention's chief operating officer, delivered the news. "I know you're all sitting, and that's good, because this is the one I like," Miller told them, according to Alongi. "And we were all like, "˜I can't believe it, but that's great, Mike, because that's what we creatively all like.' "
It elated all three designers — and, Alongi acknowledged, made him a little nervous. "Now you have to deliver what you promised," he said he told them.
The set design gives Alongi options that otherwise wouldn't have been available. Its flexibility allows him to add images to each speaker's address, for instance.
The process can be nerve-wracking. Often, Alongi says, the speakers don't provide their speeches very far in advance. Sometimes that's because they haven't written them. (In some cases, they're worried about what the convention organizers might do with them.)
But once he has the speech, Alongi says, then the visual possibilities are almost limitless. "If Condi Rice is speaking, and she's talking about her role on the world's stage, maybe you have a picture of her and world leaders," he said. The set also gives organizers a chance to weave Twitter and other social media into the program.
"There are lots of new challenges," Alongi said. Luckily for him, getting the Romney campaign on board with a bold set design was not one of them.
We want to hear what you think about this article. Submit a letter to the editor or write to letters@theatlantic.com.