Polls Show Obama Reclaiming Momentum in Battleground States
The president is rising even as economic pessimism increases -- a worrying split for the Romney campaign.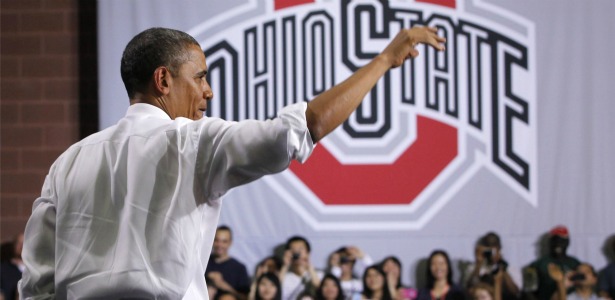 Reuters
President Obama has regained momentum in the presidential race, at least by the results from the just-released Quinnipiac battleground-state polls and a separate Democracy Corps (D) poll conducted last week. All four polls show Obama at the 50 percent mark or above, with growing leads over Mitt Romney. The polls only surveyed likely November voters, among the first to add in the screen.
The Quinnipiac polls, commissioned with CBS and the New York Times, show Obama leading Romney 51 to 45 percent in Florida; 50 to 44 percent in Ohio, and 53 to 42 percent in Pennsylvania. Even as voters express deep pessimism about the economy, Obama's job approval is stable at 48 percent (Ohio/Florida) and 49 percent (Pennsylvania). Among independents, Obama holds a statistically insignificant 47 to 46 percent lead in Florida, a 47 to 44 percent lead in Ohio and a sizable 58 to 36 percent lead in Pennsylvania.
In the Democracy Corps survey, Obama's job approval hit the magic 50 percent job approval mark for the first time in months. He leads Romney 50 to 46 percent in the poll. "We are sure Obama has a lead of at least 3 points in this race," the pollsters write in their memo.
What should concern the Romney campaign is that these numbers are coming out as voters are indicating their economic situation has gotten worse. Usually voter preferences of an incumbent candidate track closely with the trajectory of the economy; that's not happening, according to these polls. Perhaps, as Ron Brownstein has speculated, it's because voters have lowered their expectations about the economy so much that they're resistant to the growing specter of bad news. If so, that's an indictment of the Romney campaign's strategy to run exclusively on the economy, to the exclusion of other issues.
And if that's the case, the Romney campaign may need to do some rethinking of the "prevent defense" strategy it's employed throughout the campaign - most recently, its decision to limit Romney's press conference on an important overseas trip. The trip should have been a smashing success; instead because of challenges dealing with a frustrated press corps, it was at best a missed opportunity.
August will be a seminal month for the Romney campaign. Romney will be picking a running mate, and showcasing his candidacy in front of millions of television viewers at the national conventions. If he pulls into the lead at the end of the month, his campaign team can breathe a sigh of relief. Otherwise, if Obama's still chugging along, there could well be an enveloping sense of nervousness with the Romney team.