Paul Ryan's Message: 'Courage'
Under overcast skies in Virginia, the Wisconsin representative electrified the GOP ticket.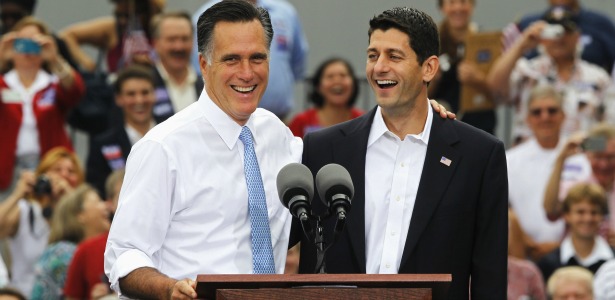 Reuters
NORFOLK, Va. -- Mitt Romney's newly selected running mate strode to the stage in a slightly baggy dark suit with no tie, grinning and waving with both hands. "Hey!" was Paul Ryan's first word upon taking the podium. "And right in front of the U.S.S. Wisconsin, huh? Oh, man!"
The 42-year-old congressman from Janesville, Wisc., proceeded in a measured tone to deliver a harsh critique of President Obama, with one theme as its central message: courage.
The president, he said, has "refused to make difficult decisions." By contrast, he vowed, "The commitment Mitt Romney and I make to you is this: We won't duck the tough issues. We will lead."
And as Ryan spoke, standing in the shadow of a hulking (and decommissioned) gray battleship in this swing region of coastal southeastern Virginia, the sun broke through the clouds.
You could hardly get a better snapshot of the new state of the presidential race. To conservatives who consider him a heroic man of ideas, Ryan -- boyish, insistent without being angry, focused -- represents a bolt of bright sunlight into what has been a grimly overcast campaign.
"We can turn this thing around," Ryan said. "Real solutions can be delivered. But it will take leadership -- and the courage to tell you the truth."
Ryan has sometimes been a thorn in his own party's side with his determination to push legislation widely viewed as politically toxic -- but to his fans, that's just more evidence of his sincerity. With his blue-collar background, his youth, and his penchant for policy, Ryan, Republicans hope, can convince ordinary Americans that the GOP is, in Romney's words, "offering solutions that are bold, specific, and achievable."
"Paul Ryan is a leader," Romney said. "His leadership begins with character and values. ... There are a lot of people in the other party who might disagree with Paul Ryan; I don't know of anyone who doesn't respect his character and judgment."
That's the symbolic message Romney hopes to send by picking Ryan: one of fearlessness, uprightness and clarity, a crusade for ideas that rises above the pettiness of politics. The word on every commentator's lips Saturday morning was "bold." Overnight, it was clear, Romney has reoriented the campaign around a new, daring premise. No longer content to represent simply the default anti-Obama vote, Romney -- who, his campaign emphasized, chose Ryan more than a week ago, in advance of the past week's lobbying campaign from the conservative commentariat -- has turned the election into a referendum on Ryan's very controversial budget plan, which Democrats charge would end the entitlement programs Americans cherish.
There were awkward moments to the rollout -- Romney initially introduced Ryan as "the next president of the United States," then retook the podium to correct himself; Ryan referred to Romney as "standing next to me," when Romney wasn't actually onstage. But for the most part, Ryan acquitted himself with confidence and charm.
The audience, which waved little American flags as Ryan spoke -- a departure from the usual campaign signs waved at rallies -- was electrified. "He's a natural leader, and he's clean as a whistle," said 62-year-old Shelley DeGraaf, a teacher from nearby Virginia Beach. Ryan, she said, would inject fresh energy into the campaign: "Romney tends to be a little...ehhh. We need some charisma in our party."
Democrats had already planned to spend much of the fall campaign telling voters about the horrors of Ryan's budget plan -- in one unforgettable ad from the 2010 campaign, a senior citizen in a wheelchair is actually pushed off a cliff -- and making the case that Romney would implement it. Now, that argument becomes much easier to make. There's no question Romney has taken an enormous risk with Ryan. But the choice carries one big advantage: The Ryan budget's most credible defender will be on stage with Romney, ready and willing to take the heat.