Paul Ryan and the Post-Truth Convention Speech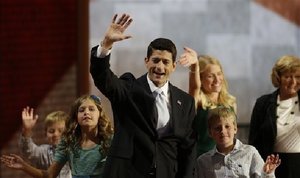 Paul Ryan's speech was well-written, well- delivered, and well-received. All of that was evident to anyone watching on TV. It had a number of nice smilingly vicious hit lines -- starting with the masterful "staring up at the faded Obama posters" riff -- plus a note of encouraging uplift at the end.
It was also profoundly dishonest in ways large and small.
Small: telling the sad story of the closing of the Janesville GM plant, and clearly implying that this was one more casualty of the Obama-unemployment era. Whereas of course the plant was shuttered before Obama even took office.
Medium: telling that story on the assumption that no one would say, "Wait a minute: wasn't Obama the guy who was pushing the big auto-industry bailout, which your nominee and your party opposed? So wouldn't there have been a lot more closed plants if you'd had your way?"
Large: blasting Obama for not enacting the outlook of the Simpson-Bowles commission, without noting that Ryan himself was on the commission and voted against its recommendations because they included tax increases as well as spending cuts.
Large: blasting Obama for proposed cuts in Medicare without noting that Ryan has proposed those same cuts and much more.
Let's assume that Ryan knows the "real" answer on these points. If he's from Janesville, he knows when the plant shut down. If he was on the Simpson-Bowles Commission, he knows how he voted. So just as a personal matter, I wonder how he convinced himself it was OK to say things he knew were provably wrong in front of tens of millions of people.
- If I were writing about the Janesville plant in an Atlantic article, I'd know with 100% certainty that one of our fact-checkers, probably Sue Parilla, would step in to say: Wait a minute, you can't write that! It actually closed before Obama was in office.
- If I were writing it in a blog post, I'd think: Wait a minute, a lot of people are going to know the real story. I better put in a clause showing I'm aware of it too, or else people will rip apart my claim.
- If I were writing it for someone else to give in a speech, I'd think: Wait a minute, this guy is going to be pissed if I set him up to tell a provable lie in front of an audience.
- And if I were somehow in a position to say this myself before a huge audience, I'd worry about someone saying, "Wait a minute, I'm from Janesville too, and..." Or "wait a minute, didn't you vote against Simpson-Bowles yourself?"
So I am impressed, in a bad way, that Ryan thought he could just brazen it through. But it is also impressive that, at least in the short run, parts of the press are responding as they must in an era when politicians don't care. That is, they're not simply quoting "critics" about things Ryan made up. They are outright saying that he is telling lies. For instance:

To restate the larger points for the moment: The bad one is that a major party's nominee for national office apparently just doesn't care that he is standing in front of millions and telling easily catchable lies. The less-bad one is that parts of the media are noticing, and are trying to figure out what they can do in response.