Our New Issue: Obama, Race, Debates, Ladies of Fox, Etc.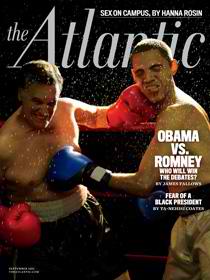 Our new issue is on newsstands, in mailboxes, and online.* Ta-Nehisi Coates has a very much-worth-reading assessment of Barack Obama as Black President. Six months ago I had a long article assessing Obama as Beleaguered President. That will be available soon, with some updated assessments and a long conversation between Ta-Nehisi and me about the role of race (and other factors) in Obama's successes and failures, as an Atlantic eBook. For now, you can also see Ta-Nehisi discussing his story and what he learned from writing it, in a video exchange with Scott Stossel.
As I have done in every presidential cycle starting with 2000, I have a piece suggesting how we should view the two main candidates as debaters. For previous installments, see this from 2000, this from 2004, and this from 2008.
Part of the premise for the latest story is that there are years when debates don't really swing the election, since larger forces are in play. (Eg 1996, with Bill Clinton and Bob Dole, or 2008, with Obama and John McCain. Or 1964, 1968, and 1972, when debates just didn't happen.) There are others where the debates seem to have played a big role. The clearest case is 1980, when Jimmy Carter and Ronald Reagan were neck-and-neck until their only debate, just a week before election day. I lay out in the story why 2012 is shaping up as a debates-will-matter election, and what to watch for from both men. James Bennet explains The Atlantic's long approach to covering race and politics in his editor's note, and I have a video talking about some Romney and Obama speaking traits.
[Update: On the general subject of language-in-politics, it is worth checking out Joe Romm's new book Language Intelligence: Lessons on Persuasion from Jesus, Shakespeare, Lincoln, and Lady Gaga. Romm is best known for his Climate Progress site, but he has also been a student of the language of persuasion for a long time. The book is more about "how to make sure you get your point across" than about "how to sound like a fancy platform orator whose words will be studied through the ages," but its tips for what is, essentially, the crucial work of intellectual combat and salesmanship are worthy. One of the main ones is: repetition, repetition, repetition. This is a maxim I have internalized!*]
[Update - amplification: My piece says, in capsule-ID form, that Stuart Stevens, now campaign strategist for Mitt Romney, worked for George W. Bush in 2000 and John McCain in 2008. Stevens is a fascinating and multi-skilled character to whom the term "colorful" barely begins to do justice. He has written several excellent books, worked as a screenwriter, and contributed to the Atlantic; this profile by Noam Scheiber gives you a fuller sense of the other literary, commercial, political, and derring-do activities he has pursued. A fuller sense of his background in campaign strategy and specifically debate prep would include his working for Bush and Dick Cheney in 2000, Cheney in 2004, and Mitt Romney by the debating stage of the 2008 Republican primaries, after brief early involvement with McCain. He emerged from the 2008 campaign very close to Mitt Romney and has a central role in Romney's current campaign.]
Another reason to see this issue is its physical version is the very striking cover photo and interior art. You will see what I mean. Photographer Alison Jackson explains the back story of these pictures in a video, and art director Luke Hayman of Pentagram tells more about the idea and how it was put into effect.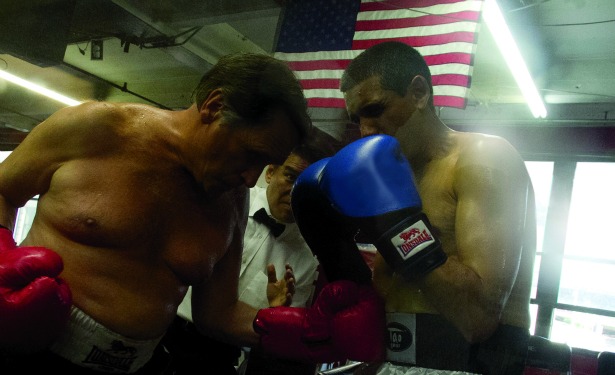 There is a lot more in the issue,  about which I'll say more anon -- from culture to fiction to travel to this perfect encapsulation of the "Foxy Ladies," the mainly blond and (as the article explains) very carefully made-up female stars of the U.S. version of Chinese state media.

Pennington's [a Fox makeup artist] fascination with the women of Fox goes beyond makeup. "It's that little scowling look they give you when they're delivering the news," she continued. "It's like the bitchy girl in high school, [but] now she's your friend, and you hate the same people."

Genius.
___
* Subscribe!