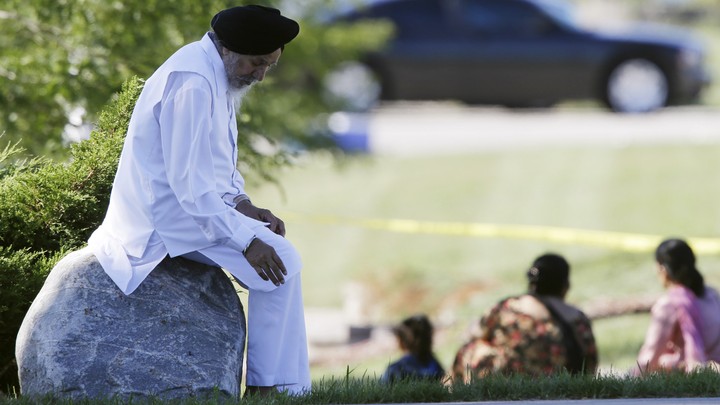 As people responded last week in sorrow and solidarity to the Oak Creek, Wis., shootings and the mosque burning in Joplin, Mo., we are reminded that our nation has been able to overcome hateful speech and hateful acts in the past, and can do so again. By being responsible in our rhetoric, learning about each other in an intentional way, and focusing our counterterrorism efforts on places of real danger, we can help prevent future tragedies.
On Aug. 5, a white supremacist and discharged Army veteran killed six people and wounded three others at the Sikh Temple of Wisconsin — including Oak Creek police and emergency personnel first on the scene — before he was wounded by police officers and took his own life. Within 48 hours, the Islamic Society of Joplin mosque — itself the target of hateful attacks in the years after the terrorist attacks of 9/11, including graffiti, gunfire, and Molotov cocktails — burned to the ground.  
In the days after, tens of thousands people from different faiths, as well as those from no organized religion, attended peaceful candlelight vigils to honor those murdered and injured as well as the heroes. Thousands more have offered messages of sympathy and support. 
The outpouring shows our country's true values. This is the America we strive to be, both to ourselves and to the rest of the world.
Yet solidarity and sympathetic messages do not diminish the bigotry of these atrocious acts. We may never know if the gunman targeted Sikhs in their house of worship because they were Sikhs or because they were of a different ethnic background, he mistook them for Muslims, or he decided to turn his beliefs of a racial holy war into action. But that doesn't make a difference to the communities he terrorized.
In the 12 years since the 9/11 attacks, racist hate groups that produce "lone wolf" killers such as the gunman have almost doubled in number. The Southern Poverty Law Center, an organization that monitors hate groups, put the number at 602 groups in 2000 and 1,108 in 2011. 
Whether called skinheads, neo-Nazis, white separatists, white supremacists, or militia members, these groups believe in the same thing: that any person who isn't a white, heterosexual Christian is subhuman and "other," and an acceptable target for violence.
Some of the causes for this disturbing proliferation of hate are tied to the changing racial and ethnic demographics of the United States. The U.S. elected its first African-American president in 2008, and the immigrant population has grown dramatically in the last 20 years. By the year 2050, people of color are predicted to become the majority in the U.S.
But instead of focusing resources on the growing number of right-wing hate groups like the one that encouraged the Oak Creek gunman, our nation's counterterrorism forces have focused almost exclusively on Islamic extremism. To be sure, violent extremism is a real and serious threat, whether it comes from Muslims or others — but investigations need to be based on facts and evidence, not politics and prejudice.
In 2009, for example, the Department of Homeland Security bowed to conservative political pressure and retracted a major report on hate groups and extremists that warned about possible white-supremacist groups recruiting former military veterans like the gunman for acts of domestic terrorism. Following the report's retraction, DHS reduced the number of analysts working on non-Islamic domestic terrorism from six to only one person. In contrast, approximately 40 analysts work on Islamic extremism. 
The rise of virulent hatred represented by white-supremacist groups represents a sharp departure from the ideals of the United States. The country was founded on freedom of religion and equal protection and equality for all groups, regardless of their race, religion, or creed. Diversity has been the genius of our nation since its beginning and continues to be one of our enduring strengths.
But we must do more to counter hatred in our own backyard, and to educate all members of our society about the benefits of a multicultural nation. We must highlight our commonalities, rather than our differences. We must also ensure that we have the resources to monitor hate groups that spread bigoted, anti-immigrant, and homophobic ideology.
In addition, it is time to pursue common-sense measures in our gun laws. All of the guns and ammunition obtained by the gunman in Oak Creek, as well as the gunman in Aurora, Colo., two weeks ago, were obtained legally. Strengthening our gun laws will not stop all dangerous people from committing crimes, but it can help mitigate the damage they inflict.
Finally, we must recognize that hateful language can lead to hateful acts. The bigoted arsonists who fire-bomb places of worship do not just wake up in the morning and decide to do it. The racists who assault and kill people they perceive to be different do not act in a vacuum. These criminals emerge from a culture that tolerates dangerous, inflammatory rhetoric that dehumanizes people and encourages fear, hate, and violence.
In addition to confronting white-supremacist groups, neo-Nazi punk bands, militia groups, and others, we must challenge softer forms of bigotry and prejudice that often come from the media, government officials, and sometimes even religious leaders.
For example, initial news reports of the Oak Creek shooting suggested that the gunman might have mistaken the Sikh temple for a Muslim mosque. The implication was that the shooting would have been more understandable if the mosque had been the target. Dehumanizing messages also come from elected leaders who abuse their platform. Republican Rep. Steve King of Iowa at a campaign event compared undocumented immigrants to dogs. Radio shock jocks make their living by regularly denigrating Muslims, women, gays, and people of color and others.
The shootings in Oak Creek and mosque-burning in Joplin have exposed some hard truths that Americans must acknowledge. But by challenging the elements in our society that allow these acts to happen, we can prevent such horrible tragedies in the future and begin to live up to our country's greatest ideals.
Angela Maria Kelley is vice president for immigration policy and advocacy for the Center of American Progress. As vice president, Kelley applies her many years of experience in the immigration field to the center's immigration policy work.
Anh Phan is the anti-hate table manager at Center for American Progress. She oversees partnership coordination and provides communication support, policy analysis, research, and written support for CAP's efforts to reduce the influence of anti-immigrant strategists and hateful rhetoric in the immigration debate.
Opinions and other statements expressed by Perspectives contributors are theirs alone, not National Journal's. Content created by third-party contributors is their sole responsibility and its accuracy is not endorsed or guaranteed.
We want to hear what you think about this article. Submit a letter to the editor or write to letters@theatlantic.com.