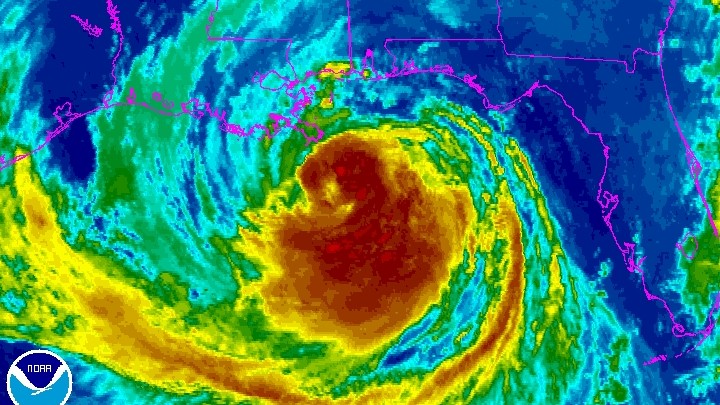 President Obama on Tuesday promised the people of the Gulf Coast who are bracing for an angry Hurricane Isaac that the country will be there for them to help get through it and then for the cleanup. "America will be there to help folks recover no matter what this storm brings," he told a campaign rally in Ames, Iowa, "because when disaster strikes we're not Democrats or Republicans first, we are Americans first."
Obama stressed that government agencies have been "getting ready for this storm for days. We've got response teams and supplies in place." Earlier, before leaving Washington for the first of two planned days of campaigning, he implored residents in the path of the storm to "take this seriously." Politically, it is clear that the president is taking his own advice.
Although he was going to be far from Washington all day stumping for votes in Iowa and Colorado, Obama was determined to send the message that he is paying attention to the threatening storm. He was not going to let himself get portrayed as oblivious to the anguish of millions of Americans as President Bush was when Katrina followed an almost-identical track seven years ago.
The White House also stressed that being on the road does not keep the president from staying on top of storm developments. Press secretary Jay Carney said he did not anticipate any changes in Obama's travel plans at this point. "He will be getting briefed on its developments throughout the day and obviously throughout tomorrow," said Carney. "He is also conducting campaign events, but will be getting information regularly on the status of the storm and on the status of the federal response."
Before departing from the White House, the president stressed the preparations already made by the federal government and the advance coordination with state and local authorities. He implored citizens in the affected areas to heed the warnings, especially if they are told to evacuate.
"We're dealing with a big storm, and there could be significant flooding and other damage across a large area," Obama said. "Now is not the time to tempt fate. Now is not the time to dismiss official warnings. You need to take this seriously."
The threat of extensive flooding seems to have risen near the top of official concern, and Obama said that "response teams and supplies" are already in place. But, he added, "The hardest work, of course, is still ahead." He pledged to "make sure that the federal government is doing everything possible to help the American people prepare for and recover from this dangerous storm."
Then it was off to Iowa for the first of the day's two campus events at Iowa State University in Ames, where he championed a college tax credit established under his administration that the White House says benefited 78,000 Iowa students last year.
We want to hear what you think about this article. Submit a letter to the editor or write to letters@theatlantic.com.