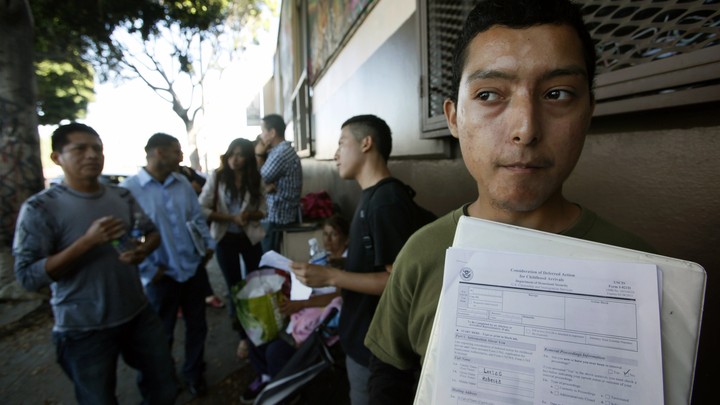 Voting rights and immigration dominated discussions in Wednesday's unveiling of policy recommendations on the economy, government accountability, health, education, and immigration on behalf the nation's 50 million Latinos.
Hector Sanchez, chairman of the National Hispanic Leadership Agenda, said that state-issued immigrant policies and voting-rights initiatives that have passed in recent years have made Latinos' "daily lives unbearable."
"It's clear that the Latino vote will be a decisive force in national elections," Sanchez said. "Both parties need to earn the Latino vote."
The policy recommendations, released every four years by the NHLA, a coalition of 30 national Hispanic groups, call for:
Increased access for Hispanic-owned businesses to contracting and subcontracting opportunities with the federal government
Support of federal housing-finance programs that reduce struggling Hispanic homeowners' mortgage principal
Protection of collective-bargaining rights in the public and private sectors
Improving Hispanic achievement in STEM careers by expanding advanced courses in math and science in schools that have high Latino populations
Eliminating the five-year waiting period for legal immigrants to access Medicaid benefits.
Sanchez said that the coalition has launched an aggressive campaign to urge the next president to make those issues a priority.
As immigration and birthrates have transformed the nation into one that's increasingly Latino, think tanks, policy makers, and economists have debated how the U.S. will adjust to the new minority-majority. Its impacts on the workforce, political alignments, economy, and educational institutions are already being felt.
For the first time in history, Latinos are the majority of students enrolled in colleges and universities in undergraduate programs, according to a recent Pew Research Center study. In Texas and New Mexico, Latino children are already the largest ethnic group in public schools.
"There is no America without Latinos. There is no American success without Latino success," said Jose Calderon, president of the Hispanic Federation, at the unveiling of the recommendations at the National Press Club.
On immigration, the coalition outlined recommendations that included creating a long-term solution to address the immigration status of the 11 million people living here without authorization that "unites families and allows workers to enter with rights and protection that safeguards of workers."
Ahead of the Republican National Convention next week, Kansas Secretary of State Kris Kobach suggested that the GOP platform focus on increased border security and wider use of E-verify, the program 12 states use to check the immigration status of new hires.
The GOP's platform also calls for adopting a new guest-worker program.
(RELATED: Republican Platform Calls for Guest-Worker Program)
Brent Wilkes, national executive director of the League of United Latin American Citizens, said that the country has recently seen unprecedented efforts to blockl Latinos from voting. "It's worse that we've seen in a long time," he said on Wednesday.
Missing from the policy recommendations were issues that have traditionally divided the Latino community, including gay marriage and abortion. If something's missing from the list, Wilkes said, it's because there is no agreement on an issue.
"Some of the organizations are very progressive, some are very conservative," he said of the groups that make up the coalition.
Key highlights of policy recommendations:
Support, recruit, and train a new generation of Latino health professionals with cultural and linguistic competencies.
Double the funding for clinics that serve low-income and uninsured people.
Extend unemployment insurance benefits.
Protect Social Security from privatization or from cuts.
Crack down on predatory lending,
Reauthorize the Workforce Investment Act to include two- and four-year training of Hispanics in health care professions and "green jobs."
Enact the Dream Act to allow high-achieving students to qualify for federal financial aid to make college accessible.
We want to hear what you think about this article. Submit a letter to the editor or write to letters@theatlantic.com.