Mitt's VP App Fail: Not Really a Surprise
News of Romney's vice presidential pick broke shortly after midnight, but the GOP app that promised users they'd know first waited seven hours before announcing it.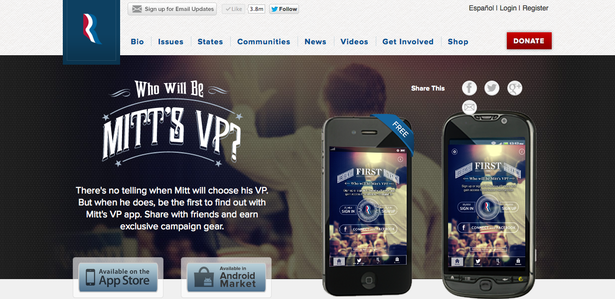 The Mitt's VP App promised users they would "be the first to know." But with a notification pushed out at 7:07 a.m. eastern time, users relying on the app got news of Mitt Romney's decision to put Paul Ryan on the ticket more than seven hours after anyone else paying attention.
The Romney campaign isn't alone in seeing its social-media attempts at controlling the news flow beat by a hungry press corps and leaky political establishment. 
Barack Obama, in his 2008 campaign, promised to send voters early news of his choice via text message, but reporters scooped news of the selection of Joe Biden.
In the end, the point of a campaign app is to collect data as much as it is to share it. On this score, the Romney app gathered address information from downloaders and got them to interact with the campaign on social media. It's likely that the Mitt's VP App will be converted to general use in the campaign.