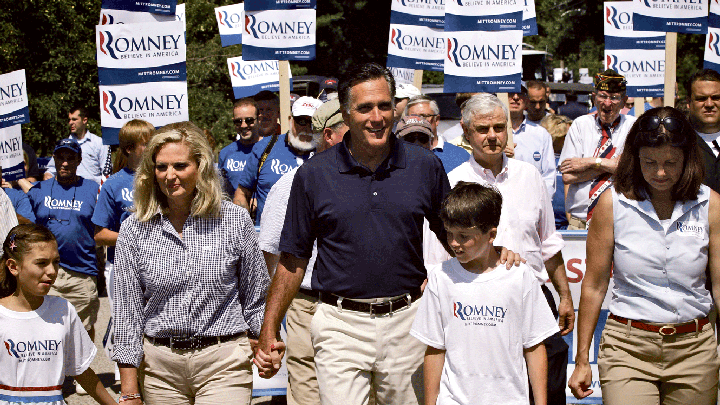 "My name is Mitt Romney, and I had hoped to come before you under happier circumstances. I looked forward to telling you about my faith, my family, and my vision for this great country. But this is not a day for politics. This is a day for all Americans — regardless of party and partisanship — to stand with our president in solemn determination to do all we can for the people of the Gulf Coast ... "
This is not the speech that Romney had planned to deliver this week, but it may be the one he has to give. With Tropical Storm Isaac on target for New Orleans, senior officials involved in planning the Republican National Convention said on Monday that they were considering a number of worst-case scenarios, including a quick nominating vote and a truncated Romney address in a smaller, more formal venue than the Tampa Bay Times Forum.
The Romney team is considering how they could salvage some political gain from even the worst-possible scenarios, said two senior GOP officials who discussed convention options with Convention Daily. The officials, both directly involved in convention planning, spoke on condition of anonymity because they were not authorized to discuss campaign strategy.
The Romney team canceled Monday's opening-day convention events. Even as they awoke to light rain and clearing skies, with Isaac heading west toward the central Gulf Coast, Romney advisers realized they had a bigger problem: a potentially deadly storm aimed for New Orleans seven years — almost to the day — after Hurricane Katrina killed more than 1,800.
If the storm stays on course and mounts in strength, Romney risks looking insensitive to the plight of Gulf Coast residents by continuing the convention as planned. He is already competing for attention: TV networks are shifting resources toward Isaac's projected landfall. "The split screen is a killer," said Ari Fleischer, White House press secretary under President George W. Bush.
And there is the unavoidable Katrina baggage: The inept government response destroyed Bush's credibility and sent his presidency into a death spiral. "Heck of a job, Brownie" — Bush's jocular nod to disgraced Federal Emergency Management Agency Director Michael Brown — will go down as one of the worst off-the-cuff job assessments in political history.
Katrina was not good for the GOP brand. And Isaac isn't helping Romney.
With shrugged shoulders and pinched faces, Team Romney adopted a fatalistic what-can-we-do attitude. "How do you handle an issue over which you have no authority?" said Neil Newhouse, Romney's chief pollster.
What they can do is prepare for various scenarios. Planners are considering a range of options, depending on the vagaries of the storm. One of the worst-case scenarios would have Romney delivering a brief speech declaring the emergency bigger than politics, shuttering the convention, and turning the public's attention to the Gulf Coast. Such a response would essentially be counterprogramming to what people would expect from President Obama, one official said. In short, this official said, Romney could turn lemons into lemonade if his campaign team plays its cards right.
"That's the worst-case scenario you just played out, and that might not be the worst-case scenario" politically for Romney if he's seen as putting people ahead of politics, the official said.
The storm is set to hit the coast on Wednesday morning, which means things could start getting dicey for Romney and his team on Tuesday. Will New Orleans evacuate? Will the storm intensify into a hurricane? Will it be strong enough to put people and property at risk? A "yes" to any of those questions will force Romney to consider his options. Among those mentioned by the sources:
 A short speech that rises above politics.
 A different venue that is more intimate and formal than the convention center. That he can't deliver an Oval Office address doesn't mean Romney can't deliver a presidential-looking one.
 Allowing the coast to ride out the storm through Wednesday and maybe even Thursday, pushing his formal nomination and traditional acceptance speech to Friday.
Romney will be in Tampa on Tuesday to watch his wife, Ann, address the convention. That puts him in position for any contingency.
Convention spokesman James Davis did not confirm the scenario planning. "We're hoping we go forward with Tuesday, Wednesday, and Thursday," Davis said."
We want to hear what you think about this article. Submit a letter to the editor or write to letters@theatlantic.com.