Inside the Romney-Ryan Bromance
In picking the House budget chief, Romney is getting a No. 2 who shares his analytical mindset, love of data, and ability to pivot on messaging.
In picking the House budget chief, Romney is getting a No. 2 who shares his analytical mindset, love of data, and ability to pivot on messaging.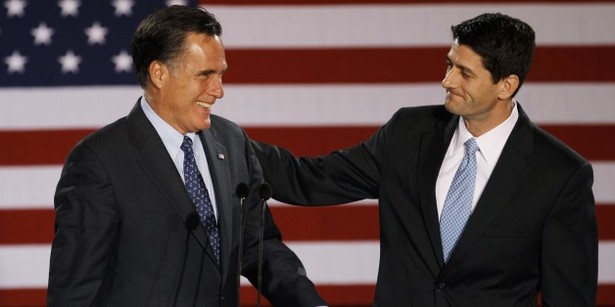 In the weeks before Rep. Paul Ryan released his latest budget blueprint this year, he urged all of the presidential candidates to follow his fiscal lead. He critiqued GOP front-runner Mitt Romney's speech at the Conservative Political Action Conference as "pretty good," but cautioned that all of the candidates needed to take bold policy stances. "We need to have an election with a mandate, so we can fix these problems," he said at a breakfast with reporters in mid-February.
He was equally noncommittal about his allegiances weeks later, when he praised both Romney and Rick Santorum for broaching the topic of entitlements on the campaign trail. "Their specifics have jived perfectly well with what we've been saying," he told National Journal. "We're all saying the same thing, and that's very good in my opinion."
And, when his big budget was finally unveiled in late March, the chairman of the House Budget Committee dared the GOP candidates to not follow suit. "I expect the Republican nominee to offer the country the legitimate choice that they deserve," Ryan, of Wisconsin, said. "I expect our nominee to propose how to get us out of a debt crisis."
How's that for warm and fuzzy collaboration among the Republicans?
But, contrary to this tough-minded public stance, Republican aides, lobbyists, and Ryan's own staff say that Ryan and likely Republican nominee Romney have developed a strong, working rapport--so strong in fact that Ryan's name shot to the top of the list of potential vice presidential running mates. On Saturday, Romney is expected to officially announce Ryan as his pick.
Though Ryan may initially seem like a person unlikely to play second fiddle given his own large aspirations, sources say that the two men share a similar analytical mindset and a love of data, an ability to pivot on their messaging and framing of key issues, and the patience and persistence needed to take the long view in the pursuit of victory. In Ryan's case, he's spent years honing an ideology about the country's fiscal trajectory that has become the House Repubicans' dominant message, while Romney has shown similar steadfastness in the years he's spent chasing the presidency.
"They connect on the fact that Ryan is one of the idea guys in our party," said former New Hampshire Republican Sen. Judd Gregg, who knows both men. "Romney likes people who think out of the box, who are capable of bringing substance."
The relationship has been budding since the spring, when Romney and Ryan began exchanging phone calls so that the congressman could walk the candidate through his budget. Ryan would detail the various aspects - Medicare, Medicaid, tax reform - and also explain to Romney the best way to frame the issues to constituents.
The calls culminated in Ryan's endorsement of the former Massachusetts governor four days before the Wisconsin primary, when Romney was locked in a heated battle with Santorum, a former senator from Pennsylvania. There was enough trust in the relationship for Romney's team to greenlight the pair sharing the spotlight that night in a Fox News interview with Sean Hannity, during which they sat side-by-side in checked shirts, warning about the dangers of reelecting President Obama.
Their bromance built over the next few days as they attended town hall meetings together across Wisconsin. Romney quickly went from dominating the discussion to ceding some answers to Ryan, citing his fiscal expertise. When Romney needed a recommendation for a local hotspot to grab a bite, it was Ryan who recommended the banana milkshakes at Culver's, a favorite Wisconsin fast food chain.
"They really had the opportunity to get to know each other, to talk a little bit more on everything from ... thoughts on monetary policy and the Federal Reserve to their family, their kids, and their hobbies," said Kevin Seifert, a Ryan spokesman.
The rapport was so good that Ryan helped Romney's staff play an April Fool's Day joke. The staff ushered Romney into an empty room that he thought was an under-attended campaign event. The former governor, who is known to be fond of pranks, chuckled at his staff as Ryan guffawed to his right. "Oh geez, you guys are really bad!" Romney remarked.
The relationship grew after the April primary, and Ryan joined Romney on a June bus tour that went through Wisconsin. Their wives, Ann Romney and Janna Ryan, also get along. They spent time together during a retreat for top Romney donors in Park City, Utah.
For all Ryan's hype within the party, though, questions remain about his readiness for the No. 2 slot on the ticket. Ryan has almost no experience in business, the same critique Romney has of President Obama, and Ryan is a creature of Washington, which is potentially a big liability at time when public approval of Congress is at an all-time low.
Other parts of the vice presidency - such as advocating for someone else's ideas - may come naturally to Ryan, who previously served as a speechwriter for Jack Kemp's think tank, Empower America, and then for his 1996 vice-presidential campaign, when he ran with Republican nominee Bob Dole. It helps, of course, that much of Romney's policy will be drawn from Ryan's own ideas.
In that regard, the Washington experience could be a plus.
Ryan "could utilize his relationships in the House and Senate, I would say, to really help an administration work very effectively with Congress," said Wisconsin Sen. Ron Johnson.
Ryan has also shown an ability to pivot, not necessarily when it comes to ideology, but on the way he builds support for his ideas. Following a bruising blowback after the release of last year's budget, Ryan was much more careful with this year's sales pitch. He toned down the health care portion and was quick to cast it as bipartisan, thanks to the plan he developed with Oregon's Democratic Sen. Ron Wyden. He took the topline tax ideas from the Republicans on the House Ways & Means Committee in an effort to show collaboration. When he released "The Path to Prosperity" in late March on Capitol Hill, he did so flanked by the other Republican members of the House Budget Committee as if to show the broad support for his policies.
That trait that will be crucial for him in a vice presidential supporting role.