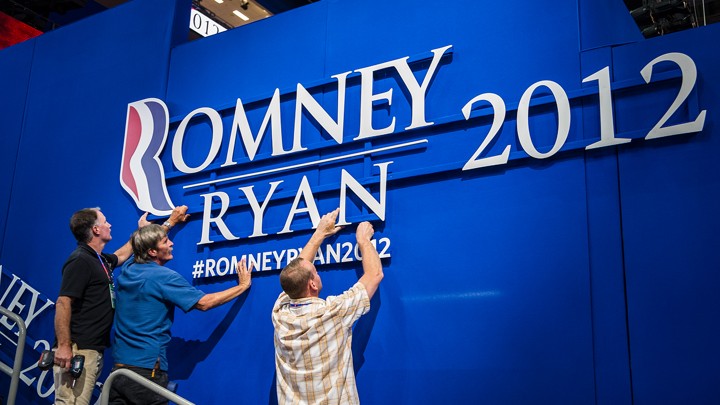 Some of the biggest names in politics will be missing from the stage during the Republican National Convention this week in Tampa, and that's no accident. The Mitt Romney campaign is aiming to focus squarely on President Obama's record and the GOP future rather than on polarizing figures and controversies from the past.
The idea is to portray a competent, forward-looking party — and that has translated into leaving out a recent president and vice president, some tea party stars, and most of the Republicans who only months ago were fighting Romney for the nomination. The absent former rivals include Rep. Michele Bachmann, who won the Iowa straw poll in 2011; former pizza magnate Herman Cain, who once led national polls during the primary race; Texas Gov. Rick Perry, viewed as a juggernaut before he ran; and retiring Rep. Ron Paul, who is getting a video tribute but no live address.
Also missing from the podium, and the convention as well: Former President George W. Bush and former Vice President Dick Cheney. Bush and Cheney represent a decade of GOP dominance that voters don't remember fondly. Even Republicans have been highly critical of deficit spending and bailouts during the Bush-Cheney years.
The two decided separately not to attend. They probably realized the ramifications of showing up, said Al Cardenas, chairman of the American Conservative Union. "The leaders of the party from the last decade agree it's in the party's best interest to move forward," he said.
Almost all of these no-shows have national favorability ratings in the 20s and 30s. That includes former Alaska Gov. Sarah Palin, who made an electric convention debut four years ago as the GOP vice presidential pick but won't be onstage this year. Her absence, along with that of Cain, Bachmann, Donald Trump, and other tea party favorites, has not gone unnoticed. The conservative group TheTeaParty.net has asked conservatives to sign a petition condemning convention organizers for what they call a blatant and outrageous attempt "to silence TEA PARTY voices and ignore the historic success of the Tea Party since 2009."
Convention organizers are clearly aiming for the preferred audience in a new National Journal Convention Insiders Poll, in which 71 percent of Republican Insiders said it was more important for the convention to appeal to swing voters. Only 22 percent said it was more important to energize the base. Perhaps even more relevant for GOP planners: In an NBC News/Wall Street Journal poll last month, only 25 percent of Americans said they supported the tea party; 65 percent said they did not.
(Some Democrats, of course, will also be notably absent in Charlotte next week, including former Vice President Al Gore and former presidential contender Michael Dukakis. But Bill Clinton will speak just before President Obama accepts his renomination. And in 2008, even after Hillary Rodham Clinton's long, hard primary fight against Obama, both Clintons spoke at the convention in a show of party unity — after Obama had chosen another rival, Joe Biden, as his running mate.)
The GOP nomination fight was a free-for-all of charges and countercharges. "It was a bruising primary, a roller-coaster primary where some very nasty words were exchanged," said Ron Bonjean, a Republican strategist. For instance, Perry saying Romney had practiced "vulture capitalism," Gingrich's never-ending complaints that Romney and his allies were buying the election, and former Sen. Rick Santorum's assertion that Romney was "the worst Republican in the country to put up against Obama."
Bonjean said putting former rivals onstage would make them look hypocritical after all that. But Santorum nevertheless scored a speaking role this week, and Gingrich did as well. A revised schedule issued on Sunday shows him slotted for an appearance with his wife on Thursday night. The rest of Romney's onetime competitors? No go.
We want to hear what you think about this article. Submit a letter to the editor or write to letters@theatlantic.com.