In Defense of the Skinny-Dipping Congressman
Give Rep. Kevin Yoder a break. Naked swimming is less corrosive to the honor of U.S. representatives than many of their daily activities.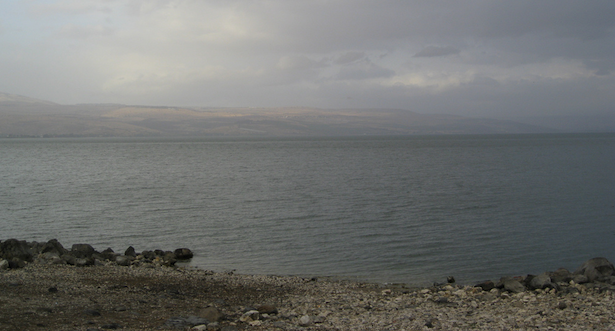 When President John Quincy Adams lived in the White House, between 1825 and 1829, the erstwhile diplomat and U.S. Senator frequently went skinny-dipping in the Potomac River, causing no fuss. President Teddy Roosevelt, an avid outdoorsman, swam naked in the Potomac too. Billy Graham was one of many to go skinny-dipping with President Lyndon Johnson in the White House pool. Yet today in a story emailed out to media professionals as a "POLITICO EXCLUSIVE," Jake Sherman and John Bresnahan write about mere congressional skinny-dipping like it's a serious scandal, though no one even tweeted iPhone photos.
There are so many examples of misplaced priorities and upside-down thinking in American politics. But I could scarcely believe my eyes when I read through the first paragraphs of their story:

The FBI probed a late-night swim in the Sea of Galilee that involved drinking, numerous GOP freshmen lawmakers, top leadership staff -- and one nude member of Congress, according to more than a dozen sources, including eyewitnesses. During a fact-finding congressional trip to the Holy Land last summer, Rep. Kevin Yoder (R-Kan.) took off his clothes and jumped into the sea, joining a number of members, their families and GOP staff during a night out in Israel, the sources told POLITICO. Other participants, including the daughter of another congressman, swam fully clothed while some lawmakers partially disrobed. More than 20 people took part in the late-night dip in the sea, according to sources who were participants in the trip.

"A year ago, my wife, Brooke, and I joined colleagues for dinner at the Sea of Galilee in Israel. After dinner I followed some Members of Congress in a spontaneous and very brief dive into the sea and regrettably I jumped into the water without a swimsuit," Yoder said in a statement to POLITICO. "It is my greatest honor to represent the people of Kansas in Congress and [for] any embarrassment I have caused for my colleagues and constituents, I apologize."

Where to begin?
Were the scoop mine, I'd probably have refocused the lead this way:
The federal law enforcement agency responsible for stopping domestic terrorism, organized crime and bank robberies spent an unknown number of staff hours investigating skinny-dipping that took place a year ago in a foreign country, and won't explain why they did it.

Instead the story proceeds as if skinny-dipping is a natural subject for both federal inquiry and sustained journalistic investigation:
The account of that Aug. 2011 night in Israel was pieced together for the first time by POLITICO based on interviews with more than a dozen sources, including eyewitnesses, as well as public records of the trip.

I kept expecting something more. That someone made a pass at an intern or something. But nope. Nothing more than skinny-dipping. Far be it from me to begrudge journalistic colleagues or the reading public a brief distraction on a funny story. But is a congressman's exuberant jump into the Sea of Galilee, apparently with his wife present, a story that merits interviews with a dozen sources and digging into public records? Does it warrant a tortured apology from Rep. Yoder?
Maybe he just didn't want to get his clothes wet.
Even stranger is the "context" the story offers:
In a Congress that has already sunk to new lows in public-opinion polls, and seen a bipartisan wave of scandals, this latest controversy could only further damage that image. Since the start of the 112th Congress, former Rep. Anthony Weiner (D-N.Y.) resigned following the revelation that he was sending naked pictures of himself to women he met on the Internet. Former Rep. Christopher Lee (R-N.Y.) quickly left office after he was caught sending a topless photo of himself to an online acquaintance. Former Rep. David Wu (D-Ore.) stepped down after an "unwanted" sexual encounter with the daughter of a longtime friend. Former Sen. John Ensign (R-Nev.) resigned after having an extramarital affair with the wife of an aide and then trying to cover it up.

The whole piece seems to proceed from a bizarre category error that makes it seem as though official Washington is about to put skinny-dippers on the sex offender registry. Have these people never swam naked? And this has got to be among the most pointless grants of anonymity ever: "Few offices responded to requests for on-the-record comment about the incident. However, numerous Republicans discussed what occurred on the condition of anonymity."