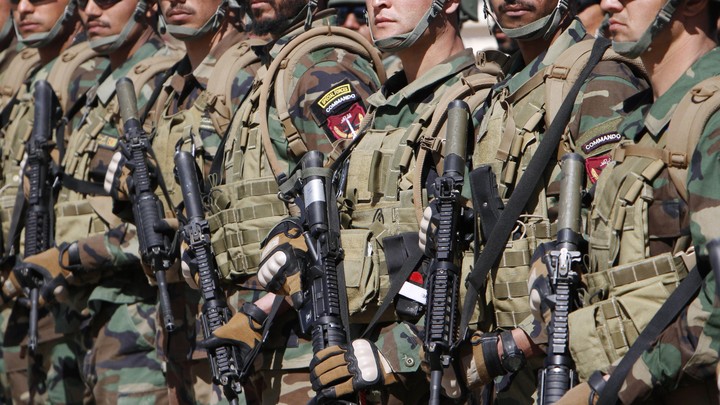 With seven attacks in two weeks, the Pentagon is investigating a rise in so-called "green-on-blue" killings, where Afghan security forces are turning their weapons on the U.S. soldiers tasked with training them.
On Friday, two U.S. soldiers were killed by a newly recruited Afghan policeman, boosting the number killed in similar attacks this year to 36, according to several accounts. This surpasses last year's total. Defense Secretary Leon Panetta said on Tuesday that he was "concerned" with the increase in attacks, which could harm the partnership between the U.S. and Afghanistan as NATO starts to draw down its troops.
Michael O'Hanlon, a senior fellow at the Brookings Institution in Washington, said that there's debate over whether this is a new Taliban tactic or merely a way some Afghans deal with disputes. It's a bit of both, he said. For example, in April 2011, an Afghan soldier with no ties to the Taliban or al-Qaida killed eight U.S. Air Force officers over a financial dispute.
"There's no one overriding driver in this; there are a number," O'Hanlon said. "But, it's a serious enough threat that even though the Taliban would be foolish to think that it's going to change the way we're doing the mission — and we're not, we haven't — nonetheless, it certainly affects people day to day."
But one of the problems for the Pentagon is a lack of clear data on these attacks, driving the need for further studies. Stephanie Sanok, of the Center for Strategic and International Studies, says that the Pentagon must first admit that this is a problem, look at the root causes of such attacks and then evaluate if it has the resources to combat the attacks.
What should be asked is, "Who's doing this?" she said. "What background are they from? Have they had issues in the past? When the coalition vets them in order to qualify them to be Afghan National Security Forces, who's signing off on them? Where are they getting their credentials from? A lot of times it's tribal leaders. Is there a trend in who's signing off on these people?"
Panetta and other Pentagon officials have previously placed the blame on the Taliban, which he said are worried about the success of NATO and Afghan forces on the ground.
"The reality is, the Taliban has not been able to regain any territory lost, and so they're resorting to these kinds of attacks to create havoc," Panetta said at the Tuesday press briefing. "And there's no question it's of concern. It's dangerous. And we've got to do everything we can do to try to prevent it."
Most of the men behind the green-on-blue attacks are Pashtun, Sanok said. The ethnic group makes up the majority of the Taliban and only 3 percent to 5 percent of Afghan security forces. Disenfranchisement within the coalition could lead to the attacks. But such a trend, she said, needs to be properly investigated.
"It's a trend that if we don't at least acknowledge it, we can't figure out how to address it," she said.
With the threat of attack from the men they train, U.S. troops might develop distrust with their Afghan counterparts, anxious with the threat of Taliban infiltration. And as the transition of military responsibility shifts from NATO troops to Afghan soldiers, this relationship is crucial to the drawdown of combat operations for the U.S.
To prevent such infiltration, Kori Schake, a fellow at the Hoover Institute and assistant professor at West Point Military Academy, said that the military is recruiting security forces similarly to how it did in Iraq — that is, by making Afghans responsible to imams and other tribal leaders so they are working toward local interests.
That sort of local accountability can be lost, however, when troops are stationed away from their villages or home provinces. Additionally, such training will start to go away as U.S. and NATO start to draw down troop levels in Afghanistan, making it more difficult to address the problem.
The White House has condemned the attacks, but attempted to calm concerns of a broader trend. On Thursday, White House press secretary Jay Carney called such attacks "deeply concerning," but added, "It is also important to put it in perspective."
The U.S. has already begun its drawdown of troops from Afghanistan, working toward the 2014 exit date. As of now, there are about 80,000 Americans fighting, down 20,000 from last year.
Although attacks are on the rise, military leaders point to the vast cooperation between NATO and Afghan forces in the field.
"Every case where one of these occurs, that same day there are tens of thousands of interactions between the Afghans and ISAF forces that don't go that way," Gen. John Allen, commander of the International Security Assistance Force in Afghanistan, said at a NATO summit in May.
If the trend continues, and anxiety over the commitment of Afghan troops and the corruption of the Afghan government increases, O'Hanlon warns, it could "explode in one way or another in a harmful fashion." As of now, however, the U.S. has not modified its training programs or interaction with Afghan security forces as a result of recent attacks.
We want to hear what you think about this article. Submit a letter to the editor or write to letters@theatlantic.com.