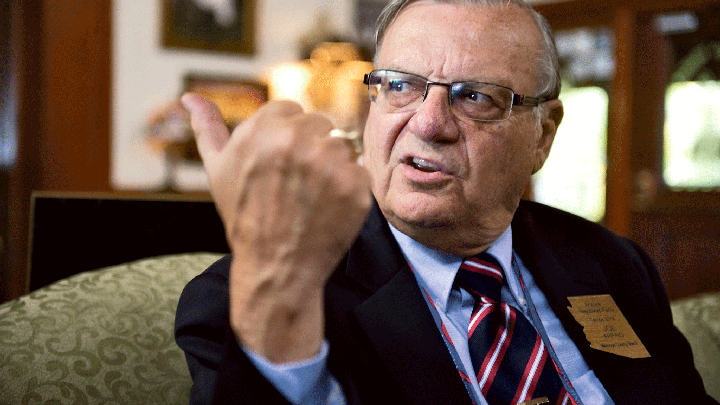 It's official. Republicans are now allowed to embrace the concept of foreign workers in the United States. The official Republican platform calls for a guest-worker program. Mitt Romney wants to staple a green card to foreign college students' diplomas.
True, some conservatives think those party leaders are soft on immigration. That's why a foreign-worker endorsement takes on a different ring when it comes from Arizona Republican Gov. Jan Brewer, famous for signing the state's tough immigration-enforcement law, or Maricopa County Sheriff Joe Arpaio, infamous for holding county prisoners in a "tent city" with no air conditioning and forcing them to wear pink underwear.
Both Brewer and Arpaio say that foreign workers are OK. They stop short of saying that a guest-worker program should include illegal immigrants already in the country, but their support of foreign workers at all indicates that Republicans may be ready to embrace a broader overhaul of immigration laws than the "enforcement-only" approach taken by many other Republicans.
"If it's a guest-worker program, legitimate, coming in from another country, I don't think there's any big concern," Arpaio said on Wednesday as he took a break from a lunch meeting with the Arizona delegation in Tampa. "I'm against amnesty. I don't go along with that for people who are already here."
Brewer added after the luncheon: "We have to have a workable guest-worker program. It's too important for our economy and our commerce." Brewer and Arpaio are convinced that Romney is more understanding of their perspective on immigration than President Obama. "He understands states' rights," Brewer said. "He was a former governor. So we'll be able to discuss all of these things in a much better atmosphere."
Of course, Brewer's relationship with Obama was strained even before the now-infamous tarmac incident inArizona, when cameras caught her pointing accusingly at the president. (Her son Michael is sporting a pin with the tarmac photo at the convention.)
Brewer knows that immigration reform isn't a top-tier issue for Romney, much like Obama, who made health care his domestic policy focus. Asked if Romney would make immigration reform a priority, she simply said, "First and foremost, the priority has to be jobs and the economy."
Arpaio, meanwhile, is slated to give a speech on Thursday at Tampa's Lowry Park Zoo in front of the elephants. (No, that's not a metaphor for Republican convention-goers. He will be at the zoo with actual elephants.) Brewer said she also might be there, although her schedule is in flux.
Arpaio will be important for Republicans in helping them keep their tough-on-illegals profile as they flirt with bringing foreign workers into the country. He bills himself as a rule-of-law guy on all fronts. He is the ultimate hard-liner, under indictment from the Justice Department for abuse of power and discrimination against Latinos in his attempt to crack down on illegal immigration. He has no patience for the Obama administration.
The profile makes a perfect backdrop for politicians courting conservative voters. Arpaio met all of the Republican primary candidates for president.
"It always came down to illegal immigration, or more so my endorsement, which confuses me because I've got everybody zeroing down on me from the Justice Department, and I'm taking heat from everywhere. And yet people still ask for my endorsement," he said.
Arpaio is a firm Romney supporter, having worked on his previous presidential campaign. He is open to new ideas. He didn't flinch when told about the comments of former Florida Gov. Jeb Bush, who said on Tuesday that Republicans were unnecessarily alienating Hispanics with their tough talk on undocumented immigrants.
"Maybe he should say that we should change the laws, if you can get it done," Arpaio suggested. But right now, he said, "we have laws we need to be upholding."
This story is part of our Next America: Workforce project, which is supported by a grant from the Annie E. Casey Foundation.
We want to hear what you think about this article. Submit a letter to the editor or write to letters@theatlantic.com.