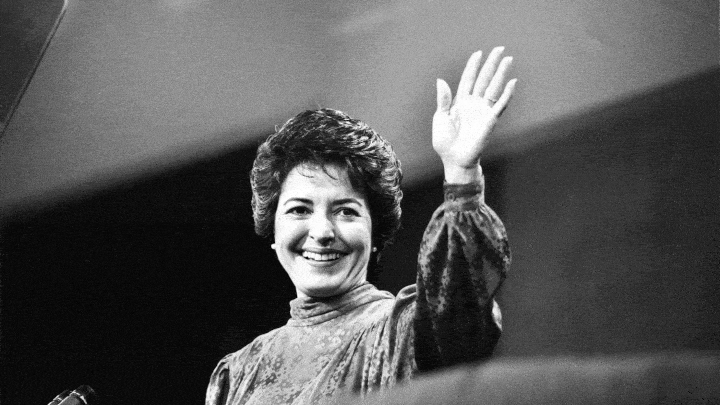 In politics, nothing says you're the future more than getting a coveted prime-time speaking slot at a national convention. Except when it doesn't. Keep that in mind as the two parties fill those slots for Tampa and Charlotte. It can get pretty confusing.
Only four years ago, Alaska Gov. Sarah Palin was the unquestioned future of the Republican Party, the star of the gathering in Minneapolis-St. Paul, and guaranteed to be a big deal at the convention in 2012. But four years later, she's not governor, not a nominee, and not going to be speaking in Tampa. Instead, viewers will be watching the current "future stars," a constellation that includes officials totally unknown in 2008: Chris Christie, Mary Fallin, Nikki Haley, Susana Martinez, Rand Paul, Marco Rubio, and Rick Scott. The message that convention organizers want to send is, this is not your father's — or mother's — Republican Party. They still remember (can't forget) the disastrous 1992 convention in Houston when Pat Buchanan's "culture war" speech pushed Ronald Reagan's final convention speech out of prime time. Intolerance was the message of Houston, and all but forgotten was the need to build a coalition behind President George H.W. Bush.
What won't be forgotten in Tampa is the need to elect Mitt Romney. Speakers such as Fallin, Haley, Martinez, and Rubio can help further that goal while presenting a more diverse party. And, because former Presidents George H.W. Bush and George W. Bush as well as former Vice President Dick Cheney are not speaking, the party can spend less time dealing with a past that includes that economic meltdown in 2008.
For the Democrats, a little reminder of the past is very much on the agenda. Former President Carter will be just a video. But former President Clinton will have a prime-time role introducing President Obama and reminding the electorate of the economic good times and the budget surplus the country enjoyed when he left office.
The Clinton past will be balanced by a look at a party future almost certain to carry a Latin accent, with the 37-year-old mayor of San Antonio, Julian Castro, delivering the keynote address on Tuesday night. Just like Palin, Castro will be introduced as the future of the party. Maybe he will be. It certainly turned out that way for the 2004 Democratic keynoter, a young Illinois state senator named Barack Obama. But before Castro banks on that, he might check with other recent keynoters who were supposed to be the futures of their parties — Katherine Ortega, Tom Kean, Susan Molinari, Ann Armstrong, Dan Evans, and Harold Ford.
We want to hear what you think about this article. Submit a letter to the editor or write to letters@theatlantic.com.