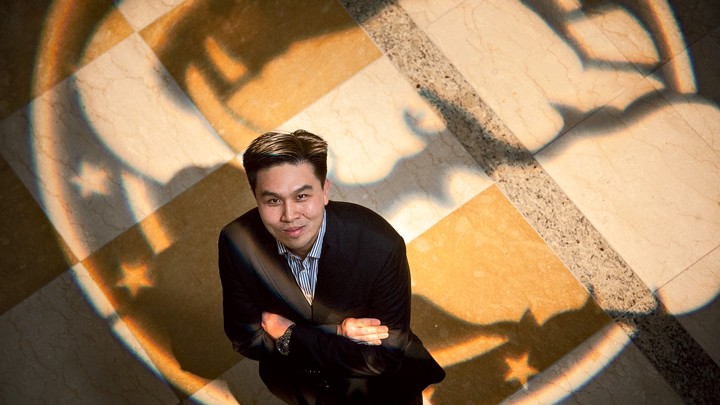 By all accounts, Mitt Romney's top policy director, Lanhee Chen, is a prodigy. Past and present associates have nothing but effusive praise to offer when speaking about Chen, calling him everything from "a nice guy" to "obviously brilliant," "a rare talent," and "a dynamo."
But with a lack of extensive political experience, the four-time Harvard graduate faces some significant challenges in what the Romney camp has intended to be a referendum campaign on President Obama's leadership. The emphasis so far has been on political attacks, not policy debates, which are Chen's forte. And even if the campaign speeches and debates shift the focus to policy, Chen will have to marry Romney's positions to those of a vice presidential pick with some distinctly different proposals.
Romney's senior campaign adviser Beth Myers said that the former Massachusetts governor relies on Chen "entirely for policy direction," but he's not the only one. Part of Chen's role as policy director for Romney's campaign, Myers said, is "being an orchestra leader." This means building a strong team, with expertise on a variety of issues, and then ensuring that all the instruments are playing in harmony. "It's always good to have Dr. Chen on the case," Myers said.
Chen's background in academia is unparalleled, with a bachelor's degree in government, a master's degree in political science, a law degree, and a doctorate in political science — all from Harvard. His political résumé is less sparkling: He worked on the Bush-Cheney campaign in 2004, did his first campaign with Romney in 2008, and worked on Steve Poizner's unsuccessful gubernatorial campaign in California in 2010.
William Galston, former policy adviser to President Clinton, said that for him, constantly pivoting from policy to politics "took some getting used to." Galston, who also was issues director for Democrat Walter Mondale's presidential campaign in 1984, came into that job with a wealth of academic experience, including a doctorate in political science from the University of Chicago. Like Chen, though, he didn't have "a whole lot of political experience" and said that it was a particular challenge to integrate policy and politics.
Policy "has to be prepared to deal with a large range of criticisms and attacks," Galston said. "It's not always obvious what the right way to respond to an attack is."
Still, the tenor of the campaign may be shifting more toward policy debates with Rep. Paul Ryan, R-Wis., in place as Romney's running mate. And the more the election shifts from referendum to choice, the more the role of the policy director comes into play, Galston said. Chen will need to ensure that Romney's positions are in sync with his running mate's, at least in the minds of voters.
Chen's greatest strength is domestic policy, which he focused on during Romney's 2008 presidential campaign, said Gregg Keller, who worked with Chen. "He knows where the governor is on the issues," said Keller, who is now national executive director at the American Conservative Union.
By picking Chen to run the entire policy shop this time around, the Romney campaign is indicating that its emphasis will be on domestic issues, Keller said. "It shows a focus, a realization that domestic-policy concerns are going to drive the decision," Keller said.
Chen's particular expertise is health care policy, which has remained a significant campaign issue this year.
Robert Moffit, a senior fellow at the Heritage Foundation, hired Chen as a health policy fellow in 2003 in the middle of the debate over Medicare modernization. "His experience with us was very useful in terms of getting him deeply involved in Medicare policy," Moffit said. That could well come in handy with the future of the entitlement program moving to front and center in the campaign.
We want to hear what you think about this article. Submit a letter to the editor or write to letters@theatlantic.com.
Olga Belogolova
is an associate editor at
InsideDefense.com
in Washington, D.C., where she covers the Navy. She was previously a staff reporter at
National Journal
, where she covered energy policy and other global issues.