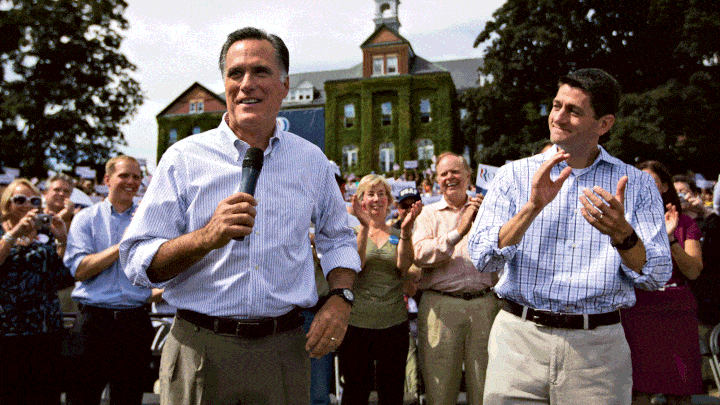 President Obama and Mitt Romney remain deadlocked nationally in the latest ABC News/Washington Post poll, heightening the stakes for the Republican National Convention this week and making almost certain that Romney will leave Tampa with a lead over the incumbent if he gets even the slightest bump from the exposure. The contest is close in the two host states as well, according to the results of a CNN/Time/ORC poll released on Monday.
The national poll has Romney with 47 percent among registered voters to Obama's 46 percent, essentially unchanged since the previous survey in July. In that poll, the two candidates were tied at 46 percent.
The poll suggests that the race has settled into a near-tie less than 100 days before the election and only a month before early-voting states like Ohio begin to collect ballots. And it suggests that Romney has regained his footing after a rough spring when he was still trying to consolidate his party after a tough primary battle. The reason for Obama's troubles is easy to pinpoint — he's weak on the issue that is most important to most voters, the economy. Fully 71 percent of respondents said that the economy would be a major factor in their vote, while only 28 percent said it would be a minor factor or no factor at all. Even worse for Obama, one-third say that the economy is his fault, although former President George W. Bush still gets the blame from a majority (54 percent).
The CNN/Time/ORC polls show Obama with a slight edge in Florida, where, following a brief delay due to Tropical Storm Isaac, Republicans are set to begin their convention on Tuesday. Among likely general-election voters, the ticket of Obama and Vice President Joe Biden leads the presumptive Republican ticket of Romney and Paul Ryan, 50 percent to 46 percent. Men in Florida favor Romney, 50 percent to 46 percent. But Obama wins the female vote by 12 percentage points, 54 percent to 42 percent.
In North Carolina, where Democrats will meet next week in Charlotte, the two tickets are neck and neck, with Romney-Ryan edging Obama-Biden, 48 percent to 47 percent, the poll shows. There, Romney has a 14-point lead among men, 55 percent to 41 percent, while Obama has an advantage among women, 52 percent to 42 percent.
The CNN/Time/ORC polls were conducted Aug. 22-26 and have a margin of error of plus or minus 3.5 percentage points. The ABC News/Washington Post poll was conducted Aug. 22-25 and has a margin of error of plus or minus 4 percentage points.
Although the party conventions unofficially mark the beginning of the fall campaign season, overall interest in the Republican convention is relatively flat: 44 percent of respondents in a new Pew Research Center poll report they are very or fairly interested, compared with 48 percent in 2008 and 46 percent in 2004. Interest in the Democratic convention is down this year as well, with 43 percent saying they're interested in the event next week, down significantly from 59 percent in 2008, when Obama became the first African-American to win a major party nomination.
In the Pew poll, more Americans said they are interested in the Republican platform than in the prime-time speeches of Romney and Ryan. Fifty-two percent of respondents said they are very or somewhat interested in learning about the GOP's platform, while 44 percent reported they are similarly interested in watching Romney's acceptance speech. The survey by the Pew Research Center for the People and the Press was conducted Aug. 23-26 and has a margin of error of plus or minus 3.6 percentage points.
---
Michael Catalini contributed contributed to this article
We want to hear what you think about this article. Submit a letter to the editor or write to letters@theatlantic.com.