Could Akin Damage the Top of the GOP Ticket?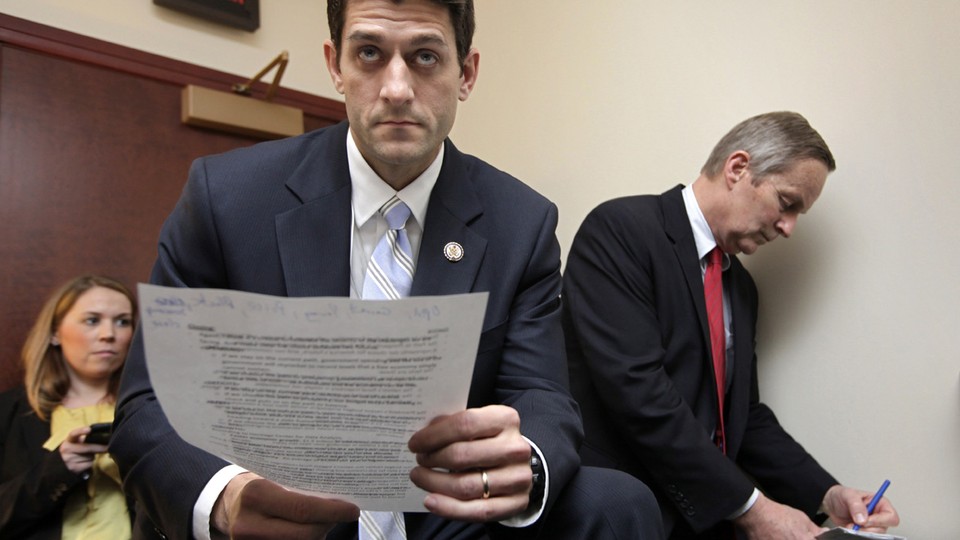 Isolated comments from a political candidate -- even remarks as incendiary as Rep. Todd Akin's suggestion that "legitimate rape" doesn't cause pregnancy -- usually deliver only a glancing, temporary blow to other members of the candidate's political party. But there are reasons to think the Missouri lawmaker's bombshell interview could harm the Republican presidential ticket.
Akin, of Missouri, and Paul Ryan, of Wisconsin, who are House GOP colleagues, share a voting history on abortion rights, including mutual support for a controversial measure that would define an embryo as a person. They cosponsored another measure, subsequently withdrawn, that would distinguish "forcible rape" in banning abortion funding. Akin, Ryan, and Republican presidential contender Mitt Romney also back less-controversial measures, such as defunding Planned Parenthood.
The broader links between Akin and the presidential ticket give Democrats a chance to push a debate about abortion rights and women's health into the presidential race's limelight, putting the GOP on the defensive over an issue it would rather avoid and with a group of voters, women, it has struggled to attract.
It's an opportunity President Obama took on Monday during a rare news conference. Although careful not to suggest his GOP rivals shared Akin's exact views, he nonetheless drew a distinction between the parties' stances on abortion.
"What I think [Akin's] comments do underscore is why we shouldn't have a bunch of politicians, a majority of whom are men, making health care decisions on behalf of women," Obama said. "And so, although these particular comments have led Gov. Romney and other Republicans to distance themselves, I think the underlying notion that we should be making decisions on behalf of women for their health care decisions or qualifying forcible rape versus non-forcible rape, those are broader issues and that is a significant difference in approach between me and the other party."
The Republican Party's official platform is expected to contain "a human life amendment" to the Constitution that would outlaw abortion without making explicit exemptions for rape or incest. That would be consistent with past GOP platforms, which have left the specifics of that issue to the states. Obama campaign spokeswoman Lis Smith issued a statement on Tuesday blasting the idea: "Women across this country should take note of the Republican Party's position, and not trust any of the false promises made by Mitt Romney and Paul Ryan on the campaign trail."
To prevent any deeper connections from occurring, Romney has indeed distanced himself from Akin, and many Republicans have begun calling for the congressman to step down as the GOP Senate nominee against Democratic incumbent Claire McCaskill. Controversies that once looked capable of shifting the election's course -- Romney adviser Eric Fehrnstrom's "Etch A Sketch" moment or Obama's comment that the private sector is "doing fine" come to mind -- ultimately proved mostly inconsequential to a campaign controlled by larger, more far-reaching forces such as the state of the economy.
The Romney campaign knows those central issues can take hold again as long as it distances itself from Akin, said Jim Innocenzi, a Republican strategist.
"This is not an issue that's going to help them, and they're smart enough to know that," he said. "They are going to do everything they can to get the hell away from it."
But for now, Romney and Ryan will be forced to fight on a new front in their battle against Obama, on ground that's traditionally unfavorable to them. Among women, Republicans already are on the wrong side of the gender gap. A mid-July poll from the Pew Research Center found Romney and Obama in a dead heat among men, but the president leading among women, 56 percent to 37 percent.
The gap between Romney and Obama is particularly jarring among college-educated women. An early August WMUR/University of New Hampshire poll found the president winning 61 percent of the group's vote; Romney claimed only 35 percent. In six recent state surveys by Quinnipiac University, at least 54 percent of women with a college degree supported Obama. The high-water mark was Pennsylvania, where Obama had the backing of 66 percent of them.
Generally, women with a degree are more inclined to support abortion rights. In other words, the Akin controversy might have exacerbated an existing problem for the GOP ticket. "The real problem is, Romney already has a problem with women," said Jay Campbell, a Democratic consultant. "He cannot seem to close the gap with the president there. It's one of the reasons the president, despite the poor economy, continues to best him in every poll."
Abortion rights -- or the issue question of women's reproductive health -- isn't new to the presidential race. Obama's decision this winter mandating that religious-affiliated groups must provide access to contraception ultimately sparked a debate over women's health and what Democrats deemed the Republican "war on women." The controversy soon receded amid a debate about the economy and, of late, about Medicare, but the president has still run a series of ads criticizing Romney for wanting to strip federal money from Planned Parenthood and "drag [women] back" to the 1950s.
Those criticisms now may carry a sharper bite.
"You take the ad Obama ran earlier, and you layer on his choice of vice president, it gives voters another set of validators that the Republican ticket is out of the mainstream and not particularly friendly to women," said Mark Longabaugh, a Democratic strategist. "Akin only sort of plays into the GOP narrative of a party that seems hostile to women. If I were in Boston as part of the Romney team, this is not the way I would want to be heading into my convention in a few days."
Beth Reinhard contributed