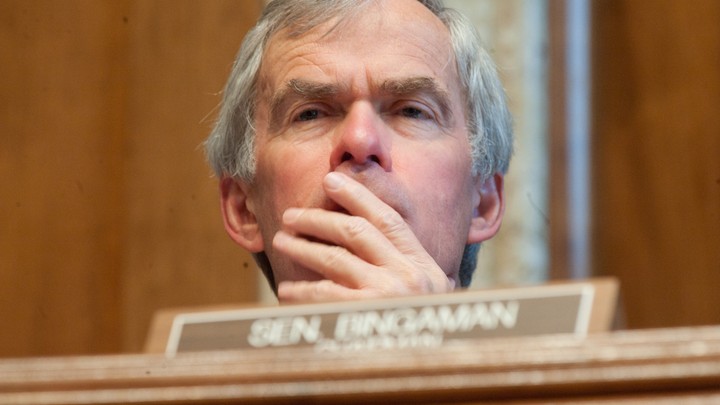 Senate Energy and Natural Resources Committee Chairman Jeff Bingaman, D-N.M., on Wednesday unveiled draft legislation to jump-start action on the languishing problem of radioactive waste now stored in pools at nuclear-power plants across the country.
Bingaman's bill is aimed at implementing the recommendations of a presidential blue-ribbon panel on nuclear waste that earlier this year released a report analyzing the solutions for storage of spent fuel from the nation's 104 nuclear plants.
Specifically, the bill proposes a new, consent-based approach to siting nuclear-waste management facilities and advocates establishment of a new independent organization to manage the task.
Bingaman had been working on the bill with Sens. Dianne Feinstein, D-Calif., Lamar Alexander, R-Tenn., and Energy and Natural Resources ranking member Lisa Murkowski, R-Alaska, to implement the commission's recommendations, but they were unable to agree on language. Bingaman said he decided to move forward on his own, but he conceded that his proposal has no chance of passage in this Congress.
"I recognize, of course, that the bill will not become law this year. But my hope is to obtain testimony on it and to build a legislative record that might serve as the foundation for further consideration and ultimate enactment in the next Congress," Bingaman, who is retiring at the end of this Congress, said in a statement on Wednesday.
When he previewed his bill in June, Bingaman blamed the House for blocking action on nuclear waste. "Even if we were able to get a bill out of the Senate, the House seems more interested in continuing the fight over Yucca Mountain than implementing the blue-ribbon commission's recommendations," he said.
House lawmakers have consistently tried to revive the conversation over the controversial and now-defunct nuclear-waste repository at Nevada's Yucca Mountain, which Obama shuttered soon after taking office.
But in response to shutting down the project, Obama called for a blue-ribbon panel to investigate next steps. The White House commission tasked with finding long-term solutions for storing the nation's spent nuclear fuel in January said that the government needs to fix its broken nuclear-waste management policy and begin the simultaneous development of at least one permanent geological repository and at least one centralized interim storage facility.
Bingaman plans to hold a committee hearing on the legislation in September.
---
Amy Harder contributed contributed to this article
We want to hear what you think about this article. Submit a letter to the editor or write to letters@theatlantic.com.
Olga Belogolova
is an associate editor at
InsideDefense.com
in Washington, D.C., where she covers the Navy. She was previously a staff reporter at
National Journal
, where she covered energy policy and other global issues.