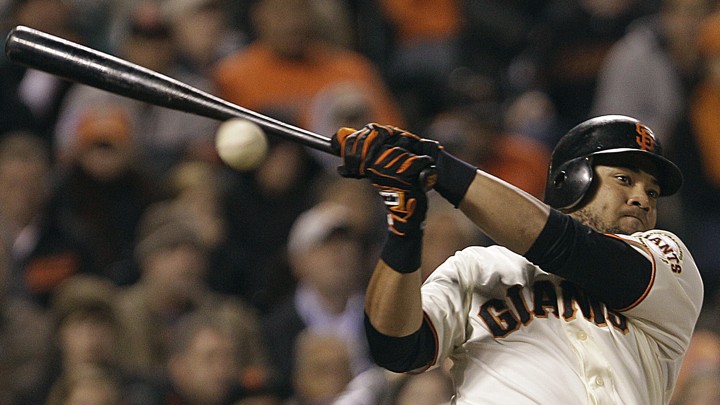 Shortly after Major League Baseball outfielder Melky Cabrera was suspended for using a banned substance, an outraged former All-Star pitcher is calling for his deportation — a wish that could come true, according to one immigration attorney.
Dominican Republic-born Cabrera is banned from 50 games for testing positive for synthetic testosterone, but former player and now ESPN analyst Rick Sutcliffe believes Cabrera's visa should be revoked.
Cabrera, himself an All Star, is in the country on a work visa to play outfield for the San Francisco Giants.
"First of all, this guy is over here in the United States on a working visa and he broke the law. What's he still doing here?" Sutcliffe asked on Tuesday during a segment on ESPN radio, according to USA Today.
"Forget the 50-game suspension from baseball," Sutcliffe said. "Why is he still here? That visa should be taken away, and he should not be allowed to play over here again or work here again."
An athlete's visa could get revoked if the offense results in a crime, not simply a violation of the league, said Jon Velie, an Oklahoma attorney who specializes in sports-immigration visas.
For instance, if an athlete tests positive for cocaine, which is also used in performance enhancement, he would likely lose his right to work here.
"Crimes of moral turpitude are grounds for deportation," Velie said. Such crimes include shoplifting, obtaining stolen goods, and assault, as well as fraud, adultery, bigamy, kidnapping, rape, prostitution, voluntary manslaughter, and murder, he said.
But what is a misdemeanor offense in a state court can be an aggravated felony in an immigration court, Velie said. "Any conviction that has a term, not just jail time, for more than one year is considered a felony, even if called a misdemeanor," he said.
Viele's law firm secured a green card for a rugby player more than 15 years ago. Since then, his law firm has helped monster-truck drivers, Olympians, NFL players, golfers, and tennis athletes obtain temporary visas.
MLB players can apply for two types of visas: P-1 for internationality recognized artists, entertainers, or athletes, and the O-1 visa for those with extraordinary ability or achievement in the sciences, business, or athletics. President George W. Bush signed the Compete Act for minor-league players to play ball here with a visa, according to the website of the law offices of Vaughan de Kirby.
Last fall, the Miami Marlins relief pitcher Juan Carlos Oviedo, who assumed the name Leo Nunez, was forced to return to the Dominican Republic when it was discovered that he used a false identity to sign a pro contract, MLB.com reported.
Oviedo served his eight-week suspension, then returned to the Miami Marlins with a work visa in his real name, according to an Associated Press story. 
The fate of another baseball player, Roberto Hernandez Heredia, who had also assumed another identity, is less clear. AP reported that the Cleveland Indians pitcher struck a deal to have the false-identity charges dropped in exchange for participating in a work program in his native Dominican Republic.
This article is part of our Next America: Communities project, which is supported by a grant from Emerson Collective.
We want to hear what you think about this article. Submit a letter to the editor or write to letters@theatlantic.com.